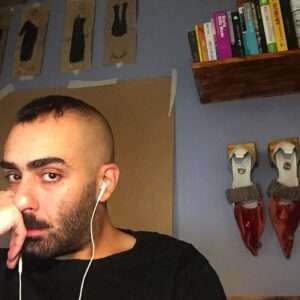 Amin Ajdari studied computer science in Tehran, however he always leaned towards the design aspect of the degree. With a general interest in design, sculpting, printmaking, photography and playing the violin, he decided to pursue a degree in fashion design in Milan, Italy.
For his dissertation, Ajdari brought to life the traditional and one of a kind clothes shepherds would wear in Iran with influences from traditional architecture of his ancestral land. He called the project "Beyond the Borders." Soon after, he returned to Iran with the hope of bringing back what he had learned about design in Europe.
By recruiting a group of designers who were open-minded and came from different backgrounds, Panje was created.
For the designers of Panje, it was very important to start off on the right foot. A lot of the inspiration for their first collection was drawn from the '60s European styles and Kurdish women's clothes. The collection was called "The Far and Ambiguous Place of Imagination" and was showcased in Vatan concept store. Panje's second collection was inspired by the forms and lines of the painting "Lino Lago." The collection, which used denim for its pieces, was called "Shore of the Sky'' and was showcased in Comode concept store.
For PANJE, an article of clothing explains the ways of the 21st century.

It is important that the people wearing their clothes like and believe in themselves. This is why Panje's motto is "wear your own style." While Panje is currently only designing clothes for women, they hope to design clothes for men someday. And yet, this is not the end of their work; they are not necessarily selling clothes, they are selling a way of life.