By: Trends Editorial Team
---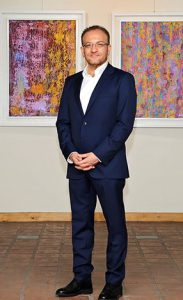 A Review of Painting Exhibitions by Behdad Najafi Asadollahi, Abstract-Expressionist Painter, Curator and Organizer of Visual Arts Exhibitions
The need to follow health protocols and considerations during the Covid-19 outbreak to mitigate its spread caused artistic activities, which often took place in certain closed spaces, to gradually slow down and almost discontinue altogether. Consequently, around late February 2020 when signs of Covid-19 surfaced around the country and thus in Tehran, we saw many visual art exhibitions ready to launch simply shut down.
Although the closures lasted for several months and in some cases for a year, it prompted some artists to find ways to put an end to the shutdowns by reaching out to government officials in charge and demonstrate that coexistence of art and the pandemic is not an impossible concept.
---
Behdad Najafi Asadollahi, is an abstract and abstract- expressionism style painter and curator of visual artworks. He is one of these artists who has tried with a passion and diligence, and in full compliance of health protocols, to share with his audience his love of art. Over the past 7 months Najafi has organized 10 group painting exhibitions in Tehran because he believes that humans, as social beings, have never lived without art throughout history, and art has always been part of our lives.
Emphasizing that in today's world, human need for art does not require evidence and justification, and that every human being, with any level of culture, way of thought and background is somehow aware of this fact, Najafi believes these exhibitions also addressed the need to get out of the decline that hit the world of art and exhibitions in the last year and a half of Covid-19 outbreak. In his public exhibitions of various works of visual art, Najafi has tried to bring color, creativity and beauty once again to people's daily lives.
Najafi's 10 exhibitions since early summer of this year in the capital city of Tehran were all done with careful executive planning and with specific goals in mind. Artists were invited, galleries were selected, and artwork was decided on in tandem with preparation of the galleries, installations and the impressive cooperation and support of the artists, all done with art lovers in mind. Also notably, six virtual exhibitions have been held online and the works of participating artists have been displayed around the world.
The cooperation of gallery directors, who showed special flexibility in managing, planning and executing all related affairs, made it possible to hold these exhibitions in accordance with all the regulations and health protocols, which is also commendable. Holding these exhibitions created a sense of passion, vitality, mobility and indescribable energy in Najafi, much of which is due to the unanticipated reception of artists and art enthusiasts, the support of managers, and the high executive quality of the exhibitions.
Najafi has three main goals for regular and continuous running of these artistic events. These are (1) the success and expansion of artistic activities, (2) the increased bonding and communication among artists and their audience community, and (3) an increase in creativity and innovation with the rounding up and connecting of diverse content and ideas under one roof.
In describing the 10 exhibitions, we should first mention the "Baharang" exhibition, which initially started virtually on April 14, 2021, due to Covid-19 pandemic restrictions. In this exhibition 9 artists with paintings and works of calligraphy participated in various styles and techniques with a total of 51 works. On June 8, 2021, with the improving conditions and the addition of another artist to the "Baharang" group, the exhibition opened in person and hosted artists and art lovers with a total of 53 works through June 11.
| | |
| --- | --- |
|     |   |
The second exhibition, "Color and Life", began its virtual presentation on May 17, 2021 and continued online for three months after that date. Also, from June 29th to July 2nd , this exhibition was held in person with a display of 28 works in free and varied styles and techniques by 9 artists.
Following the holding of a series of artistic events, a group exhibition of paintings titled "Tammuz" also opened on July 30, 2021, which continued until August 4, 2001, during which time 21 paintings of eight artists were displayed in a variety of styles and techniques.
"Color of Summer" was the title of another exhibition that opened both in person and virtually on August 3, 2021. The exhibition's in-person section continued until August 8 and displayed 28 works by 10 artists.
Continuing the review of activities of Najafi, we should mention his "Autumn" exhibition, which was opened on September 17, 2021, as the beautiful autumn season approached. The exhibition welcomed artists and art lovers by displaying a variety of works from 10 artists until September 26.
The last exhibition of this series of events called "Mehr Rang" opened simultaneously in person and virtually on October 11, 2021 and continued until October 15. In this group painting exhibition, 30 works with free style and technique by 12 artists were displayed.
These days, the acceleration of vaccination, which has been on the rise for the past several months, has created the possibility and hope in everyone that in the upcoming winter season, everyone will be gradually vaccinated and the coronavirus chain will be finally severed.
Naturally, the hope for artists is to have non-virtual, in-person exhibitions. However, during this period, it was proven that it is possible to set up galleries in cyberspace and keep art alive in the hearts and minds of people.