By: Trends Editorial Team
---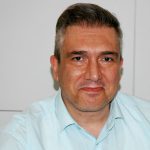 Elvis Moradkhan was born in 1971. Kermanshah, where he was born and he lived until middle school before moving to Tehran, was one of the several cities his family relocated to because of his father's job as an army physician.
Having taken the university entrance exam the year before, he gained admission to the University of Tehran School of Medicine in 1990. He was called up for the two-year military service in 1997, following which he started training for his IT career. However, due to the way events unfolded, Elvis later decided to resume his medical practice by pursuing an internal medicine specialty (Rheumatology) at Urmia University of Medical Sciences.
---
The main reason he chose internal medicine was the novelty of the branch and the fact that his father was also an internist. He then did his three-year obligatory public service in Oshnavieh, West Azerbaijan. Subsequent to his rheumatology subspecialty in 2013, he was appointed as a member of faculty at Shahid Beheshti University while also pursuing a teaching career. Despite the challenges faced by medical professionals all around the world, he pulled through because of his love of academia. However, due to restrictions he eventually resigned from his academic position in early 2020 and received his license to practice medicine.
Digital Smile Design-Dr. Basati
The US and Israel are at the forefront of medical research and home to some of the greatest rheumatologists in the world while Iran has a limited contribution to science production. However, although Iran lags behind in hardware production, we are still better at diagnosis and treatment than some of the most scientifically productive countries.
Rheumatology centers around the fact that bone, joint and muscle formation happens before the age of 30. The more physical activity and calcium intake we have at those ages, the stronger our bones are. Guidelines, therefore, recommend a calcium intake of 1000 mg per day as it can prevent osteoporosis and other bone diseases. Yet, the role played by other factors including genetics should also be taken into account.
Dental Implant- The Culture, Technology and Treatment
Elvis is thinking of writing a book on how to communicate with patients and ask relevant patient-care questions. Although the first stage in the delivery of high-quality health care is active listening, it is the doctor who should lead the dialog.
---
Dr. Elvis Moradkhan
Rheumatologist
Unit 9, floor 3, No. 2, 3rd Alley,
above Qalb Hospital,
North Kargar St., Tehran, Iran
Phone: 021 8609 3568
www.Moradkhan.com
@Dr_Elvis_Moradkhan