By: Trends Editorial Team
---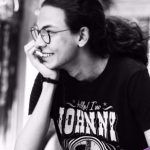 A lin "Allin" Joharchi is a singer, songwriter and guitarist from Tehran, born on September 10, 1998. He began learning guitar at the age of 10 and released his first album in the indie folk genre called "For Your Own" in July 2017. Over time, as he released single tracks on SoundCloud, he shifted towards hip hop and R&B and eventually developed his unique sound in the Iranian hip hop scene. His songs "Bemoon Aroom," "Lost Myself," "Baghi" and "Drowning" are available on all major music streaming platforms. He also has a Youtube channel and uploads videos regularly. Currently, Alin studies cinema in Soore Art University and plans on making short music videos for his music.
---
What made you interested in music and pursuing it professionally?
Thanks for having me. I have been surrounded by good music since my childhood, reacting positively to King Crimson and Elvis Presley as a baby and a lot of Pink Floyd growing up. In 2005, I came across a game on my PlayStation 2 called "Guitar Hero" and I loved it. Later on, I got the Guitar Hero Xbox kit with drums, a guitar and a microphone controller which gave players the experience of being on stage and on tour. Playing that game, I knew this was what I wanted to do and I still plan on being in the Guitar Hero game someday. I primarily wanted to learn drums but I couldn't find a teacher as a kid, so I began learning electric guitar at age 10.
What platforms do you use to share your music?
I use Spotify and Youtube myself and I've gotten official releases on Spotify, Apple Music, iTunes, Amazon, etc. I also have some unofficial (because of poor sound quality and mixing) songs on my SoundCloud and Telegram channels. You have been very active on social media since the quarantine began, particularly on Instagram and YouTube. What effect has the quarantine had on your work? I believe we cannot fight being constantly updated by what's around us; we have to adapt and I believe Youtube is the next generation of media, so I use all the free time that I have to make videos and find my style. At the same time, the main source of income for me and many people like myself are the live shows we play. However, with the pandemic, that is currently not a possibility! It's really tough, so the whole quarantine situation has shown me new ways to work, and I'm generally thankful for it. You work on both Farsi and English songs.
Is there one you prefer or find easier to work with?
Because of my background living outside Iran and attending international schools in Iran during my teenage years, I find it easier to express myself and write lyrics in English. I believe my writing in English is genuinely better. However, writing and singing in Farsi has a whole other feel to it; it feels purer for myself, and even though I'm not good at it, I really enjoy doing it. When I adapted my style to Farsi I found a new sound and vibe, which I've been told my English songs lacked. So I'm writing more in Farsi for now and hope to be able to write and release music in both languages.
Could you tell us about the inspiration behind your newest songs, "Bemoon Aroom" and "Lost Myself"?
Well, "Lost Myself" was a part of a five-track EP (extended play), with all English songs, but the EP was never finished so I moved on and solely focused on finishing the track "Lost Myself," which became a single in 2018 for Allin, my stage name. "Bemoon Aroom" is my first Persian song and it is about how people have become so unaccepting of new ideas and how they are stuck in their old ways. I believe I could have done "Bemoon Aroom" way better but I'm still really satisfied with it. I also had an awesome team; I made the song with Parsa Payandeh and wrote it with Behrad, another upand-coming rapper, and we had Shervin Radfar mixing and mastering the song. Shervin also did a little bit of sound engineering. He is a great man and mentor who has helped me a lot; it was an honor working with him. I also had good friends helping me with the marketing and video-making and we had a friend's clothing brand, "AM" streetwear, sponsoring it. It has been the peak of my career so far!
You study cinema and your dad was a famous actor; do you see yourself pursuing a career in cinema? Would it affect your music?
I make short documentaries but I keep them to myself because they are more of a side project for me right now, but I definitely see myself making movies. I have the passion, the academics, the family background and knowledge to make films. I just need to settle into my music career first, and later I'll be mixing the two. Who are your inspirations? What inspires you? I believe that the band Camel has the most inspirational sound I have ever heard. Their songs satisfy my soul and clear my mind every time I hear a guitar solo; it has a catharsis effect on me. Manifesting that feeling into a different genre is the main challenge for me. Sometimes this challenge inspires me – the struggle happens to find its way into any lyrics I write, the suffering, and how it's not real. I find myself writing a lot about ego and human relations recently.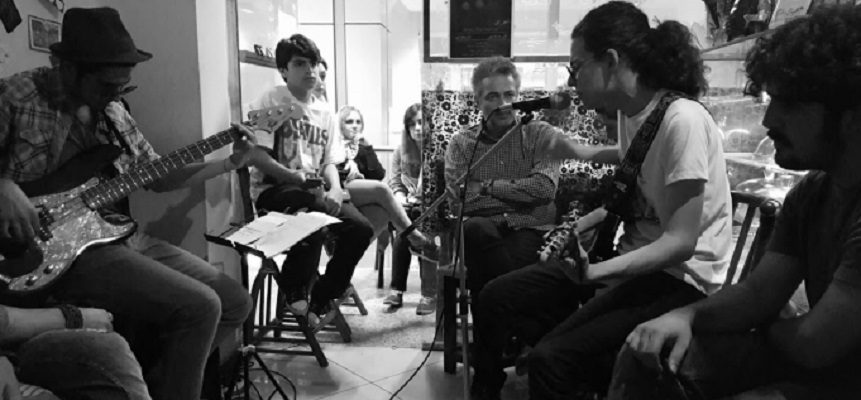 When the concept rhymes, I know I am on the right track, literally. What advice would you have for aspiring musicians, particularly young musicians in Iran?
Meditate. It's important no matter what you do. It gives you the ability of calming your mind, thinking clearly when needed, and reaching the answer of every question out there; it is all within yourself. That is mostly why I find meditation super important, but there are a ton of other reasons why you should do it.
What were some of your most memorable live performances?
Are there any more coming up? On September 2, 2017, I played my first album "For Your Own" (available on SoundCloud and Telegram) with my band at Mostaghel Theater in Tehran. It was my first time being under the spotlight at my own sold out show with my own original songs, so that was a real milestone in my life. I knew I would do it eventually but it happened so quickly and I knew there wasn't any place I would rather be or anything else I would rather do. It was the best live performance I've had so far. We haven't planned for a new show yet because of COVID-19, but as soon as we see fit, we'll be doing shows again. Could you tell us about your upcoming project(s)? I'm currently working on an album which basically sums up my life experiences so far. I've got a lot of artists helping me with it: producers, singers, rappers, video makers, sound engineers, graphic designers and sponsors from all different genres. It's a real "1 train," meaning a lot of people are working on each track, and I'm hoping to pull it off because it is a really big project.