By: Athena Akhavan
---
Athena Akhavan was born in the summer of 1984. She graduated with a degree in industrial design from Tehran University. She was granted a scholarship for glassblowing in Murano, Italy, and later placed first at the Sixth Fajr Festival. In 2007, she held her first solo jewelry exhibition with a focus on recycling, and showcased over 100 pieces of recycled materials made from leather, wood and metals in Samin Gallery. Since 2011, she has been studying under the tutelage of Parviz Tanavoli and designing jewelry with the title of "Wearable Sculptures," which has led to ten national and international exhibitions.
Wearable Sculptures
Wearable Sculptures is a novel and groundbreaking movement in the field of jewelry design in a way that, aside from conventional usage, beauty and design are emphasized over comfort and usage. Miniaturized sculptures are hung from wrists and necks and will accompany the people that wear them everywhere.
The creation of this visualization of affection in observers will slowly lead to them crossing the boundaries and changing their habits, and with its unconventional style, will lead to a yearning to wear these sculptures. The other difference that Wearable Sculptures have with other jewelry is the use of recycled materials and the emphasis on the high value of the piece being due to its unique design rather than the materials used.
This unique choice leads to a unique look, and will set the wearer aside in any crowd due to its brilliance and distinctiveness, and will show how the wearer's taste is aligned with that of the designer. During a project in 2017 with focus on recycled materials, the first material that inspired Akhavan was paper. Due to her and her husband, Shahin Ghasemi's, continued presence in the printing house, they used recycled paper and cardboard on a large scale in her pieces, as they wanted to be "green" and environmentally friendly.
Her diligence and obsession in choosing precious materials, such as paper, and choosing the most precise cuts in order to use the thinnest margins of paper and cardboard guided her towards miniature sculptures and wearable structures which led to the initial steps of creation of these pieces. The effort was in not using glues or chemicals and replacing industrial materials in order to keep the designs "green." The initial pieces were formed with recycling in mind, and along the way of downsizing voluminous pieces and sculptures, color, strings and fabrics were slowly introduced to her works and the designs moved towards being more improvisational. 
Sustainable Fashion
A Closer Friendship Between Nature, Society and Economy
Sustainable art means loving the planet Earth and all of its living creatures, including people and animals and all the living parts of nature. It is a deep approach which not only protects the environment, but is also based on ethical and social rules and the shortcomings of today's economy, modern art and the current problematic fashion industry.
Maybe it could be said that "fast fashion" entered the fashion world through populism; there has been mass production without meaningful content, originality or concern over the environmental damages that are caused by using polyester, unrecyclable materials and low-quality chemical dyes, and the wastewater produced from the factories and the washing of these chemical dyes, which down the line, seeps into the water system. On the other hand, the exploitation of cheap labor forces which neglects human rights, labor rights and much more, cause irreparable damage to their surrounding environment.
This fashion industry, aside from the humanitarian and environmental damages, through propagation and promotion of daily and fast-moving trends, targets the souls and minds of individuals. Through advertisements, a great deal of people are dragged towards these superficial and empty aesthetics. The low price of imitation and fake products, the illegal copying of artists, and use of their reputation and cheap labor has caused people to not buy out of necessity. This will drag people into a cycle of unnecessary purchases; purchases without necessity are done only due to the temptation of fashion trends and low prices and the unjustified fear of being left behind and being a part of the conformity.
On the other hand, in sustainable fashion, people respect themselves and the planet and all of its living creatures, and enjoy experiencing wearing something that is specifically designed for them or for a unique taste. Sustainable fashion emphasizes that people are beautiful and deserve beauty. We see beauty and choose beauty; therefore, we do not have the need to entangle ourselves in passing fashion trends. By emphasizing the foundations of art and design and the right choices, we can use an item of clothing for many years.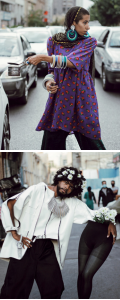 Respecting our Fellow Humans and the Professional Workforce
If instead of choosing ten repetitive, low quality and cheap clothing items, people wear part of the art, passion and artistry of an artist, they have respected themselves and the world surrounding them and haven't decorated themselves in items that companies have tailored and made for the masses. One can only decide what to adorn oneself with based on one's choices and taste.
The Golestan collection which was Akhavan's last project in the field of sustainable fashion debuted exclusively through AASSTTIINN in June of 2020. In this project, the effort was put in having the pieces meet standards of sustainable fashion both in terms of materials and meaning. These pieces were done, in limited numbers, limited editions and some were one of-a-kind and designed in accordance to the orders of AASSTTIINN and the renowned contemporary artist Ferydoun Ava.
The process was done completely manually and in a self-taught manner. After the preparation of the paste and recycled sheets, fabrics that had defects and counted as recycled were laminated onto the sheets using natural water-based adhesives.

Most important of all is the story behind each piece, and wearing something that is made for one and is infused with the soul of the artist behind the piece. For Akhavan, the Golestan collection is the same as the thousand thread count and thousand colored rugs in her grandmother's house that used surreal designs from hunting grounds, jungles and fields of flowers. Golestan to her is the gold embroidery on the edge of her grandmother's hanabandan (pre-wedding ceremony) dress.

The vintage cloth added to these pieces was a part of her grandmother's green hana-bandan dress which was unfortunately used as a tablecloth for a while and had burn marks because of candles. 
Maybe "Wearable Sculptures" is the best title for these creations, because these pieces with the stories that they hold within themselves and the time, passion and art that were put into their creation, instead of being seen as an appealing piece of art in one's house or place of work, is a part of one's clothing and adorns the body.
Akhavan says "these pieces are a gift to the earth to keep it happy and a charm on the wearer to remain joyful."
The brand of Athena Akhavan by relying on themes of loving and preserving nature, began designing its jewelry using recycled and upcycled materials. The whole process is done by hand and is self-taught. The majority of the pieces are created in limited editions, using natural materials and adhesives with inspiration drawn from Iranian legends and lore, jewelry, designs and colors.