By: Setareh Hamidi
---
It is interesting to know that according to the 2020 "Wedding Wire Newlywed" report, Autumn, especially the month of October has been the most popular season for couples to throw wedding parties, in the past recent years. The reports confirm that this year Spring and Summer have been the busiest times for wedding ceremonies. With the reduced risk of Covid-19 and destination weddings coming back as a popular option along with the removal of the travel restrictions, celebrating different occasions away from home, has added up to the number of different ceremonies held in the spring and summer of 2020 and 2021. A perfect wedding celebration requires a well prepared plan coordinated by a professional team. This planning includes various steps before it is finalized, therefore there are times when all these tasks become frustrating and complicated. Considering all the preparations, sometimes brides can be super sensitive and edgier than others.
How they look on their big day is what matters the most. However, it is the mutual wish of all the brides to look their most aesthetic on a day many people describe it as the most momentous day of their life. Selecting the dress, flowers, bridal veil, accessory, shoes, makeup, and hairstyle, all in all, not only must look exquisite, but also have a concurrent harmony. All the above mentioned factors have a greater impact on the bride's elegance.
Our aim is to exclusively discuss bridal makeup. Remember the bride's taste and the makeup artist's perspective of the bride's look on the day or even on the bridal photo shoot day are both
very important, we all know that the effect of the trends is an inevitable factor in making the final choice, most people, willingly or unwillingly, follow the trends while choosing their wedding dress, the venue decoration, and many more aspects for a perfect wedding. It is believed that the bride's makeup is also very important. Social Media and the international world of fashion has a
very important role. Even though these trends might be distinctive all around the world, everybody approaches a general definition of beauty as the "Beauty Standard", which varies from heavy makeup to no makeup look, we intend to introduce the latest bridal makeup trends in this article.
---
Simple but chic
In the last few years and during theCovid-19 pandemic, we witnessed less interest in heavy makeup with a plethora of contours among women and the role of skincare became more important compared to the makeup with high coverage. Important fact is that skin care is a key factor in bridal make-up as well. In this regard, renowned make-up artist Gucci Westman added that: "I'm seeing that many brides are opting for classic looks that enhance their natural beauty rather than a big transformation, which I always suggested! To pull this together, go for flattering rosy shades on the cheeks, a mattifying bronzer to warm up the skin, and a "your lips but better" pop of color on the lips." Notwithstanding the recent popular "no makeup looks", which might not suffice for the wedding day. The thing, though, that has become popular with brides is moderation and sensible equilibrium between the past heavy makeup look and no makeup look. No one appreciates looking like someone else. On the contrary, the flaws are covered virtually by maintaining the general state of an individual's face and the beauty of each person's face becomes bolder. It can be said that this is the favorite bridal makeup trend in 2022.
Rosy cheeks
Another trend that has been popular in recent years, and appears to be seen in upcoming years is more usage of blush, particularly pink and peachy theme. What confirms this claim is the increasing production of blush, especially the creamy and liquid ones, by various makeup brands. The proper use of blush makes your face seem more buoyant and younger. In the past, numerous brides did not genuinely favor blush specifically on their cheekbones and contouring was more important, but the number of brides showing interest for using blush is increasing every day.
Goodbye to false lashes
We previously discussed that simplicity and chic are more popular these days. Following this trend, long and false eyelashes seems to be less popular among brides. On the other hand, many still desire their eyes to look more doe and siren. Eyelashes types and their application method modify the shape and correct the form of the eyes, but usually brides like their eyes look more natural and inconspicuous. Individual natural eyelashes are more popular than before. In addition to a more natural appearance and creating more choices for makeup artists, it is more convenient to endure them on the eyes for long hours during wedding ceremonies. Moreover, the bride's eyes become less tired and heavy.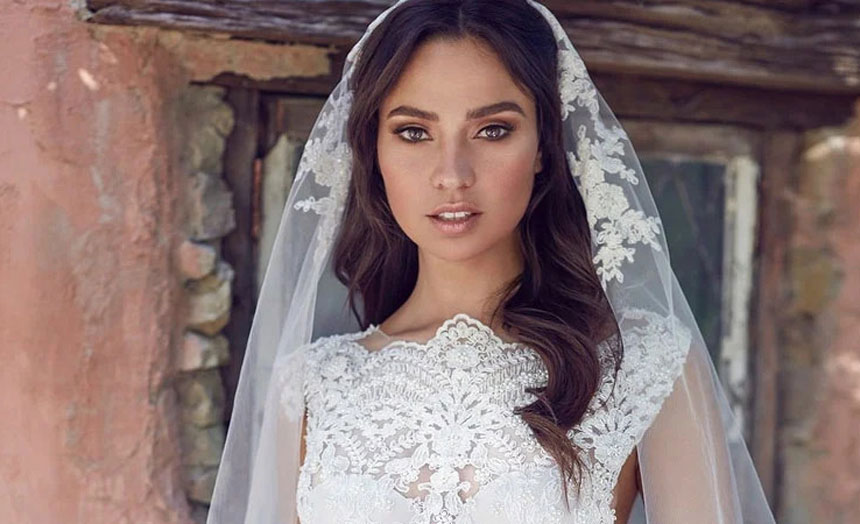 Another year of Smokey eye makeup
Do not underestimate the power of Smokey eye makeup in making the eye's look more attractive. This eye makeup style is still pretty much popular among brides. This year, however, totally black and Smokey colors have become less popular compared to brownish and more natural colors. Smokey eyes, with earth-tone colors, are also known as Soft Smokey are completed with a hint of shimmer, giving dimension to the eyes and matching them with a peachy nude or light pink lipstick. This is the Smokey eye look we want today.
Matte is outdated
In the past recent years, we've noticed that the matte makeups have become less popular. Different make up products came to the market to cover all the skin shininess and make the whole skin look completely dry and matte. Nowadays we have noticed the change, the flashy and shiny makeups are back, they make the skin look fresher and more natural, the shine based makeups have overcome the old matte versions. Same trend applies to lipsticks as well. Experts at Rodial say, "We are seeing that brides are choosing bright, natural, and dewy skin in 2022—it's all about glossy and glowing complexion." also, lip gloss has replaced matte and 24-hour-lasting lipsticks this year. In choosing the wedding day bride's makeup, her taste, her choice alongside her face shape, skin color, hair, and other major factors are very crucial.
The trends might be beautiful this year, but they may look like a disaster in 10 years. Therefore, our suggestion is to select the best option based on your facial features, preference, and character. Remember makeup as well as your other wedding day elements must present you and must be unique version of you. Thus, do not only follow the trends. Also make sure to consult your makeup artist for choosing the best makeup for your face, this will help you not to regret your decision years from now by looking at the photos.