By: Trends Editorial Team
---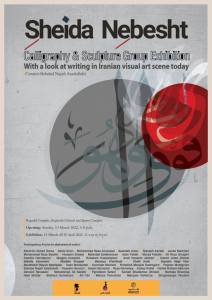 Ragadid Art Gallery, located in Enghelab Sports and Cultural Complex, hosted some of the country's most celebrated calligraphers and sculptors.
The exhibition, which brought together prominent painters, calligraphers, and sculptors for the opening reception, had over its course, the support of artistic directors from different cultural institutions.
Spread over four well-equipped halls in Ragadid Gallery, the exhibition opened to the public featuring over 80 works by 44 artists. "The enthusiastic response to the show prompted us to plan another exhibition with the same theme for next year." says Behdad Najafi, who not only curated the event but had a calligraphy painting piece on display.
According to Najafi "Sheida Nebesht", which was the central theme of the show, "explored the applicationof writing in Iran's contemporaryvisual culture and the related visualartworks." The gallery will carry on by showcasing different art forms including watercolour, photography, sculptor, installation, video art, and performance. "This" said Najafi "will be coupled with plannings for various art workshops, training courses and expert meetings." "Calligraphy painting is a new phenomenon in Iran's modern art scene," says Saeideh Arian, the artistic director of the show about the theme and content of the exhibition. "Synthesizing writing, shape and colour, painting supplements calligraphy to bring calligraphy painting, which portrays the artist's passion and infatuation, to new heights." Having experienced ups and downs, calligraphy painting is now expanding and evolving and has found a large international audience." She views such exhibitions instrumental in bringing together artists and art lovers. "Calligraphy painting introduces the audience to a blend of modern and traditional art." Arian said. "Sheida Nebesht" was the second event jointly organized by Khanesh Moaser Art Academy and Faradid Honar Art Institute in Ragadid Complex. Opening hours were extended till midnight for the final week of the event, which increased attendance.