By : Azra Mirghorbani
---
Azra Mirghorbani is an English teacher who was born in Iran in 1985. She has an undergraduate degree in English Literature and a master's degree in TEFL. She currently lives in Germany and takes every opportunity to travel.
Pick any day to fly to Valencia from Germany and chances are you will get much warmer weather, which is probably why the region is so popular among German, and British, holiday makers and sunseekers. Having been welcomed by the heat at the city's small airport, the first thing you notice is the airport signs that are in Valencian, a dialect of Catalan, with English and Spanish translations underneath; not what you would expect from a Spanish city, and thus begins a journey to a seaside haven with rich cultural heritage and a host of magnificent locations and attractions to cater to all tastes.
Since 1978, Spain has been made up of 17 autonomous communities. The Valencian Community is made up of the three provinces of Valencia, Alicante and Castellón. While Spanish is the official language for the whole Spain, the country is home to four co-official languages and the Valencian Community, like some other communities, is officially bilingual. Having been conquered and ruled by the Moors, or Islamic invaders, for over five centuries, Valencia still maintains its Moorish legacy. Well over 20 percent of Spanish words, like aceituna meaning olive, have Moorish roots, and ceramic work in Paterna traces its roots back to the era. Paterna, which is situated in the northwest of Valencia, is also well-known for its underground cave dwellings and a tower that is believed to have been built during the Arab age.
Located in the east of Spain along the Mediterranean Sea, Valencia is the birthplace of the well-known and tasty Paella dish. There is much more to the city than rice dishes and seafood though. Whether you are planning a city break to immerse yourself in the narrow Old Town streets or relax on the beach as the sun sinks into the horizon, Valencia never fails to amaze. The El Carmen neighborhood inside the Old Town is practically an outdoor gallery where you can view street art at its best and enjoy the abundance of architectural styles courtesy of millennia of history imprinted on its streets. In Valencia you can Visit the many cathedrals, dine at the marina, pay a visit to the hipster neighborhood of Ruzafa or spend a day at the City of Arts and Sciences.
Valencia on its own merits a whole stay, as do many other cities in the area. However, if you feel like seeing more of the Valencian Community and you are keen on road tripping, extend your visit to the neighboring province south of Valencia. Move along the Costa Blanca, or white coast, a 200 km Mediterranean coastline covering the Province of Alicante, and you will be greeted by miles of pleasant weather, crystal clear waters, coves and spectacular scenery. On your way, you will drive through numerous beach cities and picturesque mountain villages, each more charming than the last, and discover invigorating nature, low mountain ranges, and unspoiled beaches. The entire area is also dotted with historical sites, palaces, cathedrals and castles dating back as early as thousands of years, which makes it next to impossible to choose a single place to visit or stay at.
One must-see, though, is Cap de Sant Antoni in Xávia, with coastal cliffs as high as 170 meters, providing breathtaking views of the Gulf of Valencia and a stunning unobstructed horizon. Continue south for a stop in Altea, yet another charming city or take a detour to cool down in the stunningly beautiful waterfalls in Fonts de l'Algar and see nature at its finest.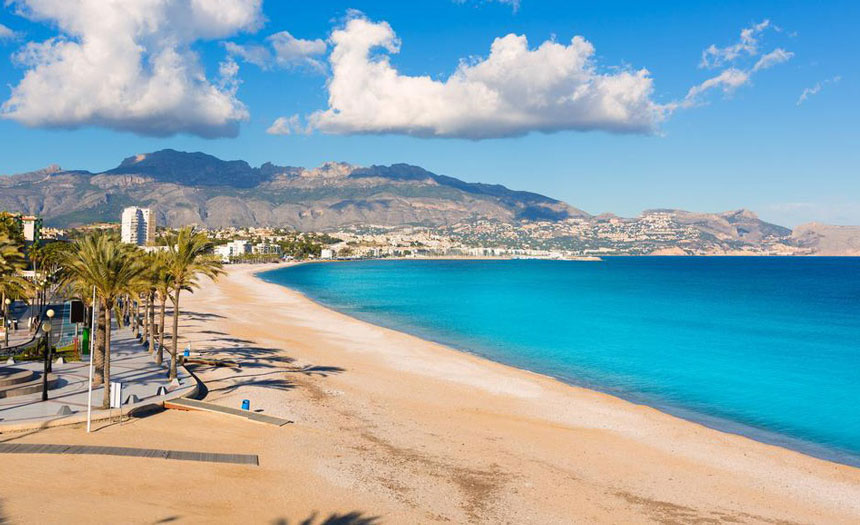 Even further south along Costa Blanca lies L'abrir, a small beach resort with turquoise waters and a beautiful view of the sea, which can lure you in for a swim and then quickly reject you with its pebble stone beach. Pro tip, if you go swimming in L'abrir, take some water shoes or you are entering a world of pain! As you eat at a nearby café, you can't help overhearing all the (British) English that is spoken here.
Although some regions in Spain remain local, Costa Blanca is dominated by British expats who have escaped the cold climate of their home country to relocate here.
While it has a higher visitor density, there are even more Brits here than anywhere else on the Coasta Blanca, Benidorm or "Manhattan of Spain" would be the highlight of the journey. The quaint streets in Benidorm's historic center, which is built on a small hill, call to mind a humble fishing village that is now home to countless high-rise buildings and boasts a lively nightlife.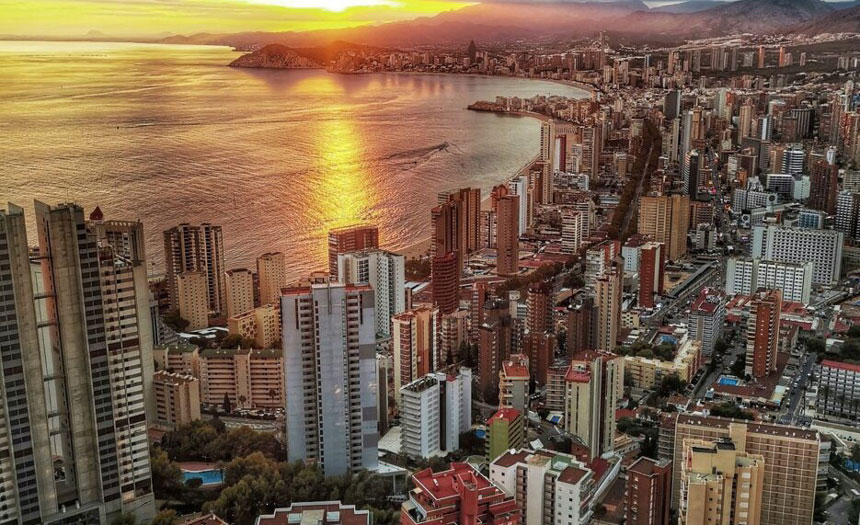 During the day, you can stroll through the narrow streets in the historical center that still reflect the Moorish architectural influence, shop for souvenirs in the small stores or have a meal at the many cozy cafes and restaurants. Spend steamy summer days sunbathing on the golden beaches that stretch for miles or swim in the crystal blue water, and if you relish the notion of a hike, be fascinated by the picture-perfect panoramic views from the surrounding hills. Lazy afternoons are perfect for a walk towards the Mediterranean balcony, the eyecatcher of the city. The Moorish style balcony is a white viewing area with stairs that lead you to the sea, where you can see the colors of the sea up close.
With a blend of nature, warm climate, gastronomy, and affordable accommodation, the Valencian Community, and in particular the Costa Blanca, has something for everyone. For those trying to avoid the sweltering heat of July and August or looking for a peaceful seascape, the best time to visit is the shoulder seasons when crowds thin out. It may not be as easy to swim in November, but you can discover the savors and flavors of the local cuisine and enjoy a culturally diverse paradise.