By: Reza Taeb
---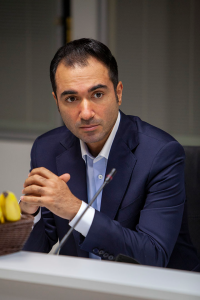 Please introduce yourself and tell us a bit about yourself. What first led you in the direction of fashion design?
I am Hani Anvar Salar, born in September 1986 in the historical city of Amol along the Caspian Sea. I am a graduate of University of Isfahan in Materials Engineering with a major in Industrial Metallurgy, and I have a Bachelor of Architecture from Noor University. I am also the owner of Anvar Salar clothing brand.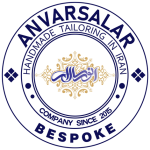 Around the end of my primary school in Amol, my family moved to Isfahan where I continued my education all the way through getting my university degree. After graduation, I enlisted for military service and once I had completed my 2-year service I was able to travel abroad and spend a few years outside Iran pursuing my other interests in foreign products and import opportunities. Those years abroad allowed me think through my ideas and to develop a well-planned clothing brand under my own name, and eventually establish the Anvar Salar company in Iran.
---
Tell us more about your brand identity.
"Sur Mesure" or Made-To-Measure in custom clothing is the practice of making garments to fit a particular person and is considered of superior quality compared to a ready-to-wear garment. Made-to-Measure luxury clothing was first introduced in France around the 1910s. It has since spread professionally around the world, especially in the United Kingdom and Italy. In my opinion, today Italy and the city of Naples are the cradle of Made-to-Measure clothing in the world, and in this connection, Britain and Italy are the largest producers of highest-quality wool fabrics that are traditionally used for custom made garments.
What are the characteristics of a Made-to Measure garment?
Custom Made articles of clothing, have always been adopted by the more sophisticated echelons of a society. In the custom made process, the choice of fabric and design, as well as the small details of the garment that may normally be less considered, reveal the difference between these and ready-made clothes. Basically, sophisticated and fashion-minded customers are looking for the distinctions and differences that make these Made-to- Measure clothes more in demand for such people. For example, a custom made suit that is sewn according to the anatomy of the individual's body has far more features and visual appeal than ready-made models.
As a leading entrepreneur, what factors do you consider as the reasons for your success?
I have always had a special interest in formal, classic clothes, especially suits. I even had this interest during my childhood and teenage years, as I enjoyed wearing classic suits. This long held passion of mine became the kernel around which I grew my personal interest in creating a distinct design complementary to my version of classic taste in clothing. Of course, it helped that when I finally returned to Iran, I found a need for Made-to-Measure clothing with an impressive and attractive brand. That's how I founded the Anvar Salar clothing brand in 2017.
In your opinion, what factors have caused the Anvar Salar brand to be a talking point?
When I started in this profession, all my thoughts and efforts were on improving the quality of my goods, including the quality of the fabrics being used and of the sewing, so that I personally had very careful supervision over the production of the clothes. Our overall superior services to our customers have also been very effective. In my opinion, in today's world, customer services should be even more luxurious than the actual luxury goods you offer. The combination of all these are the factors that have made this brand popular among its customers.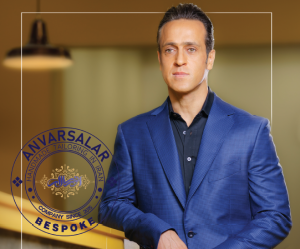 As a luxury and celebrated brand, what approaches to tailoring does Anvar Salar have?
The approach that Anvar Salar uses in its Made-to-Measure section has its own special and unique features. According to the technical background of the suit itself, there is a very narrow border between "bespoke" and made-to-measure. I must add here that bespoke, which is an older method of suit tailoring, is sewing from scratch and is entirely based on a customer's specifications with far more attention dedicated to minute details and with multiple fittings during the sewing process. This is different from Made-to- Measure which is based only on using different fabrics of high quality with assorted colors and several times of fitting.
This important issue is still not observed in Iran when we talk about these two different approached to sewing of custom clothing. At Anvar Salar, we make every effort to maintain our superior standards. The bespoke product we offer is completely different from the ready-made brands in terms of sewing, design, and fabric quality. We try to convey this message to our customers that the suit you will be wearing is not made for anyone else, and you can wear it with full pleasure and for a long time. We usually design each person's clothes according to their personality, body anatomy, interests and everything that gives them a sense of pleasure and comfort. Naturally, this means that every time our tailors sew a garment, a new original model is created
What are your export prospects and strategy? How do you "export" you brand?
In recent years, due to sanctions, Iranian brands in all industries have become self-sufficient and by necessity they have attained the basic qualities for globalization, and the clothing industry has not been an exception to this process. Many underground workshops that used to produce clothes with fake foreign brands have had to rebrand themselves and enter the market with their own distinctive label in a wide price range. In Iran, the main problems in export are the lack of self-confidence of producers and the absence of proper representation of Iranian goods in Iran's neighboring countries. Also important for export of clothing is a general policy and appropriate training, which in my opinion should be formulated and guided by the government.
The Anvar Salar business policy has been based on exports since its inception, which unfortunately has been postponed due to sanctions. We are currently consulting with the countries of Oman and the UAE to be able to establish VIP showrooms in those countries for prominent individuals, businessmen, and those who have special interests and tastes in line with the Anvar Salar bespoke brand. Under this strategy, design, measurements, and fittings will happen locally with the customers, but all sewing is done by the top Iranian tailors in Iran. The Anvar Salar globalization strategy has been in the works from the beginning, and we have always had an established policy and approach to have a worldwide presence for our products and services.
What does the Anvar Salar line of clothing include?
Anvar Salar line of clothing is for men only. Today, custom made items by Anvar Salar include all types of suits, coats, men's shirts, jackets, men's pants, denim suits and jackets, jeans, all kind of waistcoats and vests, denim overcoat as well as all items selected and ordered by our customers.
What are the main challenges of the fashion and clothing industry?
This line of business and profession has many challenges, but Anvar Salar has been able to offer a new generation of marketing and services to meet the basic needs of its customers.
For example, we must meet with our clients several times for each item of bespoke, from ordering to fitting which may be a few times, and lastly for the delivery of the product. But we have been able to streamline the whole process and provide our services at the customer's convenience, with respect to time and location of each visit and fitting. In other words, the tailor and design consultant go to the customer with several choices of fabric and with a pattern book and follow up in the same manner for the required fittings and finally the delivery.
As you can imagine, our services are very popular with businessmen, lawyers, doctors and those professionals who are very busy.
The next challenge in our profession is the lack of qualified tailors in this class, and as such, Anvar Salar strives to provide training for young tailors in Iran and abroad in order to continuously maintain its production line with up-to-date techniques and according to global methods.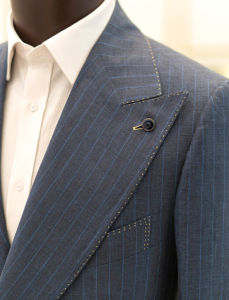 What differentiates you from other designers and Made-to-Measure tailors?
The Anvar Salar quality of service and the way we treat our customers make us stand apart from our competitors. The quality of our fabrics and our impeccable sewing and tailoring techniques and processes attract many of the country's prominent social figures, and our unparalleled service seals their loyalty to the Anvar Salar brand. But perhaps the most important aspect of working with our distinguished clientele is that we never misuse their names in our advertising –which is the red line of Hani Anvar Salar!
Looking back, how do you see the journey you have experienced? What has brought you and the Anvar Salar brand this far? Do you have a final word for our readers?
All my efforts during my years in business have been based on honesty and fairness. Another important rule in my life is the special respect I have for all my colleagues, and this deference has created a kind of loyal relationship between us, which, thanks to all my professional friends, has also played an important role in the growth of Anvar Salar.
I also do not consider myself a pioneer in this profession and believe that I still have a long way to go. As far as a specialty effect, the Anvar Salar line of luxury dress shirts which are created with accurate measurements of the anatomy of a client's body, includes natural oyster buttons, and various styles of collars and sleeves. Also, by embroidering the name of the customer on the cuffs, or anywhere on the shirt that the customer prefers, we create a gift of sorts for our esteemed customers, of a lasting and high-quality souvenir.
For your interested readers' information, the Anvar Salar Showroom is located in Farmanieh district, where our customers can visit by appointment and enjoy all our amenities. Today, the services provided by Anvar Salar in the bespoke department are completely in line with modern European standards. Anvar Salar has also recently started a ready-made clothing line and our new store will soon open in Saadat Abad Opal Shopping Center in northern Tehran. Customers can now make an appointment at the Made-to-Measure department through the Anvar Salar website, and also take a look at the choices in styles and fabrics on this same portal.