By:  Trends Editorial Team
---
Our story begins with a ninety-year-old house on Lolagar Alley, a famous street in the heart of Tehran. Hanna Boutique Hotel is an expression of contemporary Tehran, and a collection of layers that have rendered one on top of another over ninety years. The experience of staying at the hotel will present you with different glimpses of life in Tehran, a unique experience at the center of a busy, chaotic city, where you can enjoy art, architecture, design, and modern-day hospitality.
Hanna Boutique Hotel is Persian Garden Studio's first venture into urban rehabilitation. The building of the hotel was purchased by the Studio in 2016, and after two years of restoration, Hanna Boutique Hotel was launched in winter of 2018. This boutique hotel has seven rooms, a restaurant, and Platform and Pop-Up spaces. Its interior design is inspired by contemporary Iranian and international architecture, resulting in a modern, state-of-the-art space that will provide its patrons with an intimate experience.
---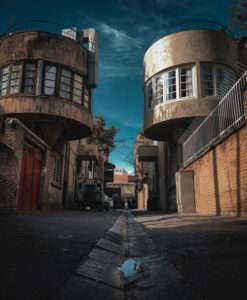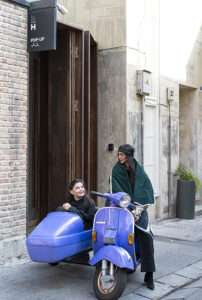 LOLAGAR ALLEY:
The six buildings that sit across one another on Lolagar Alley were constructed in 1930 by a master builder known as Hassan "Banna" (aka Builder in Persian). The buildings were commissioned by two brothers, Mohammad Bagher and Akbar Lolagar, hence the name given to the street. The houses on Lolagar Alley are symmetrical to one another; for every door and window, there is another identical one across the street. The story goes that back in the early 20th century, once streets began to appear in Tehran and a general level of security was established, houses began to lose their high wall barriers and opened their windows to the public space. These houses on Lolagar Alley are considered Tehran's first examples of outward-looking architecture, as well as its first residential complex.
CITY | STREET | HOME:
Tehran is Iran's largest city and its capital. It is more populous than New York, larger than Mexico City, and denser than Seoul.
It is a city in a mountain range, and every one of its neighborhoods, streets, and homes is filled with different experiences. Every person will define Tehran according to his or her particular encounter with the city. To experience Tehran is to experience a medley of elements that have come together from different social, historic, and cultural backgrounds to create this multi-layered metropolis. At each corner of this old city one can witness different art and architectural styles, as well as a variety of lifestyles. Strolling through Tehran's streets will bring one face-to-face with elements from different historical eras.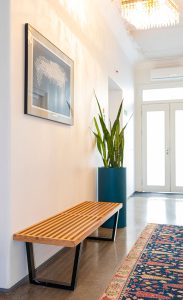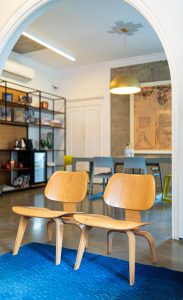 NUMBER 3:
Number 3 on Lolagar Alley, the home of Hanna Boutique Hotel, is a house with bay windows facing the street, and a pattern of random textures on its façade. The building is a two-story structure with an area of 540 m2. On the inside, it is decorated with design plaster and tile work. Persian Garden Studio began restoring this building in 2016. The first step was to research the history of the building and identify its different layers of construction. Every layer added on to the building in different eras is a remnant of the lived experiences of its residents and those who lived in Tehran. During the restoration process only the areas that needed to be repaired and restored were touched, and everything else – including the many layers of the building – were left intact. One can positively say that Number 3 on Lolagar Alley now displays its entire ninety-year history.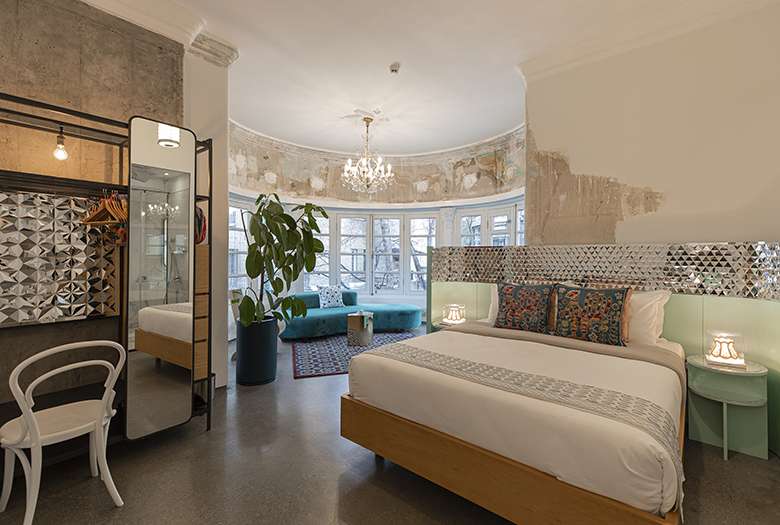 PERSIAN GARDEN STUDIO:
Hanna Boutique Hotel is Persian Garden Studio's first experience in urban rehabilitation. The Persian Garden Studio, the owner and developer of Hanna Boutique Hotel, is an architectural studio established by Iranian architect, Mahsa Majidi, in 2001. She has a Ph.D. in architecture and follows the triad of "construction", "job creation", and "connectivity" in all her professional activities. Hanna Boutique Hotel was also conceptualized based on this idea. With its urban rehabilitation projects, Persian Garden Studio has plans to return life to Tehran's empty nooks and crannies. Likewise, Hanna Boutique Hotel attempts to retain the purity of the original building and its spaces while meeting the needs of contemporary life.