By: Ghazal Mostafa
---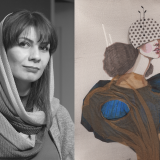 Maryam Jangravi was born in 1983 in the city of Khansar in Esfahan, Iran. She moved to Tehran at the age of 14 and after graduating from high school, she studied graphic design at Tehran University of Arts. She continued her studies by pursuing a master's degree in illustration from Tehran University of Fine Arts. In between her studies she took up fashion design, began working in fashion illustration professionally and was invited to teach at a few institutes during which time she had the chance to work alongside professionals such as Roya Mozaffari and Forouzan Shahkoopah. She currently works in the fields of illustration and graphic design.
---
Thank you so much for giving Trends this exclusive interview. How would you describe your creative process?
The creative process is not a clear or concise one for me. I have different experiences with every project I take on. In my work, I always try to be my truest self. Although I am an introvert, when I want to create something I try to experience myself as a whole.
Could you describe your artistic approach? How do you start a project and when do you know it is finished?
For me, the projects begin without any particular structure and the main points become clearer as the project progresses. If I have a specific topic in mind, I begin by writing and developing the ideas, then I collect as much visual material as possible and conduct related studies and research. I even research what other artists' thoughts are in regards to the project that I have in mind so I can look at the project from different perspectives. In regards to the end process, it is completely based on my personal feelings. Sometimes I reach a point where I think the work has reached its end, but after looking at the piece again, I consider making some changes.
What is your favorite piece of work in your portfolio?
The answer to this question is not so simple. It's hard for me to choose, but a few pieces from the PARAZIAN collection are especially striking to me. This is due to their composition and the feeling that I get from the pieces, as I see myself in them.
What resources and techniques do you use?
In regards to the technique, I have extensive experience and have tried just about everything. However, currently, simple materials such as pencils and markers, which are easily accessible to me, are my permanent companions. But I also do use digital techniques. 
Describe the project that you presented in the MODAM concept store.
In the spring of 2019, the PARAZIAN collection which included about 30 artworks was exhibited at MODAM Concept Store. For me, this collection occurred at a certain point in my life when I was struggling with my internal emotions and femininity. In this collection, thin mesh socks, commonly referred to as "PARAZIAN socks" in Iran, were utilized as a medium to cover the entire piece and only partially show them through the spacing in the mesh and tears. In my statement of this collection, I explained that sometimes torn and frayed pieces and imperfections can be part of the formation process and completing a piece.
What styles and people have been the source of your inspiration?
I get inspiration from my internal feelings, personal experiences, my environment, and a wide range of different artistic areas. Even if I may not prefer certain styles, artists or pieces of art, they could still be a good source of inspiration.
How do you learn about new techniques and tools?
If I feel the need to experience a new material or technique, I'll seek it out and experience it. And if I can't achieve any results with the new material or technique on my own, I will research it, get advice from people who are experienced with it and will set time aside for it .
Can you tell us more about your upcoming projects?
I am currently working on a few different projects and hope to showcase them soon. One of these projects is the continuation of the PARAZIAN collection; it has taken shape and is almost ready to be showcased. Other projects include the "Lāk" collection, which is in its primary stages. This collection is very appealing to me and is a collaboration between myself and Sedigheh Motalebi, an illustrator.