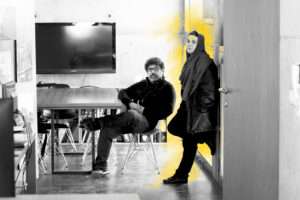 By: Ghazal Mostafa
Nashid Nabian and Rambod Eilkhani, who is her partner both in life and work, are the lead designers and founding partners of a Tehran-based architectural studio called "[Shift] Process Practice". The couple have been professionally practicing architecture and urban planning in Iran for over 20 years, and they are the designers of the Iranian pavilion at Dubai Expo 2020.
---
[perfectpullquote align="full" bordertop="false" cite="" link="" color="" class="" size=""]Thank you so much for giving Trends this exclusive interview. Please introduce yourself and tell us about your field of activity and background.
I'm an architect by education and profession. I did my master's in Architecture in Iran at Shahid Beheshti University, previously known as National University. I finished my graduate studies in 2000 and in 2003 I migrated to Canada and got a master's degree in Urban Design at the University of Toronto, John H. Daniels Faculty of Architecture, Landscape and Design. After graduation, from 2005 to 2006 I was in an urban research program as a senior researcher at University of Toronto. In 2006 I entered a Doctor of Design program at Harvard University's Graduate School of Design, and so for the next four years I was doing my doctorate. My field of research during that time was digital augmentation of spaces, and it involved a lot of coding and reading about digital culture. In 2010 after getting my PhD from Harvard, I started a 2-year post-doctoral fellowship on Smart Cities at the MIT (Massachusetts Institute of Technology) SENSEable City Laboratory.

The SENSEable City Laboratory's research focuses on studying and predicting how digital technology is changing the way we describe, design, and occupy cities. I completed my fellowship under the supervision of Professor Carlo Ratti, who is incidentally one of the designers of the Italian pavilion at the Dubai 2020 Expo. So I guess in terms of the architectura.
l award for pavilions at Expo 2020 I am competing with my supervisor!
From my second year in 2008 at Harvard, I started my teaching career as well. Along the way, I have taught at University of Toronto, Northeastern University, Rice University, MIT and of course my alma mater, Harvard. From 2010 until 2014 when I returned to Iran permanently, I was teaching at Harvard as a faculty member, and meanwhile researching on smart cities. At the time, I was also heading a joint program between University of Bergamo in Italy and Harvard Graduate School of Design on Smart Cities. In 2014, as I mentioned earlier, I came back to Iran. 
At the same time that I was busy with my academic tourism, if I may call them that, my husband Rambod and I were managing our newly set up architectural studio "[Shift] Process Practice" in Iran as well. Rambod never moved to the U.S or Canada, as he didn't believed in leaving Iran so I was going back and forth while he was based in Iran, essentially running the office. Of course, during the times that I was here in Tehran I would help him as well.
In the course of our 20 years of professional practice, Rambod and I have designed many projects, and moreover, we have imagined many projects. Some of the architectural designs that we conceptualized were built and some were not, as it is with all other architects. A few of the projects that were built have been recognized on national and international platforms, as were some architectural designs that remained unbuilt. To date, [Shift] Process Practice is the recipient of 7 of Iran's Memar Awards which is the most prestigious architectural award for built projects in the country. On a global level, our projects have been showcased on Aga Khan Award for Architecture, World Architecture Festival, and World Architecture News, which are prestigious international architectural awards and venues. In the meantime, I have personally been contributing to many domestic and international architectural magazines and journals and I have also published books on architecture and smart cities.
As for Rambod, he did his master's in Architecture in Iran at Shahid Beheshti University as well. He started his professional practice way before me, so he has been a practicing architect starting back in 1995 but we established our first office together around 2000. Rambod has been teaching in different educational venues in Iran including Azad University.[/perfectpullquote]
[perfectpullquote align="full" bordertop="false" cite="" link="" color="" class="" size=""]Tell us about [Shift] Process Practice and its field of activity?
Aside from Rambod and I who are founding partners of [Shift] Process Practice, we have a junior partner who joined us a couple years ago and her name is Dorna Mesrzadeh. If I want to give you a short description of our office as professional practice, ours is a mid-size architectural design office. We are very much into the concepts of research-by design and design-by-research. For each project, there is a lot of interdisciplinary research that our office engages in. In fact, [Shift] Process Practice has a research and development branch named Tehran Urban Innovation Center (TUIC), dedicated to research and architectural education. We do our architectural research through this proxy office.
We offer free classes, and all the knowledge that is being produced within the framework of TUIC activities, is published in an online series called TUIC101, also with open access on the TUIC website, www.tuic.ir . On each area of inquiry in architecture and urban planning that TUIC is engaged in, we have published something on TUIC101 which is basically a collection of 101 points in that field of inquiry. I think we have, to date, published a total of 11 or 12 booklets on various topics. So that sums up our professional practice and research agenda. [/perfectpullquote]
[perfectpullquote align="full" bordertop="false" cite="" link="" color="" class="" size=""]Tell us about some of your award-winning projects please.
For Aga khan Award for Architecture, we were shortlisted for a project called "Dowlat 2", which is a four-story, small-scale residential apartment, built in Tehran. It was quite a bit of an achievement for our office because although it was a very small project, the way that we were dealing with the problems pertaining to architectural design in a metropolitan area of a very complex city like Tehran was basically being acknowledged by Aga Khan jury in 2009.
In 2012, our office building which is called "2 brothers-2 offices" and is our design and we built it ourselves, was shortlisted for World Architecture Festival. This is a small-scale office building in Tehran as well, and it is built out of exposed concrete with lots of complex detailing. Then in 2018, we had 2 projects shortlisted for World Architecture Festival; one of them was a villa called "inside-out" which is designed for Falahatian family in Isfahan.
At a conceptual level, the White Gallery functions as a Cabinet de Curiosités (Cabinet of Curiosities) which is this 19th century European construct for westerners who would visit the Orient. They would collect these exotic items on their trips and take them back to the West. From the beginning of 19th century, these "curiosity" cabinets emerged in the western version of domestic spaces as furniture items which would house the exotic objects and souvenirs of the Orient.You would open the cabinet and it would open your view to a horizon, oriental horizon, if I may say so. In a way, the White Gallery is very much inspired by this idea of Cabinet de Curiosités. It's a very introverted building, a very discreet presence. When you look at it from outside it looks like a fortress, but it seeks to merge into the residential background of Zaferaniyeh district in Tehran and not stand out. In a way it tries to hide itself between the punched facades of the residential apartment buildings. Yet, once you get into the space, it has a very complicated area. The Gallery itself is built on a very small urban lot.
Although the lot is just 140 square meters in size, I remember that when we were doing the photography of the Gallery, the photographer, Parham Taghioff, commented "Nashid, this is very interesting. I can see that it's a very small project, but I get lost in it!" That is because the sectional connections of the White Gallery are designed in complicated arrangements.
In 2019, the design of "40-bagh" which is a high-end large-scale residential complex in Fereshteh neighborhood of northern Tehran got a memorable mention in World Architecture News, as the runner-up in residential category. The project was an attempt to reproduce urban villas on elevated platforms. Each and every residential unit in this project has a dedicated courtyard from which the unit is accessed. So, living in this particular project, although you are in a high-rise, you benefit from the luxury of having a garden, just like a villa.
At [Shift] Process Practice we have projects as small as 60 square meters and as big as 640,000 square meters. So, the scale of the project is not important for us. The scope of effectiveness of what we design on the users, on the spectators and on the architectural community is what we try to focus on.[/perfectpullquote]
[perfectpullquote align="full" bordertop="false" cite="" link="" color="" class="" size=""]Tell us please about the design process of Iranian pavilion and how you got involved in Dubai 2020 Expo?
There was an official request for qualification (RFQ) that was announced by the Iranian Expo Committee. The public call for qualification was asking for the professional portfolio of registered offices plus a statement of how the office is aiming to approach the architectural problem of designing for Iranian Pavilion for the Dubai 2020 Expo, given that Dubai 2020 Expo had already announced its main theme. So we submitted our academic background, our resume, and samples from our professional portfolio including some of our past projects, along with recommendations from our clients. When we heard back from the Committee, they wanted to have more details about a number of our previous major projects that were representative of our professional practice. They also wanted to know about the organizational structure of our office and who would be leading the design if we got the project. And of course, our design philosophy for the project was important to the Iranian Expo 2020 Committee. So we submitted all these document – I think that we submitted a total of 300 pages of various supporting documents. We were then shortlisted and got interviewed in person about our projects and portfolio, and again our proposed design philosophy.
I'd like to expand a bit on the design philosophy here. Each design brief represents an architectural problem or issue to be solved. In this sense, I think architects are problem solvers. Based on the design brief, we come up with a question, a problem at hand, and we need to address it and find a solution to the "problem". The question to be addressed for a national pavilion in an international Expo is, "how can you capitalize on the potentials of architecture as a 'discipline' in its true essence, to create a national brand or to provide a medium for one?" National branding should illustrate cultural specifics of a nation, while creating this same image of that nation as globally connected. So, national branding implies that we are global enough that you can have a conversation with us, but at the same time, we are locally specific in a way that what emerges from our conversation is going to be unique and different from your conversations with others.
In addition, when we were addressing the architectural project as reflected within the design philosophy, we explained our belief that historically speaking, the Expo is a platform for different nation-states to brand themselves as modern, up to date, and contemporary entities, while capitalizing on how their culture and civilization is trying to thrive domestically given prevailing global circumstances and challenges. At some point in the past, perhaps in the early days of world expositions, different nations would try to brand themselves in terms of their technological achievements.
However, today, participants believe that Expo should be about cultural distinctions, because technology has been, let's say, globalized in the sense that it has crept into our lives in the same way everywhere.[/perfectpullquote] 
[perfectpullquote align="full" bordertop="false" cite="" link="" color="" class="" size=""]What was the holistic concept of your design? In terms of volumetric design of Iranian pavilion, what ideas inspired you?
When we started to think about the project, we thought that the conceptual design phase should be led in a trans-disciplinary way, so we teamed up with a series of other firms with different areas of expertise. For example, we involved people like Hossein Madani, who is a design anthropologist; Siamak Farshchi who is in the business of branding and hospitality; Iman Maghsoodlou, an interior designer, and Farhad Fozooni , a graphic designer and artist. We also wanted Yaser Moosapour involved as an architect who is very good at history and theory of architecture. Also, we chose Amirhossein Taheri another architect whose approach toward architecture is very substantial and fundamental in the way that concept takes shape in my opinion. So for many days, we weren't even drawing a line; all we did was talk about ideas we had. It's very interesting how cross fertilization between different disciplines happens in these kinds of brainstorming sessions; an idea which may be a mundane idea in design anthropology or in social sciences, when adopted in discipline of architecture for instance, can create wonders.

We started talking about how Iran's pavilion can be a door into our contemporary routines of life both in terms of domestic as well as communal and societal traditions. We also discussed how, because of misrepresentation of our country in international media, perhaps due to our unique geopolitics, so many wonders of our country are not portrayed properly to the outsiders. So we talked about these wonders, what it is that makes us really distinctive in terms of a nation, a culture and a civilization plateau. We considered our diverse geography and our old civilization and young population. We moved on to examine our contemporary art, which is currently one of the only aspects of Iran that is being noticed by westerners in auctions like Christie's. Then we weighed in our cuisine which is also quite characteristic of an ancient culture. One of the ideas that came out of our conversations was the concept of emergence as a component and character of our culture, and how everything in our culture has a way of "emerging" over time. In our cuisine for instance, the final taste emerges through hours of simmering and blending, and this reflects so many other aspects of Iranian psyche and tradition.

Our team's discussions evolved into talking about our folklore art, and soon the topic turned to the practice of our everyday lives – which is quite unique as well because each of us leads kind of parallel lives as our domestic private practices are different from social practice in many ways. Politics also came up in our talks. You may ask why politics? It's because politics in its most general term, is a part of the discipline of Architecture. Iran's plateau, the Old Persia, has been host to the longest continuous government in the region, and why is that? In our long history stretching over millennia, Iran has been under serious invasions from the east to the west and from the south to the north, and we are still here as a nation.

Every historical fact adds up to the expectation that Iran as a country should not exist at this point. But, here we are still, and I think the reason for that is this fact that Iranians are very good at politics and diplomacy. They know how to converse, and they know how to negotiate deals. There have been distractions along the way, but generally, they know how to turn violence into a conversation of civilizations. Then we thought about Shahrazad and recognized that Shahrazad is the embodiment of politics in Iran. 
Out team deliberated what was it that Shahrazad did? Soon we reached the conclusion that by telling stories, Shahrazad postpones, for 1001 nights, the violence of a king who is eager to kill. Looking at this idea from another perspective we can say that conversation in Persian means telling stories and offering narratives. Inspired by this perception, we had our "story" to tell! We decided to create an emerging narrative of contemporary Iran and we envisioned that each part of the narrative should be a singular spatial pocket – a "conversation" – in the Iran pavilion giving visitors the choice of whether they want to be exposed to that micro-narrative or not. In this way, each individual would have a very personal reading of contemporary Iran based on their choices of visiting different parts of the pavilion. So based on how you decided to navigate this collectivity of spatial pockets, you would have your own personalized narrative of my country. Thinking about Shahrazad as an inspiring mythology, we thought that the pavilion shouldn't be a singular autonomous monolithic building. It should be some sort of a field condition with modules of space conversing with each other within space and time. That's why when you look at the plan of our proposal, it is a collection of cubes, distributed in the allocated area for the project with a lot of open space in between. When you enter the Iran pavilion, it is not perceived as a building. Instead, the visitor experiences it as a neighborhood of small spatial pockets, each with its own story to tell.

The main theme of Dubai 2020 Expo is "creating future, connecting minds." So we translated the first part to this idea of "thinking of a low-definition future." What I mean is that for us Iranians with all this turbulent history and our current status, the future is never quite defined and predictable. The Iranian survival strategy is thinking of a short term future with this mentality which is reflected in poems of some of our most famous poets like Khayyam, and that's how they manage to maintain their sanity amidst all sorts of crises. For the second part, or the "connecting minds", of the Expo theme, we reflected on the fact that our technique of resilience as a nation is "celebrating empathy." We are quite diverse and perhaps the reason is that we always reappropriate other cultures: we have borrowed from invaders like Arabs, Turks and Mongols, and all these cultures are somehow absorbed into Persian culture, morphing into a Persian version of themselves. For us that had something to do with the fact that our culture is very empathic. With this approach, and reinterpreting the theme of the Expo, we came up with this dual concept of "thinking of a low-definition future, celebrating empathy."

In terms of the architectural concept, the spatial diagram of the pavilion is this field condition of a series of cubes with a bit of randomness and this is very much what's happening in our tradition of miniature painting as well. Each part of the canvas in a miniature painting is telling a different part of a story simultaneously. This was one of the first diagrams we created for our design where we framed different parts of the story or narrative of contemporary Iran in different cubes. Following the tradition of miniature painting, in terms of creating a narrative in diffused fashion, we chose to go with this field condition of concurrent micro narratives. The other idea we incorporated into our design was that Iranians have always had some sort of a soft power as opposed to hard power. If we follow the turbulent history of Iran, from Amir Kabir to Mosaddegh and Zarif, there is some sort of a soft power of diplomacy at work.

This idea of soft against hard was another concept that inspired us for the symbolism of the architectural language,the non-negotiable and hard surface of the blue glass in contrast to negotiable soft bead curtains that are juxtaposing the blue hard surfaces.
[/perfectpullquote]
[perfectpullquote align="full" bordertop="false" cite="" link="" color="" class="" size=""]How did the design process work?
What I explained was in terms of volumetric design that was inspired by Shahrazad and the Arabian 1001 Nights, deconstructing a narrative down into its elements. Afterwards, we needed to choose an architectural strategy. To do that, we devised our first spatial diagram; a sort of colony of three-dimensional pockets, operating as a field condition, meaning that we were bringing together a diverse set of elements while allowing them the space to express their individual identity. Now we needed to further develop this spatial diagram into an architectural project. So that's when we had to choose an architectural language.
What inspired us in terms of architectural language, was this duality between earth and sky which is present in vast of the country are flat where you see the horizon at the far distance. There, something sublime happens: land meets the sky along a clear-cut line, and this creates a duality between the color of earth and the color of sky which you see in our traditions of art and architecture, from miniature paintings to the architecture of mosques and the art of mosaic in architectural ornamentations. In all of these forms of Iranian art you notice the turquoise color of the sky set against the earth tone colors. This duality inspired us in terms of choosing the architectural language. That's why each of those spatial pockets are envisioned as a blue cube with a bead curtain as a secondary tier of the architectural threshold. There is something very poetic about the bead curtain it is a border, but at the same time, it isn't. I mean, it has some level of ephemerality, it is negotiable, you can enter it from everywhere. But in between the bead curtain and the turquoise solid cube, there is a very peculiar space as well. You are inside, but at the same time, you are not. This creates a sort of tiered gradual spatial embodiment, so the borders of each spatial pocket are not defined and are therefore negotiable, and each three-dimensional pocket becomes like a place with negotiable boundaries. 
Another aspect of the bead curtain is that it engages other sensory experiences as well; if the wind passes, you can hear the beads bumping into each other. If they get wet, you will have a different olfactory experience. The touch is important as well, because when you touch it, it is negotiable and your tactile understanding of the project is going to be quite different from one moment to the next as they cling to each other in one way or another.
Initially, we proposed that the bead curtain should be out of  a sort of baked clay, but given the limitations that happened during the construction, Covid-19 and the economic sanctions against Iran, bead curtains could not be produced either in Iran or Dubai and as a result the client (Iranian Expo Committee) asked us to change it to wooden spheres.
That was not ideal but still a lot of those spatial effects and sensory registers remained untouched in the project bureaucratic procedures hindered the process. We also had difficulty procuring all material that was needed and because of the limitations in terms of Sanctions, many providers would unfortunately not work with Iran's pavilion. So it wasa constant fight to make this figment of our imagination a reality. But step by step it finally happened!
[/perfectpullquote]
[perfectpullquote align="full" bordertop="false" cite="" link="" color="" class="" size=""]Please describe more some of the challenges you faced during the design and the construction process of Iran's pavilion at Dubai 2020 Expo?
I think this was one of the hardest projects that I have coordinated so far. One of the challenges that we had was that different parts of the pavilion had been assigned to different operators (like those representing the arts and culture of Iran, or the technology, energy, mining sectors of the country) and so coordinating their respective wishes for their space was quite hard. What I mean is that as the architect of the building, I was familiar with each part of the design, and for the past 3 years I had been living with this project so it had been a part of my daily life. So I had to make sure that what each of the operators wanted was aligned with what I had designed. It was quite a bit of a challenge as So from here the client had to choose a contractor as we were not involved in this phase of the process. As designer, aside from the architectural plan, [Shift] Process Practice was responsible for preparation and delivery of the "bill of quantity" which itemized materials, parts, and labor for budget purposes based on construction documents. Once delivered, the client would go for a separate construction bid and choose a locally registered contractor in Dubai to implement the design.
[/perfectpullquote]
[perfectpullquote align="full" bordertop="false" cite="" link="" color="" class="" size=""]Did you stay involved during the construction process?
What role did you have during construction?
We were supervising the construction in terms of the quality of execution of details. It was not easy to communicate effectively with the client and the contractor as red tape and you can imagine. But at the end of the day, I think it was all worth it. I believe that the result is in fact very good and we were all very proud that we were involved in it.[/perfectpullquote]
[perfectpullquote align="full" bordertop="false" cite="" link="" color="" class="" size=""]What did you have in mind in terms of material choice for the project and the interior design of different spatial pockets?
For the interior of the pavilion, we wanted a very minimal style. We went with white and grey concrete and white plaster. As for the exterior, we wanted a sort of sky-ish blue, turquoise kind of color scheme. That's why we went with colored glasses for the façade of the cubes, so the glass is in the front and the color coat is in the back, and you have the reflection of the glass and the turquoise color at the same time. As I mentioned before, the bead curtains were supposed to be made of cooked clay, but it just didn't happen. There was an interesting local provider but the problem was the limitations of transportation and shipping, insurance and the like. Economic sanctions were another impediment to financial transactions, and then Covid-19 happened. We simply couldn't find any provider in Dubai who would be willing to produce that many spheres in that short a time, so we changed it to wood. That's the only thing that I regret, but I know that given the circumstances of construction, no other option was logistically possible. 
[/perfectpullquote]
[perfectpullquote align="full" bordertop="false" cite="" link="" color="" class="" size=""]Earlier you mentioned that Iran is misrepresented globally. How do you think grand venues like the Expo can enhance the global presence of Iran as a nation?
To begin with, I don't believe that management and agency of Expo should be under the Ministry of Industry, Mine and Trade. Expo committee should come under Ministry of Culture. Expo is not a business opportunity. One of the major challenges in terms of maintaining the focus of the project, content-wise, is this misunderstanding of the nature of the Expo. I think that if for the next venue, there was a way for the Iran pavilion to be led by the Ministry of Culture, then a lot of misunderstandings about the nature of this event, and the goal of the architectural space dedicated to Iran's representation in such a venue, would be resolved. For the current pavilion, it was quite challenging to make those in charge understand that in Expo you brand yourself culturally, in a contemporary language, and that's how you create business opportunities – although the idea is that it is not a DIRECT business opportunity! You cannot blatantly conduct transactions in your pavilion. None of the other participating nations would do that. So I think this bureaucratic misunderstanding is a very important concept – even more so than sanctions because at the end of the day the project has been built. But it would have been way easier to communicate content to a group who had culture in mind as a priority and not transactional business.
[/perfectpullquote]
[perfectpullquote align="full" bordertop="false" cite="" link="" color="" class="" size=""]It is the first time that Expo is happening in the MiddleEast and North Africa region. How important is that for Iran as a neighboring country?
Expo taking place in Dubai is very significant for Iran. I mean the Expo is happening in the south of a very important body of water that even its name was a tug of war. Therefore, Iran's presence and contribution to this international event on its southern border is essential. The Expo is also a platform for conversation, in terms of regional geopolitics and context. It is a very good opportunity for soft politics. When a country participates in the Expo, it brands itself as a contemporary nation, and at the same time, it builds on the fact that it's a nation of dialogue.
Another crucial aspect of the Expo is its global context, which is once again, a very important opportunity to set the record straight. In the minds of the global community, Middle East has always been coupled with tension and war, with radicalism, and oil politics. But now, the name of the region is connected with culture, with dialogue between different civilizations, with national branding, with future and hope, and with conversations around sustainability and resilience. What bad can come out of it?! It was obviously very important for us that we have a representation at the Dubai Expo 2020. I think these are the opportunities a nation shouldn't miss.
[/perfectpullquote]
[perfectpullquote align="full" bordertop="false" cite="" link="" color="" class="" size=""]Were you involved in provision of content in other parts of the pavilion like the spatial pockets or cubes?
One of the people with whom during the coordination of content I had the honor and joy of working was Dr. Sorena Sattari, Deputy Research and Technology Officer of the President and Director of the National Elites Foundation. One of the pockets, Gallery #9, was allocated to their unit. They approached us and wanted to include us in provision of content. During many brainstorming sessions with their representatives, we decided that for that particular spatial pocket, we are going to go with a "meta narrative" of contemporary Iran based on young and globally connected population of Iran.
We wanted to show how this globally connected middle class of educated Iranians are leading their lives using contemporary technologies which they had to develop themselves because of the sanctions. For example, in North America, there is Amazon, and in Iran we have Digikala. If they have Uber, then we come up with Snapp. And the examples are so many in this regard. Because of the sanctions and because we are grudgingly disconnected from the world markets, this void of global market products has created a national ecosystem of innovation from which a lot of domestic startups have emerged. We came up with this idea of an immersive media space for Gallery #9 that provides a very fast paced audio-visual content that puts you as the spectator within the context of everyday life in Iran facilitated by different Iranian smart applications and novel technologies. I really like the outcome of the content for that spatial pocket, and I think that it is one of best in the Iran pavilion.
[/perfectpullquote]
[perfectpullquote align="full" bordertop="false" cite="" link="" color="" class="" size=""]As Expo is going on, what are your wishes and hopes for our national pavilion?
Hopefully it will be documented well and the visitors will be exposed to a part of the reality of contemporary Iran which is a very diverse and exciting fact. This reality can't be framed in conventional media-driven frames and I'm very happy that we were able to represent Iran in a way that is not portrayed through the orientalist lens of westerners and it's not self-Orientalizing either. Self-Orientalizing refers to the situation when somebody from the east tries to represent herself through the lens of orientalism herself, to wrongly idolize a culture. So we tried to make sure we are not obsessing over contemporary Iran either. We are realistic and it is not a fantasy. It is a real narrative of what's happening in our country and how Iran should be branded as a nation-state.
[/perfectpullquote]