By: Ghazal Mostafa
---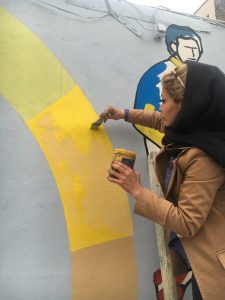 Melika Khansari was born in September 1982 in Tehran and has a degree in business management from the University of Tehran. After graduating from university in Iran, she went to Paris and studied painting.
---
How did you become interested in street art and how many years have you been working in this field?
It was in the atelier of one of m colleagues active in the field of street art where I was introduced to the Tehran Municipality Beautification Organization's talent call for the Persian New Year and springtime, where I was first acquainted with the field of street art. I participated in the competition and my design was accepted by the jury. I was later able to apply my designs on walls with heights varying from 3 to 15 meters. I have now been working in this field for six years.
The reason I became interested in this art was because I knew street art has millions of audiences. I think creating a beautiful mural would impress anyone passing by the street either by foot or by car, especially in some deprived suburban areas of Tehran because those areas do not have beautiful visual spaces and therefore would be the most suitable areas for street art. After creating these murals, people were very appreciative of my work. Invoking these emotions is what makes me continue to do this work.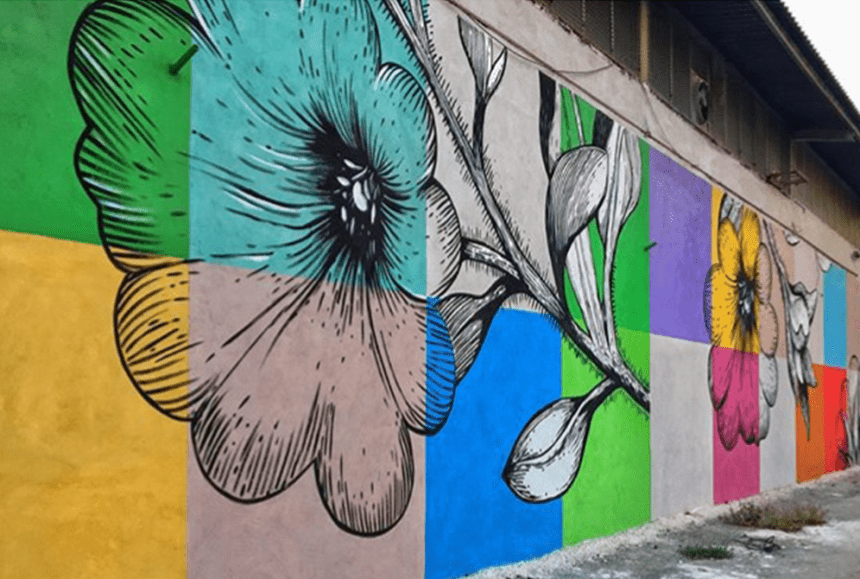 What is your work style and creative process like?
My preferred style involves using colorful designs which convey impactful social messages. So far, I have used sharp, large elements in my work, as well as figures, but they do not fit a specific classification. I work on cement walls since brick walls aren't the best for my work. If the wall needs better infrastructure, it will be destroyed and rebuilt so that the design will be ready to be executed.
Before I start my process, the permission for implementation by the building's owner is needed; the municipality is not really the decision-maker. After the permission is secured, I visit the area and photograph the wall that has been commissioned. Then, I create a design in Photoshop using that photograph, which will then be placed on the wall. Depending on the height of the wall, the implementation takes approximately one to three weeks. I like to work on walls with a height of 12 to 15 meters and a width of nine meters to paint three large figures with sharp colors. Lately, I've been afraid of heights, so I've been using a belt for walls higher than 7 meters. If the wall is very high or the figure or portrait is very large, like many portraits of martyrs that can be seen in the city, the design will be magnified on the wall with a projector and a team will help implement the design.
The durability of the painting is around four years; this depends on certain conditions such as sunlight. When the paint gets old, the colors fade and it becomes flaky, so the painting must be completely washed off, and then the design needs to be reimplemented.
Please tell us about the history of street art in Iran. Who are the artists that introduced murals to Iran?
The history of murals in Iran goes back to ancient times. Ancient rock carvings in Lorestan, the remnants of colored bricks of the Elamite period, colorful murals on government buildings, winged lions and soldiers of the Achaemenid period and murals of the Sassanid era in Susa all show that our ancestors believed in the visual arts.
The imagination of artists of this land have a long history and these murals often conveyed a political message or a royal scene. After the introduction of Islam to Iran, mural painting lost its prosperity and was replaced by book decoration. In the contemporary period and after the Iranian revolution in 1979, street art started and expanded with the murals of martyrs and political figures and included revolutionary themes.
Iraj Eskandari was one of the first artists in this field, and later on during the Iran-Iraq war, Nasser Palangi was one of the most famous street artists. Mehdi Qadianlou was also one of the founders of modern urban murals in Iran. Mural painting is one of the forms of visual art across the world that both beautifies the city and raises specific issues that can be conveyed to people.
Where are you currently working and what themes do you work on the most? What is the most enjoyable part of your work?
Currently, I am working in one of the impoverished suburbs of Tehran on demolished walls and blocks. These areas mostly have a very dark atmosphere full of poverty, deprivation and depression. In remote, traditional and religious parts of the city where the majority of the people are underprivileged, my hope is that this cheerful design will bring some happiness. Some themes that I use include nature, rural elements, spring, children and schools. Sometimes I get asked to make a modern or classic design with my own taste, depending on the audience of the area.
One of the most enjoyable parts of this job is seeing the joy of the local people and children who sit and watch me paint for hours and offer to help.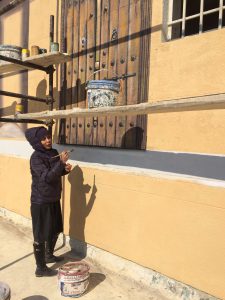 How is creating murals different in Iran in comparison to other countries? And how is it compared to different cities in Iran?
To create designs in Iran, street artists face many restrictions. For instance, portraits of women must be painted with hijab, and certain elements like dance and western instruments can not be used. In religious cities such as Qom and Mashhad, we have even more restrictions, but in Tehran the situation is easier, either way obeying the rules is a must.
Urban mural artists around the world find a wall and execute their design at their own expense and responsibility without restrictions, but in Iran this is not allowed without the permission of a special organization.
In terms of public feedback, I've never done this line of work outside of Iran, but in Iran, in some rare cases religious, revolutionary or political designs are opposed by some residents of the buildings.