By: Dr.Kourosh Resalati
---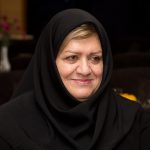 Mrs. Farideh Shojaei was born on August 31, 1956. She has a Ph.D. in Sports Physiology and was a faculty member of Islamic Azad Medical Sciences University for 32 years. Her career background includes: Member of the Women's Committee of the Asian Football Federation, Vice President of Sports Development of Islamic Countries, Member of the Sports Medicine Committee of the Federation of Islamic Countries, Head of Nutrition Committee of the National Olympic Committee, and she is currently the Vice President of the Basketball Federation.
---
Please begin with yourself, how many years did you play basketball, in which teams and tell us about the championships you've won?
I started playing basketball at Asadi High School and soon joined Taj Club's youth teams where, I initially trained in the Afsar team, then moved to the Deihim team. In a short while, I became a fixed player in the main Taj Club team and played in the center post for many years. Our team was always in the finals and competed against the Azmayesh and Ararat and Irana teams, and we were the runners-up in competitions most of the time. After the 1979 Revolution, I played for a period in the Persepolis team but then I competed for the Azad University club team, and I became a champion with this team. I also coached both basketball teams of the Azad and the Medical Sciences universities to championships for a number of years. Before the 1979, I was also a football player on the Taj team for a short period and I also won a badminton championship after the Revolution.
What is the difference between players of your time and players of the new generation? These days, how can the valuable experiences of the country's basketball greats be passed on to the new generation, which is full of energy, adaptability and great aspirations?
Certainly each generation is different in many ways because society is changing and progressing. And of course, with the advancement of technology, sport is also evolving and records are improving. In our country, this progress has obviously taken place as well, but due to a different view and attitude towards women's sports after the Islamic Revolution, this progress was slower, especially in basketball. Unfortunately, FIBA banned Islamic hijab for women players in international arenas for about 40 years, and this gap between our teams and international women's basketball teams widened compared to other sports, but young Iranian girl players today are an intelligent, very hardworking, and determined generation that has narrowed this gap and kept pace with today's developments, and they are forging forward.
You come from a large sports family, and in your family all manners of sports have always been pursued professionally. You have also been teaching as a university professor for many years. Considering that basketball is an academic field in most developed countries and is taught and pursued professionally in colleges, are there any professional basketball schools in Iran? Or is there a private basketball university for sports such as Taekwondo, football, or equestrian activities? Is the basketball federation looking to build a private college?
I was a member of the faculty of the Azad University for 32 years and the head of Physical Education Department, and I tried hard for many years to do just that. For years, based on comparative studies and modeling based on countries with accepted approaches in this field, I proposed the establishment of a Basketball and Football University to the relevant federations, but my proposal was not accepted. At present, basketball academies have been set up nationwide under the supervision of skilled and interested people with the aim of creating an educational system addressing both the academic as well as the practical aspects of the sport, and significant progress has been achieved.
Has the growth of women's basketball in recent years been commensurate with that of men? Or since your membership in the Federation, and given the existing problems, is there a policy for the development of women's basketball in terms of issues on the court and related statutory regulations that to some extent meet the expectations of countless fans of women's basketball?
Certainly because of the problems that women basketball players have had in the past and the fact that the focus of the basketball federation has always been on men in all categories, we have seen a lot of difference between the two groups. But today, with management and planning and to some extent the change of attitude of the officials, and of course the heartfelt interest and serious efforts of young girls, these differences will become fewer and the gap will hopefully close.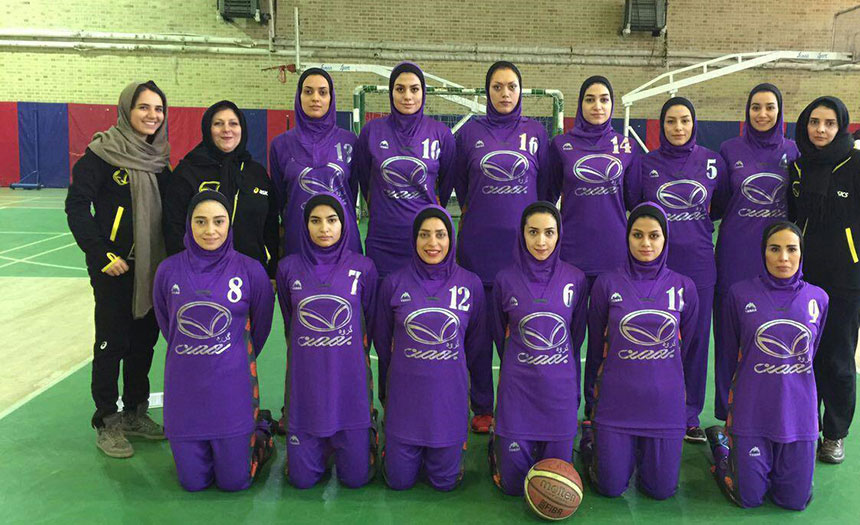 Is there a special program for the beginners' category to discover talent from schools and basketball academies and create strong national women's teams from among those groups?
Yes, Iran's women's basketball federation has a strategic program to search and identify talent for national teams. Based on the federation's goals, once such qualified young women with a preferably tall stature are identified, they are admitted to a program that trains them for elite levels putting them on track to join national teams. I should add that these candidates are selected with the help of specialists in anthropometry, which is the study of the measurements and proportions of the human body. Also, once admitted to the training program, their personal strengths and weaknesses are assessed and specific training plans are designed for them to best prepare them for success on the basketball courts.
Where do our women basketball players stand in 5- and 3-person games compared to other countries?
Although they faced many obstacles, our women were able to demonstrate their strengths in 3-person games at international levels and that success helped propel our teams forward. So much so that last year our young women ranked 6th worldwide and qualified to participate in the Asian and World Championships, the Jakarta Asian Games and the Argentine Youth Olympics. They even earned the championship of West Asia and won third place in the Universiade Championships, which is also called the World University Games. In the 5-person basketball, they earned third place for the first time in official competitions in West Asia. But given these remarkable developments, Iranian women's basketball is still a long way from Asian and world basketball levels. Because some of the best teams in the world, such as Australia, China and Japan are in Asia, FIBA Asia has turned its attention to Group A teams. And as Iran is in Group B Asia, we have not had a plan to or participated in a competition for about 4 years. Also, due to financial constraints, we have not participated in tournaments and friendly events lately, and the danger for the gap with Asian and world teams to increase is there.
Do Iran's Ministry of Sports, the National Olympic Committee or other public and private institutions provide the necessary support to the women's sector?
Fortunately, in recent years, the Ministry of Sports and the National Olympic Committee have paid more attention to women's sports, and with the presence of Dr. Farhadizad, Deputy Minister of Women's Sports, attention to women's sports, including basketball, has increased. This is turn has led to growing public encouragement and interest and helped these young players achieve their goals. Also, with the support of Dr. Salehi Amiri and Ms. Taherian, respectively President and Vice President of Iranian National Olympic Committee, we are witnessing a golden age in girls' sports in the country and if this continues, the barriers, challenges and weaknesses will lessen and will be replaced by strengths and opportunities.
Given that you have been managing different categories of sports in Iran for many years, and have served as vice president of women in the country's football, golf, and basketball federations, what do you see as the problems and strengths for women's sports in our country?
Surely passage of time and the positive change in the attitude of officials, together with progress in sports sciences have made a constructive difference in women's sports in Iran. What has been shown decisive is the supportive role of officials, especially the president of the federation, as well as the role of guidance and planning for the sector. And also the fight put up by women which altogether have shaped the strength, or in their absence, the weakness of girls' sports in Iran. Resources and sponsors, television broadcasts, advertising, media, etc, are also very important. I personally believe in having a foreign coach. Female coaches in Iran are good and up to date in theory because they take the necessary courses and coaching trainings along with men, but their practical coaching experience and bench side know-how, especially at international levels, is not as strong and requires time. Hiring an ordinary foreign coach is not helpful because in this case Iranian coaches are better, and of course having experienced foreign coaches who can certainly make a difference requires a lot of sponsors and money, and there lies the problem. To address this issue, the best approach in my opinion, is to use, where possible, the knowledge and expertise of male coaches in the country who have been more successful in these sports.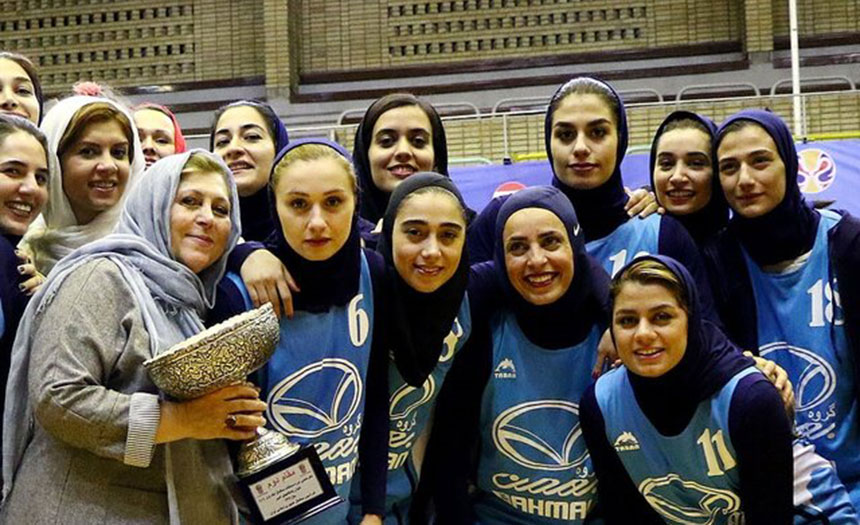 Are proper basketball facilities provided equally in all provinces? Is close monitoring done for existing minimal amenities such as basketball courts, balls and basketball rings in the most remote areas of the country like Sistan and Baluchestan provinces? And is the federation successful in finding talent from among all athletes and those interested in this exciting sport?
Although there are provincial committees in the federation and this point is an important priority for authorities, provision of necessary amenities and resources, at least for women, is not balanced due to insufficient budget and different attitudes of provincial heads of committees. Provinces that have more tenacious deputies, take advantage of opportunities and therefore get to have higher potential, and ultimately are more successful in taking advantage of available resources.
What factors are important for the growth and development of our country's sport of women's basketball?
The general popularity of basketball in the country and the positive attitude of the officials towards this sport have distinguished this sport. Increasing the number of players, having proper leagues, being able to watch girls playing basketball on Instagram and Aparat are some of the factors that can further enhance the standing of this sport among its followers. Other factors are attracting foreign players, making plans based on short-, medium- and long-term goals, creating an appropriate platform for discovering and cultivating talent, and paying attention to the foundations and the framework of this attractive sport.
How is your interaction with the managers of the women's section of federations of other countries, especially members of FIBA?
There are many differences between the world confederations. The boards of FIFA Women's Division and the AFC had a close relationship with women members of each federation, and so as a member of the Asian Women's Committee, I was able to express my views and receive good feedback which were all positive interactions. But in basketball and FIBA, there is no connection between the executive branches and members and as a result no woman has yet been invited to receive a seat in the Asian women's section in FIBA Asia. As long as women are kept away from the international executive branch, we will not have positive outcome.
After many years of efforts by our basketball Federation and Iran's National Olympic Committee, the World Federation accepted the hijab of women in Islamic countries, and this led to the presence of our women in the world, Asian and the international competitions. What is your opinion on this, and what do you think about the presence of national 3-and 5-person teams as well as participation of Iran's Bahman women's team in West Asian competitions for the first time in 42 years?
As I said, the simultaneous lifting of the hijab ban in international arenas with the flourishing of 3-person basketball in the world was a good thing that helped our girls' performance to be showcased. The runner-up position of Bahman team in West Asian club competitions and winning the third place of the 5-member national team in West Asia for the first time definitely motivated our girls and increased their incentive to continue working hard and succeeding in the future.
Regarding our national 3-person basketball team that has critical games ahead of it to qualify for the Japan Olympics, what teams will they play against and in which countries?
Our girls' national 3-person team is facing a difficult task to get the quota. In the event in Austria, 20 of the best teams in the world are present. From this first event, three teams will advance to the Tokyo Olympics. At this stage, Iran plays in the same group with Japan, Ukraine, Turkmenistan and Australia. In the second event in Hungary, only one team will go to the Olympics from among Hungary, Japan, the Netherlands, Italy, Chinese Taipei and Iran. The winning teams from the Austria and Hungary events will succeed to the Japan Olympics making up 8 3-person teams together with the teams of Romania, Mongolia, China and Russia who have already qualified for the Olympics.
What is your opinion about the country's women's premier league and the presence and tough competition of the 4 teams that made it to the semi-finals?
This year, due to the presence of 11 players and a foreign coach, the league was very exciting and after the qualifying rounds, 6 teams were almost on the same level. In the semi-final and the final stage, some teams overtook their opponents by attracting a foreign player, and finally Bahman team became the champion with a strong and deserving win in the final. It should be noted that some clubs have performed quite professionally and by following international standards have made us more hopeful for the future.
What is your opinion about the championship of Bahman team in the two seasons of the country's women's premier league?
Bahman team's championship was due to many factors like the strong management and coaching of Ms. Tayerpour, the integrity, loyalty and effort of its players, and use of foreign players in a timely and fruitful manner. Also important for the team's winning performance was the professional bodybuilding program they trained in, and the coaching of male trainers for the team. Becoming the runner-up in West Asia for the first time also helped of course. In addition, the club's attention to the overall wellness of the girls and their continued encouragement, the championship reward they received, and seeing the team on the city billboard in Tehran were all part of what propelled them to success.
Given that women's sports are less sponsored than men's and the cost and amount of women players' contracts is much lower than the men's league, what do you expect from industry owners, and private companies?
Men's sports usually get more attention the world over and this is true in almost every sport. In Iran, due to the lack of television broadcasting, and less media attention and consequently less financial support, this difference is even more visible. But with the global approach to gender justice and the pressure of sports organizations on federations and federations' requests for sponsors to invest in men's and women's teams in the league, this problem may be resolved to some extent.
"It should be noted that the above interview was conducted before sending Iran's women's 3-person national team to the Olympic qualifier games held in Austria and Hungary.Unfortunately, our national team did not qualify to participate in the Olympics and handed over the games to rival teams."