By: Ghazal Mostafa
---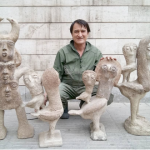 Self-taught artist, Alikhan Abdollahi was born in April 1963 in a small village in Afghanistan. He migrated to Iran in 1989 and has been living here ever since. At the time of his migration, his country was dealing with nationwide wars which led to him moving to Iran. After moving to Iran, he worked as a gatekeeper for a residential building in Tehran. He always had a passion for wood and stone ne and began his artistic career in 2001.
---
A small engine room in the building where he worked changed his life forever. "I have always wanted to demonstrate that the people of Afghanistan, despite all the regional wars, have a passion for art." His friendship with an old artist and painter, Hasssan Moshar, who used to sell his art on the side of the street became the foundation of his journey in sculpting. Moshar once told him "If you start something in your life, never give up and know that there's always a way to succeed." His words sparked a light in Abdollahi's mind and he began to pursue his dream of sculpting. He explains, "One day in an area in Tehran called Karim Khan bridge, I gathered some pieces of wood, nails, some waste materials, and using the mixture of soil and water, I built my very first statue." He adds, "I used flour dough to create the sculpture's body and to add the details. When I finished the work and saw the first statue that I had created, I couldn't stop thinking about sculpting. Years passed and I yearned to find some new materials that I could use for sculpting until I came across egg cartons. Once I realized that the egg carton is vulnerable to humidity and deforms easily, I became very happy and mixed it with liquid glue to make my dough." At the beginning of his journey, he would get his egg cartons from grocery stores, but luckily one of the residents of the building where he used to be a gatekeeper, provided him with large amounts of cartons from a factory where he worked. Abdollahi adds, "At first I used to build the statues just for fun and for myself to enjoy, until my friend Hassan sold one of my statues to a tall man for 50,000 Rials.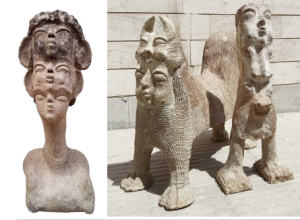 It was such an exciting experience to make money from our art work. The statue that we sold was a human's upper body that was made out of paper and glue, a technique which is called paper-mâché." As Abdollahi started focusing more on his sculpting, the tall man who had bought one of his artworks returned and bought the rest of his art pieces. His name was Kambiz Derambakhsh, a famous artist, who would change Abdollahi's future by showcasing his works in galleries all around Tehran. Three years later his first exhibition was held in Tehran's Art Association Center. Abdollahi says, "Sculpting calms my mind. When I first started, I didn't exactly know what I wanted to create and I would start with what came to my mind at that moment. The sculptures are my imagination that I manifest with joy and passion. I believe we all have imaginations that might one day come to the surface and manifest themselves. Many artists have said that my work is wild and demonic. If I build a sculpture that I don't love, I break it down with an ax and recycle the material to use on a different sculpture that I can create a connection with." These days Abollahi works on custom orders. He says that owls, lions and goats are the most popular designs. Even though he never went back to his home country, he says "Your home country is like your mother and your mother will always be your mother. Even if your mother isn't present, she will always be there in spirit." Iranian and Afghan people have very similar cultures; they both speak the same language and follow similar traditions.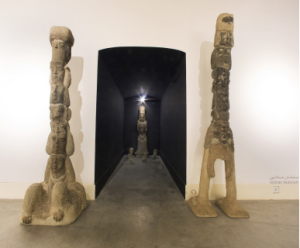 As Abdollahi describes, what kept him in Iran "was the kind and welcoming people of the country and most importantly the fact that Iranian people didn't treat us as immigrants or foreigners. Iran has been welcoming Afghan immigrants for more than 40 years. Abdollahi has been working with paper-mâché for many years. He has created some extraordinary sculptures with incredible characteristics including "Disaster," "The Bride," "Old Woman," "The Bird" and "Strange Demons" which can be found in many art galleries across Tehran. His unique sculptures demonstrate his artistic side where he turns his imagination into an artwork, drawing from his culture, strange creatures, animals, and humans with multiple faces. His ultimate goal in life is to be proud and satisfied of his accomplishments and the works that he creates. However, he believes there is no such thing as to be fully satisfied in the world of art.