By: Trends Editorial Team

---

Dehghan Mohammadi is an Iranian artist and sculptor. In the course of his career as a sculptor, he has created numerous pieces, such as the statue of Div at Iranshahr Theater and the Token of the World Cup at Azadi Stadium. He has also worked as a set and costume designer for several successful TV shows. In this exclusive interview, he talks about his background and his journey in today's world of art in Iran.
---
Thank you so much for giving Trends this exclusive interview. Please tell us a little about yourself.
My name is Dehghan Mohammadi. I come from an artistic family. My father, Iraj, is a sculptor, my mother, Sada, is a potter and set designer, and my sister, Maral, is a composer. For as long as I can remember, I was in my dad's studio among sculptures, the furnace, and art books. I grew up among some of the greatest Iranian artists who were my parents' friends. As a child, I used to daydream all the time. I had these strange dreams about being Michael Jackson's friend or being Rambo himself. This daydreaming has continued to this day, in a more controlled manner.
How and when did you first become seriously interested in art?
I started thinking more seriously about art when I went to a school of fine arts. It was everything I had imagined it would be. Everyone dreamt of becoming an artist. I studied painting and sculpting and I was at the top of my class. Towards the end of my studies, I found my way into television. First, I starred in a series, then I worked as a set and costume designer. Finally, I began directing, which I still do. After art school, I entered a university of arts and architecture, which didn't have much to offer me personally since I had already begun my career.
When did you make your first sculpture?
My first work was molding a four-meter concrete statue. I think I must have been 16 years old. I got paid very well. No matter how much I spent, I didn't seem to run out. Then, when I was 18, I worked on a bronze statue of Ebrahim Ghanbari Mehr, the famous musical instruments maker. That was my first official work and it was installed in Kish Island.
It was around the same time when I entered a biennale of sculpting for the first time. Jazeh Tabatabai, an Iranian artist, was very supportive but since my father was on the jury, he refused to accept me in the competition. This hurt me deeply and I gave up sculpting. I took cinema more seriously and started making commercials and music videos.I fell in love with it and I completely forgot about sculpting which I had gone through a lot for.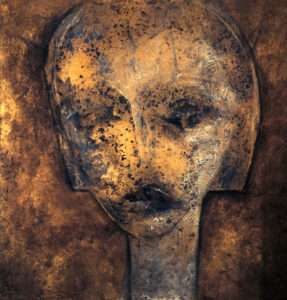 How did you get back to sculpting?
I didn't go back to it for seven years, until I started rereading Shahnameh, which I had read as a teenager. It was around the time of the biennale so I started sculpting again and made my best work, which was the sculpture of the Div (legendary monster in Iranian literature and poetry) from Shahnameh.
It was planned to be made out of bronze but I hurt my hand badly and couldn't finish it on time for the biennale. I had to complete it using fiber which, of course, was not as good. This spring, after 15 years, I finally managed to finish the bronze version which was then installed in Khane Honarmandan at Iranshahr Theater, alongside works of great artists such as Parviz Tanavoli, Iraj Mohammadi, Hassan Emad and many others.
What other projects have you completed?
I have installed more than 20 pieces in Iran, from portraits of Dr. Gharib, Rahi Moayerri, Master Ghanbari to the Token of the World cup at Azadi Stadium, and the sculpture of Zakaria Razi at the Razi institute. I have also completed the molding and casting of more than 60 statues. Sculpting has now become a passion of mine again. It's not merely a job to pay the bills anymore.
What artists or professionals have been your biggest influences?
The works of Antony Gormley, Anish Kapoor and the works of today's modernist artists. I'm very much interested in figurative works as well. I've traveled the world and visited several museums. I have tried to study the process of change, and through that my new works were created. They were displayed at my exhibition in Los Angeles.
What is the name of your latest work and what does it represent?
My new piece is called Golrokh, which is a metaphor for the ne generation of Iranian women. It was displayed next to a piece by a great internationally-known Iranian artist, Shirin Neshat.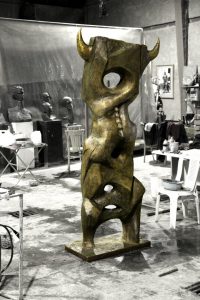 What are you working on now?;
My new collection was supposed to be exhibited in London, in a gallery I had previously worked with in 2017, but the plans changed because of the pandemic.[/perfectpullquote]
How has the pandemic affected you?
To be honest, I have enjoyed this period. My heart goes out to all those who have lost their loved ones, but I'm personally grateful for this opportunity. It taught me not to take myself too seriously and to be humble. It taught me that I can be kinder to those around me and reminded me of my responsibility towards my parents. It also reminded me that life is far too short and that somethings are not worth it. I used to think we were the most important generation of modern history because we were born when computers didn't exist and witnessed the digital age. But now, I think we are the COVID-19 generation.