By: Ghazal Mostafa
Tara Parvaresh is the founder & creative director of Tara Parvaresh women's clothing line. She was born in 1988 in the city of Sari in the Caspian region of Iran. Parvaresh started her career in 2010 after graduating from the Istituto Europeo di Design in Florence majoring in clothing design. Having first worked in advertising and marketing, she finally launched her own showroom in 2017 with the goal of offering high quality designer clothes for women and aspiring to expand her brand globally.
1. Please tell us about yourself and your background.
I have been interested in fashion design from a young age and have been designing clothes for myself and my family and friends since I was 15. My parents were rather strict about my education and would not allow me to study fashion design at high school, so I majored in mathematics and got my bachelor's degree in Agricultural Economics Engineering from University of Mazandaran instead. However, my passion for design was still very strong throughout my university years. So in order to improve my skills in what I really loved, I also took courses on the side, some even online, during those years for pattern making and sewing, design and figure sketching – all in line with my passion of fashion design. About 10 years ago, I started to hold seasonal and temporary shows in various locations, but gradually as my designs became more popular, I opened my own private showroom in Tehran about 3 years ago and started a private workshop for producing my designs.
2. When did you finally decide it was time to become a fulltime designer?
As I mentioned before, I have always had a passion for design of clothing. That was why I never let go of my inner calling and in fact tried to improve my skills by taking those courses at the same time that I was studying to become an engineer!. It took a couple years but once I felt more confident of my skills in clothing design and tailoring I started my seasonal shows. This was while I was still working for an advertising company so all I can say is that the only thing that encouraged me to continue and work this hard was my interest and passion for this art.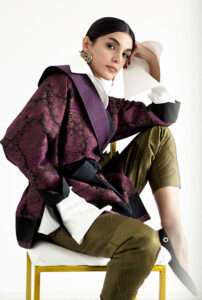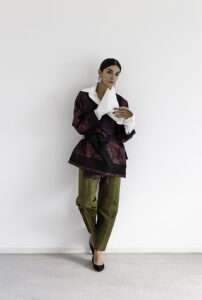 3. Do you follow a specific style of design? How do you describe your style in general? What do your designs/patterns mean? What is the story behind each collection?
I would describe my style as Simple Chic. These are simple pieces which I try to make with the highest quality fabrics possible, and then add few thoughtful details to make them unique. Pleats which are known as my signature in each design are used in most of my pieces and are all handmade. Also, I use detailed fabrics with embroideries or textured, which I associate with traditional Iranian architecture and which I use for a different design in each collection. So, I can say generally my designs are modern and minimal pieces with a traditional touch.
I should add that I like to play with different kinds of fabrics and cuts, and when possible, would rather use simple fabrics with no prints. For me, a fabric's texture stands above the prints or its other features.
4. What inspires you to design? What/who influences your designs? Who are some of your biggest idols in fashion (globally, in Iran, France…)?
I can say everything from aesthetic and architectural elements of buildings to famous or less-known designers in the world influence my designs. In a way, a combination of all of them inspire me, but I can say these days my favorite designers are Alexander MacQueen, Gabriela Hearst, Haider Ackermann and Maria Grazia Chiuri. There are also painters and fashion influencers I can add to this list.
5. How would you describe Iran's growing fashion industry? What are the opportunities and obstacles for Iranian designers? And how do you evaluate Iran's market for national products?
Iran's fashion market is a one with plenty of potential but unfortunately the least amount of support. I think what really invigorates this home-grown industry right now is unavailability of foreign brands and when available, their high prices. Another very important and helpful trend for our fashion industry is wearing unknown or less popular brands which is also a craze around the world. As far as difficulties in the field of fashion design I believe the main one is the lack of good quality raw materials, and the other is absence of modern sewing techniques and machines that negatively affect the quality of our production.
6. How has Covid-19 pandemic impacted your work?
For sure Covid-19 has affected the fashion market a lot and has transformed the way everything is done, creating new ways of shopping and even customer tastes in styles which may never change back. As for our showroom, we have limits for number of visitors at one time.
As we all know there are fewer extravagant and crowded parties than before the pandemic, and public preference is for smaller and more private gatherings with casual fashion styles. You may have heard or seen one of the biggest trends of summer 20/21 which is the "dad sandals"! You know it's big when Chanel does it, right? I believe that as long as Covid-19 is with us, this simplicity will be more or less preferred. I also don't think there would be anything such as going back to the old ways or how things were before the pandemic. It's a new era and as they say, this is the new normal.
7. Please tell us about your upcoming projects (including collections, shows, exhibitions etc.)
As I am very interested in creating unique designs and also Iranian traditional art, I am working on some Persian handicrafts for the upcoming season that I hope will show as a good example of Persian art. Our fall/winter 21/22 collection is mainly focused on using hand-woven or handmade fabrics made out of wool and cotton which are mostly used for casual and formal coats. The fabrics are in a variety of bold colors like fuchsia, blue and orange, and also in black and cream colors. Another focus of the collection is the inclusion of card weaving (tablet weaving) and tape weaving techniques which are also all handmade. As these are time-consuming processes, this collection is a small experiment with limited pieces.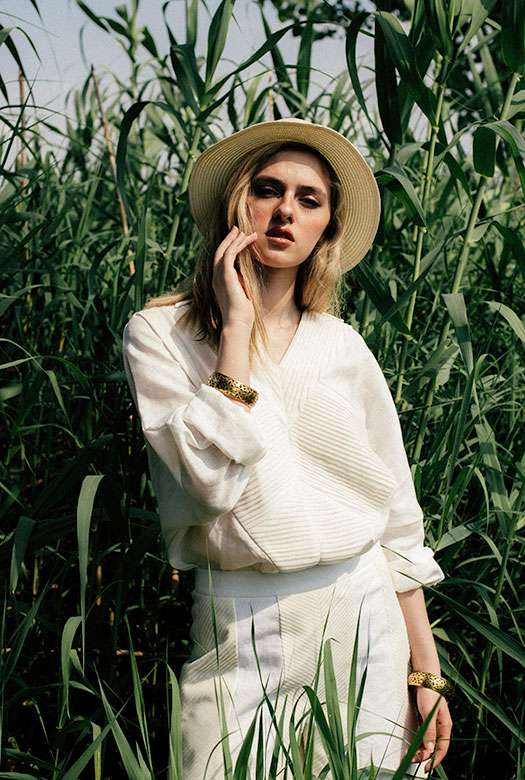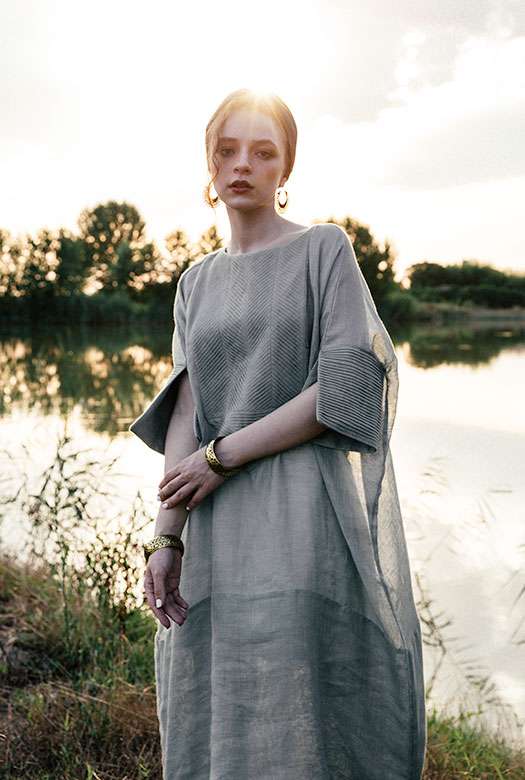 Uniqueness is always striking… being a woman, discovering yourself and appreciating your attractiveness, simplicity and exclusivity -the uniqueness that is apparent in your accessories and the way you dress up …color, design, texture and anything that further embellishes and strengthens you. Individuality is significant and appreciated…it keeps you constantly fresh. We keep you always looking new …a mindset that mirrors the beauty of your creation. (This is their website intro, I find it kind of nice be in the interview, maybe in a quotation box)