---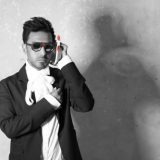 Mehdi Mansouri was born in 1976 in Tehran, Iran. He is a member of the Iranian Society of Photographers and has been active in the field of conceptual photography.

---
He has been working in visual arts since 2005 with a contemporary arts certificate and has held dozens of exhibitions, both in Iran and abroad. The main themes of his collections are birth and death, the ultimate realization of consciousness, and the challenges the contemporary human faces when searching for this consciousness shape.

He takes photographs of layouts which are usually composed of elements such as mirrors and humans. Then, he creates collages with these photos. His works are finally presented as photo collages and are usually displayed within a layout alongside a performance in the gallery. Brilliant and industrial decorative colors, figures, everyday signs, and images that are more reflections rather than images, help the viewer see the characteristics of contemporary art in these works.
[one-third-first]Solo and Group Exhibitions:

1. 78 Café, Tehran – 2009
2. Art Center, Tehran – 2009
3. Encyclopedia lranica, Paris – 2009
4. Art Center, Tehran – 2009
5. Day Art Gallery, Tehran – 2010
6. Shirin Art Gallery, Tehran – 2010
7. Iranian Artists Forum, Tehran – 2010[/one-third-first]
[one-third]8. Iranian Artists Forum, Tehran – 2012
9. Image of the Year Celebration, Iranian
Artists Forum, Tehran – 2013
10. Ghasr Museum, Tehran – 2015
11. Art Gallery 6, Tehran – 2015
12. Mehrva Art Gallery, Tehran – 2015
13. Persian Art Gallery, Tehran – 2015
14. Golestan Gallery, Tehran – 2015
15. Golestan Gallery, Tehran – 2016[/one-third]
[one-third]16. A Glance at Contemporary Iranian
Artists, Mellat Art Gallery – 2016
17. Iranian Artists Forum, Tehran – 2016
18. Iranian Artists Forum, Tehran – 2017
19. Fereshteh Art Gallery, Tehran – 2017
20. Mehrva Art Gallery, Tehran – 2017
21. Mellat Art Gallery, Tehran – 2017
22. Tirana National Museum, Albania – 2017
23. Art Genova, Italy – 2018[/one-third]
[one-third-first]24. Iranian Culture Center, Paris – 2018
25. Linda Farrell Art Gallery, Paris – 2018
26. Galerildil Istanbul, Turkey – 2018
27. 1art Gallery, Tbilisi, Georgia – 2018
28. Mojdeh Art Gallery, Tehran – 2018
29. 59 Gallery, Oslo, Norway – 2018
30. Matigan Art Gallery, Berlin, Germany
– 2018
31. Tehran Milad Tower Art Gallery, Tehran – 2019[/one-third-first]
[one-third]32. Mojdeh Art Gallery, Tehran – 2019
33. Fereshteh Art Gallery, Tehran – 2019
34. Art Chapel, Amsterdam – 2019
35. Golestan Gallery, Tehran – 2019 (Group
Exhibitions)
36. Qasr Museum, Tehran – 2019 (Group
Exhibition)
37. E1 Art Gallery, Tehran – 2019 (Group
Exhibition)[/one-third]
[one-third]38. E1 Art Gallery, Tehran – 2019 (Group
Exhibition)
39. Idea Institute of Art and Culture,
Tehran – 2019 (Group Exhibition)
40. E1 Art Gallery, In the Memory of Abbas
Kiarostami (Third Annual), Tehran – 2019
(Group Exhibition)
41. E1 Art Gallery, Tehran – 2019 (Group
Exhibition)[/one-third]