By: Ghazal Mostafa
---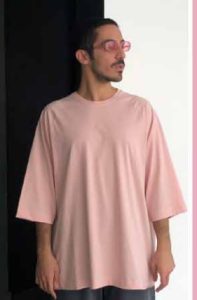 Erfan Mousavi, one of the leading accessories designers in Iran's fashion industry, was born in 1993 in Isfahan and raised in Tehran. He has a bachelor's degree in Graphic Design and visual communications from the University of Tehran and currently he is doing a master's degree in accessories design in Institute Marangoni in Italy.
---
How did you get involved in fashion and textile industry?
Ever since I was a kid I was interested in fashion magazines, garments and anything related to style and fashion. Back in the days, I always used to draw outfits and dresses and my hobby was to use pieces of fabrics or scarves for draping and creating volumes and silhouettes. I was also fond of any handicrafts associated with garments and fashion. When I was 16 I was planning to go to London to take a one-year art foundation course which is a program that bridges the gap between majoring in art and design at secondary school level and college undergraduate level courses. I intended to then continue my education in fashion design, but these plans didn't pan out because of some family issues. So I ended up taking the university entrance exam in Iran and got admitted to the Graphic Design School at the University of Tehran, in the Faculty of Fine Arts.
During my Bachelor's degree years, I pursued my interest in fashion by attending nonacademic courses in fashion design, sewing and pattern making.
When was the first time you thought about making scarves? And how did you start "Erfan Mous"?
For my final thesis at the end of my undergraduate Bachelor's degree, I decided to do an interdisciplinary project between graphic design and fashion design. The title I chose for my thesis was: "Designing scarves by utilizing contemporary Persian typography". By that time, the only person who had worked on using Persian typography on garments was Nima Behnoud who had only used traditional calligraphy elements for his creations. But my idea was to use contemporary typefaces as visual elements. After presenting my collection I got a lot of positive feedback and so I decided to mass produce these designs and turn it to a commercial project and that's how I launched "Erfan Mous" in 2016.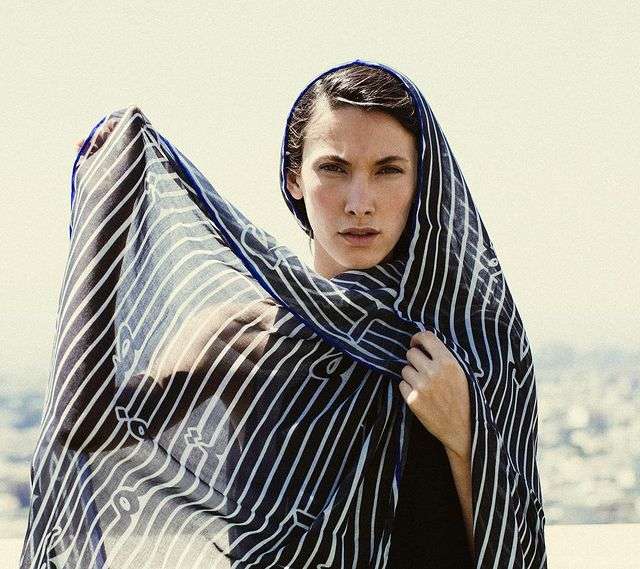 What inspires you to design? What and who influences your art?  How do you describe your brand's character in general?
I'm mostly inspired by pop culture and I use nostalgic and recognizable icons and elements in my designs. I use symbolism and surrealism in my designs and I am very much inspired by the chaos in metropolitan cities like Tehran, London, Tokyo and etc. I don't know what exactly goes on in my brain but I'm sure there's something funny going on there! And maybe that's the main source of my creations! I cannot recall of any role models right now but I have a lot of muses like Sofia Loren and Grace Kelly who have mesmerized me by their magnificent beauty. Overall, I can describe my brand's character as playful and whimsical.
How do you develop your brand? Does your brand have a signature symbol? And how do you describe your brand's signature?
Initially my intention was to use the potentials of Persian typography in my designs. At that time using text and letters in scarf design was not a widespread practice among Iranian designers and brands and that's why I was drawn to it. But soon the idea became a fad, and the concept was copied and duplicated so many times that I decided to change the theme and create some hip and unusual designs instead. When I first started my new designs, they were considered outrageous and quite socially objectionable. But all I wanted to do was to give my designs a personal touch and that's how I came up with a brand identity that is quite simple and minimal, as only certain symbols and images associated with the brand are repeated. The most distinctive one of these is the words "erfanmous original" text written on the side of the scarves in Persian. 
In your opinion, does Iran have a distinct and mature fashion industry that covers the production of clothing from raw material to final product?
I believe Iran has a lot of notable designers, but the fashion industry is very weak because of many factors. There are institutional constraints and requirements for instance that impact all aspects of the fashion industry from design to production and sales. Many Iranian designers must work privately under these conditions. Overall, the Iranian fashion industry cannot be compared with that in other countries because businesses anywhere need support from the establishment to get a foothold and survive, but that is a challenge we face here.
What are the opportunities and obstacles for Iranian designers? And how do you evaluate Iran's market for national products?
I think the most important opportunity for a designer in Iran is that here the fashion industry is still new and evolving and if you have innovative ideas there is not much of a competition for you. On the other hand, lack of proper training, basic materials and technology, production facilities, exhibitions, and many other difficulties are challenges for an Iranian designer. The final creation of some brands in Iran is quite admirable in terms of quality and design and there is definitely an effort to improve even more on all fronts, but I believe there are still a lot more to be accomplished.
What are you working on now, and what are your plans for the future?
Right now, as I mentioned, I am studying accessories design and I'm looking forward to expanding my brand by adding new product lines and also working with retailers outside of Iran.