By: Mana Honarpisheh
---
The Iranian government claimed last week to have discovered a massive deposit of lithium, positioning itself as a major player in the global race for the metal used in cell phones, laptops, and electric vehicles.
Mohammad Hadi Ahmadi, an official at Iran's ministry of industry, mines, and trade, confirmed the discovery on Iranian state television, according to CNBC.
"For the first time in Iran, a lithium reserve has been discovered in Hamedan," a province in the country's west, Ahmadi said, adding that his ministry believes the deposit holds approximately 8.5 million tons of lithium. If that number is accurate, it would mean Iran now holds the largest lithium reserves outside of South America. Last year's US Geological Survey estimated the total lithium reserves in the world at roughly 89 million tons, meaning this discovery could amount to nearly a tenth of the world's lithium. The price of lithium has surged in recent years, largely spurred by ambitious emissions goals by countries in Europe and North America creating an increased demand for electric vehicles, which use lithium batteries. A McKinsey study from last year reported a 550% annual increase in the price of the metal. Thomas Chandler, the principal lithium analyst at SFA Oxford, described the scope of Iran's discovery. "The key questions are exactly how high grade it is and how economical it might be to mine," Chandler said. "So, there are lots of caveats to these large numbers that are put out there, but, by itself, a resource of that size is a significant amount."
What Iran's discovery means for western sanctions
Shortly after Iran announced its discovery, the Russian state-owned media outlet Sputnik ran a story saying the lithium reserves had "rendered western sanctions worthless," spinning the news as a victory for the Islamic country that has been economically isolated by sanctions.
As the global community increasingly isolates Moscow, the Russian government has played up its relationship with Iran, which has supplied the Russian army with drones and other military technology. While American and European leaders have condemned Iran's support of Russia's invasion of Ukraine, there is little more they can add to the extreme sanctions already placed on Iran.
With demand for lithium set to increase with the proliferation of electric vehicles, especially in European countries with net-zero emissions goals, the discovery of these reserves could certainly give Iran an economic boost, as well as a possible bargaining chip.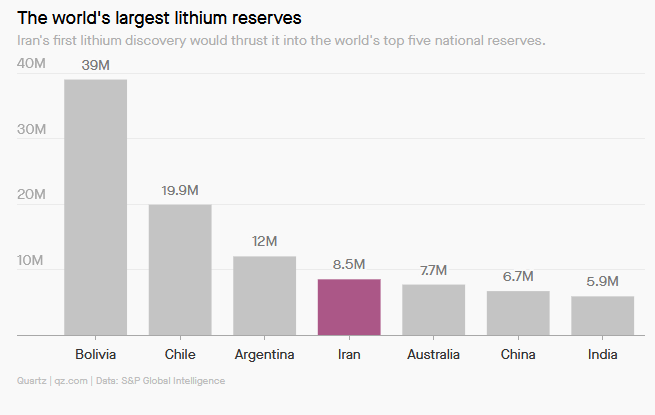 Why lithium in Iran is good news for China?
Another one of Iran's few remaining economic allies, China has been aggressive in finding new sources of lithium for its rapidly growing battery industry. Home to the world's largest electric vehicle market, China has invested heavily in ramping up lithium production in new markets, including a recent billion-dollar investment in a state-run lithium refinery in Bolivia.
And, China has close economic ties to Iran, becoming the primary purchaser of the country's oil after former US President Donald Trump reintroduced aggressive sanctions against Iran in 2020. As the only remaining trade partner capable of large-scale lithium refinement that still does business with Iran, China would likely benefit from any newfound reserves in Iran.
Additionally, Iran would likely need to rely on Chinese investment to extract and refine any lithium, if the country's first-ever discovery of lithium proves viable. According to Chandler, Iran does not have adequate resources to handle a deposit of this size.
"It certainly would be a lot more suited to Chinese investment and exploration, Chandler said. "[Iran] would ideally want Chinese companies to come in and do quite a lot of the work."