By: Trends Editorial Team
---
SHEIDA ERFANIAN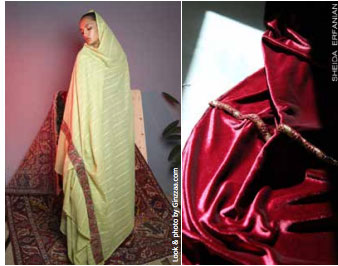 Sheida Erfanian, born in 1994, studied Fashion Design and began her professional career in 2016. She has presented several collections to this day. One of her most successful collections is called "C H A D O R." In her initial experiments, she revived the traditional form of CHADOR, a floral large headpiece from southern Iran, and brought it to Tehran, the modern capital city. Considering the success it received, she decided to redesign the CHADOR and add her signature details to it. The goal of creating this collection was to variegate the common style of Hijab worn in cities and to combine the traditional southern garment with modern fashion elements. In addition to the permanent CHADOR collection, she creates seasonal collections like "Sakura," which was inspired by Sakura flowers and its value in Japanese culture.
---
LA FEMME ROJE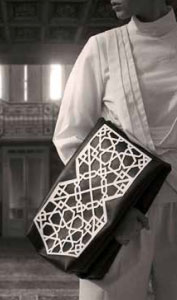 "The beauty of life is to sew dreams, embroider stories and untie the knots of our days." La Femme Roje is a handcrafted vegan brand. It was founded on reflecting the art, design, and ideas of a young ambitious designer and stylist, Rojan Hooshyar. The brand was founded in 2013, mainly by designing handcrafted shoes which represent the main components of women clothing. Each collection has a different concept, from Rojan's personal style and her love of different cultures and heritage, a minimal approach to different traditions of a selected country, especially her own, and trying to speak in different languages with La Femme Roje clients through different collections. La Femme Roje started to distribute its design and products within three different provinces in Iran and some other cities such as Toronto, Dubai, Vancouver and Kuwait, with the aim to expand globally. One of her most successful collections, "Women's Journey in Time," was created with great LA FEMME ROJE inspiration from ancient Persian heritage, including Pazirik carpet which is the oldest carpet of the world from woven fabrics of the Seljuk period during the 11th and 12th centuries. The star and the bird on this carpet demonstrate monuments away from its origin and the originality of Iranian motifs. Islamic geometric pattern is one of the main features information of Persian architecture and, historically, it plays an important role in Greek, Roman and even Moroccan designs and architecture. The patterns seem endless, swirling and intertwined, mesmerizing and stimulating to the extent that even Western art is inspired by it.
---
NINA EBADI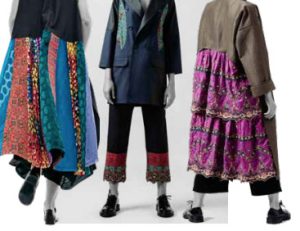 Born in 1988, Nina Ebadi is a Tehran-based fashion designer. In January 2019 she launched her first collection named "Sorour." The designs were based on contradictory and asymmetric values; using both masculine and feminine elements. Working with both tweed fabric, which is a masculine fashion dominated fabric, with cold colors, alongside the tribal handmade antique pieces of fabric belonging to Qashqai tribal, with warm colors, which represent feminine force. All the dresses are a mix of simple fabrics along with glittering and colorful fabrics that have been adorned on the harp. The brand's signature is modernizing Iranian original elements. Using Termeh, velvet, soutach, items are mainly sewed on silk. "Xat-O-Rabt" (meaning line and relevance) is the name of Nina Ebadi's second collection. The reason behind this name is that the clothes of this collection are designed primarily based on lines. The glamour of colorful fabrics has combined with plain fabrics to create a unique composition in the clothes. Also, these ornamental colorful fabrics are sewn on pieces of silk textiles which
---
Nazanin Ebadi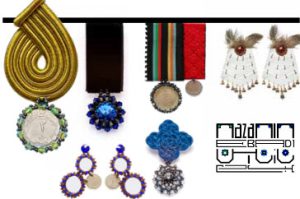 studied graphic design in Tehran, always having a deep interest and an eye for handmade, bespoke individual art. Her culture of origin, Iran, is an important part of her art. Persian cultural motifs constitute the root of her work. Some architectural motifs and specific patterns of carpets are modernized or minimalized based on the potential of each conceptualization or scheme, giving them a unique character and exceptional appearance. The triangle, forming a pivotal shape for many architectural ornaments, does not cease to fascinate her artistic mind. Using this geometric form, her jewellery is either modern and considerably minimalistic or extremely detailed and deeply influenced by commonplace ornaments in Persian architecture. The most substantial materials used in her collection are Swarovski®️ stones, mirrors, crystals, pearls, Toho beads – the finest and tiniest beads – and silver. The silver is obtained from Tehran, Iran, and the other elements are largely obtained from Germany. The exceptional sparkle of Swarovski®️ crystals gives the jewellery a majestic appearance. Nazanin Ebadi "Medals" are one the brand's beloved designs. Seeing that medals have hardly ever been used in creating women's jewellery, it is an exciting and intriguing venture to use these to design a new type of jewellery. In general, they are mostly inspired by Army Commendation Medals. On the obverse side, the front of the medal that faces out when worn is greatly inspired by the windows made up of colorful glass and had formerly been used in the houses in Iran, called "Owrsi."
---
ELUXE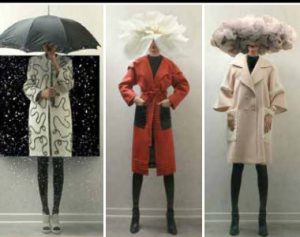 Eluxe is a luxury designer brand founded and designed by Elham Taghavi who is the fashion designer and creative mind behind the brand. She graduated from Wind Virtual University in Virtual Design and launched her brand in 2014. The main concept behind Eluxe is created around following trends that are set by luxury world leader brands and what is new in fashion industry. This is done by observing Paris and Milan Fashion Week, having its own sense of fashion and not following others' tastes. Eluxe uses a pastel color palette or neutrals, since it goes better with colorful scarfs as Iranians' common outerwear. Oversized silhouettes along with the use of a variety of collars and sleeves are the main focus of the brand. Using simple fabrics but with a touch of trimmings is also another signature look. Offering limited edition costumes with high quality fabrics is important for the brand. Working on a daily basis on designing and updating their gallery with new designs is another success for Eluxe.
---
NASTARAN HASHEMI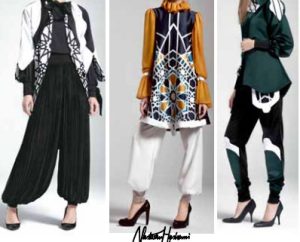 Born in 1995, Nastaran Hashemi graduated with a B.A in Fashion Design in Tehran, Iran and an M.A in Fashion Design at IED. Her brand "Nastaran Hashemi" was launched in 2015, starting with a collaboration with DFW. The story behind the general theme arises from Iranian culture throughout history, and it is mostly oriented on evoking various forms of Iranian art, combined with contemporary fashion movements, to achieve a modern image that can be worn and understood globally. The traditional Persian motifs are usually used as a basis for each project or collection and they come alongside a theory which gives direction towards a new message to deliver every time. These motifs are usually but not always visible, as they are just supposed to retain the roots of Iranian art and culture, so they are either beneath the main structure, used in the cuts, transformed into a new shape, or simply out there exposed to sight. The brand's longtime purpose is to focus on creating a wide variety of looks, as an encouragement for women to admire and praise themselves as they are. To embrace their roots, their inherent identity, their backgrounds and their very personal features, which differs from one to another: your style is your fingerprint. Color blocking, graphical and geometrical transformations are the main features of most of the designs, and a way to connect the ancient forms of clothing into modern ones. The material changes as the mood board does. For every project, a new mood board specifies the theme, patterns, silhouettes, and the material of each garment, based on a particular concept.
---
SUN.NAFISSI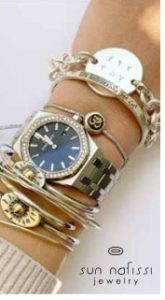 Sunny Nafissi was born in Tehran to an artisan family, adoring art and jewelry from a young age. She studied Graphic Design and was always fascinated by the beauty of craft. Nafisi intended to take her endless ideas and create jewelry, so she took on a jewelry course. Her final designs were met with positive feedback and so she decided to start her own brand, SUN.NAFISSI. Her designs are bold, chunky and may have sharp edges, drawing inspiration from her passion for rock music. Other elements and symbols used in Nafissi's designs are old, spiritual and meaningful with a positive backstory behind every piece. Rumi's poetry also inspired her to use natural elements in her work. Nafisi wants her clients to feel good wearing her jewelry since in each piece lies a positive story and can be an optimistic reminder. The main material used is silver along with 14k and 18k gold. The reason so many of her works are limited edition is because each needs to be powerful, unique and slightly different in design.
---
HANIYEH ZAHABI (HZ)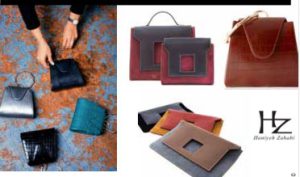 Haniyeh Zahabi, born 1985, is a handbag and accessory designer and the founder of Haniyeh Zahabi (HZ) based in Tehran, Iran. In 2001, she obtained her diploma in mathematical sciences. Due to her immense passion in fashion and design she took the challenge and did her pre-university education in the field of art and achieved her certificate in 2002. 2009 saw the birth of her label HZ, after she successfully completed a B.A degree in Product Design and Development for the Fashion Industry (PDDFI) at London College of Fashion, University of the Arts, London. The inspiration for Haniyeh's designs comes from geometric objects, experience, nature and even a conversation with a friend. Haniyeh works closely with her small team of extraordinarily talented people who transform her designs into beautiful and unrivalled handcrafted products  made out of real leather. Simplicity, precision and attention to detail takes precedence in every step of creating HZ products. HZ aspires to furnish the fashion industry with unique, distinctive, modern designs in high-end fashion accessories for today' sconnoisseur. HZ fashion labels' objective is to secure the market, not only in the Middle East, but also in European countries alongside other well-known brands in the fashion industry.