By: Trends Editorial Team
---
NEGAR TAIEBI
Negar Taiebi, born in 1995, has a bachelor's degree in architecture and is currently a student of French literature in the Science and Research Branch of Tehran Islamic Azad University.
The environment that she grew up
in is reflected in her work and brand,
Negareh.

When she began experimenting with fashion design, Negar wanted to utilize her personal space and style which were inspired by music and the classical movies of the '50s and '60s while also being in sync with the world and nature, and most important of all, history.
Music is one of the pillars in her designs due to her affection towards music, and more specifically, the works of French composer, Erik Satie, who lived in the 19th and 20th centuries. Satie was a master of association of passing moments with foggy and cloudy spaces.
In addition to music, classical movies have also inspired her with her biggest inspiration being Audrey Hepburn.
Hepburn believed that "Why change? Everyone has their own style. When you have found it, you should stick to it."
Negar believes that for a better life one must be in tune with the world and nature. In her designs for Negareh she has created a cloudy and mysterious environment with a focus on a selection of fabrics, color palettes, and her photography.
The end creation is a completely personal space that shows her worldview. In this direction she utilizes white, bright, and see-through fabrics such as organza, netting, silk, etc. which symbolize reflections in water, clouds, sounds and fragrances that linger in the air during sunset.
Her views of her work are not limited to the world of fashion. She thinks creating a piece of art should not be for and in accordance with fashion photography. In general, Negareh tries to compile the aforementioned arts and create a sense of nostalgia in its audience.
---
SONIA RAHIMZADEH
Born in December 1988, Rahimzadeh completed her bachelor's and master's degrees in industrial design. In 2017, her personal interest in fashion, motivated her to gain knowledge and experience in this field.
In 2019, she entered the field of footwear design and illustration.
Among all her successes in fashion is coming in first place in the shoe illustration section at the Cipal Festival in Iran. She believes that the shoe industry in Iran has great potential.
She is currently working in the design and development sections of the footwear industry.
​
---
RAMAK ZARRINGHABA
Zarringhaba has a great enthusiasm in designing and unveiled her first collection at the age of 17. Her goal is to make Iranians more recognizable with her designs.
She is mostly inspired by the Sistan and Baluchistan needlework and hand-woven fabrics which are three meters wide, similar to certain types of carpets, and mostly made out of natural threads.
The materials that she uses make her designs eco-friendly. Her greatest goal in designing is to show Iranian civilization and design history which goes back to 7000 B.C. as evident by the discovery of the first spinning tool near Behshahr in Kamarband Cave. Iranians in all periods such as the Medes, Achaemenids, etc. had their own ethnic costumes. Recently, she added children's clothing line to her collection to create a richer culture for Iranian children and make them aware of Iranian art. With an entrepreneurial spirit, she tries to combine modern global fashion with Iranian handicrafts. So far, she has been invited to showcase her collections in Italy, France, London and New York alongside the world-famous fashion brands such as Dolce Gabbana, Versace and Gucci. She has also been invited to collaborate online at San Francisco Fashion Week. Zarringhaba hopes that Iranian brands can have international representation and can showcase their designs and collections globally.
---
HESAM ZAMIRI
Hessam Zamiri was born in May 1991, Bandar Abbas, Iran. He has great interest in art, production, clothing and interior design. His interests started with the Cipal 99 tournament, where his talent sparked and he made connections with a large circle of designers and experts. With the cooperation and support of each other, bigger things happened. Among his many accomplishments are: • Winner of the women's handbags design award at Cipal 2020 competition with Kif Kush brand; • Collaboration with foreign and prominent domestic stores; • Designer of the first floating recreational pier in Iran; • Founder and designer of Zamiri Design in 2020. Zamiri's brand trademark translates into creating a path between thoughts, emotions and materials. Which means tools and objects around us are not just to meet our needs, they all carry emotions and vibes that are reciprocated in humankind.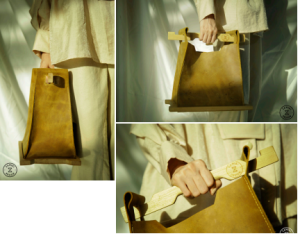 ---
GHAZAL PAKZAD
Fashion designer Ghazal Pakzad was born in November 1992 in Zahedan, Iran. She has a bachelor's degree in graphics with a certificate in pattern making and sewing from Zadari Fashion House. In 2019, Pakzad was selected as the top entrepreneur in Iran and also in the same year she was given the best costume design award at Cipal festival. Currently, she is the manager of PARIVAR brand. Pakzad has great experiences such as working with the Cameron Zigzal brand, four years of sales, and clothing design using traditional needlework on modern fabrics. The purpose of launching this brand is to present a new way of utilizing the 8000-year-old needlework art of Baluchistan combined with modernity. Parivar fashion house focuses more on the original motifs and patterns of Baluchistan, done in the form of handwork and computer stitching.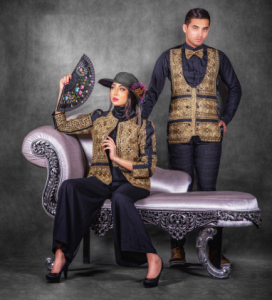 ---
MAHSA KHEIRKHAH
Mahsa Kheirkhah graduated in Art Research and Analysis in 2012. She is currently an art professor at Pars University of Art and Architecture in the fields of sculpture, painting and jewelry design. Since 2010, she has had numerous exhibitions inside and outside of Iran both in groups and individually.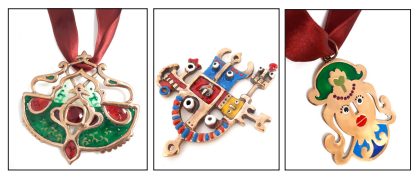 ---
PEGAH KHOSRAVI
Khosravi is a graduate of theater directing and has acted in theater, television and cinema in Iran. She has received various acting awards in international and domestic festivals. Khosravi took a costume design course in the Netherlands where she started designing stage costumes. PEGAH KHOSRAVI In 2011, She began her professional fashion career by launching Zima. In the beginning of her career, Khosravi only worked on red carpet outfits in foreign and domestic festivals. Afterwards, under the name of Zima Design Collection, she launched a Ready to Wear line for the public. She rapidly excelled in the fashion industry and became one of the best fashion designers in Iran. The unique style and signature of the Zima brand is quite clear and visible in their designs. Khosravi's works have a special way of demonstrating ancient and folkloric attire.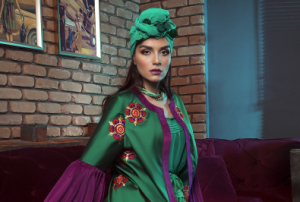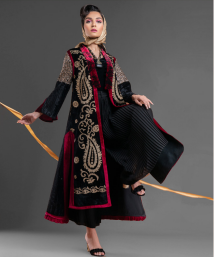 Her designs are completely personalized and combined with modern elements that makes them easy to wear. Zima is a luxury brand that has a specific audience which includes Western customers. Pegah Khosravi has fearlessly and consciously introduced special colors and textures into the world of Iranian fashion and continues to enhance her work.