By: Australian Embassy in Tehran
---

For the first time in the Middle East, Africa, and South Asia region, Expo 2020 Dubai will be taking place 1 October 2021 – 31 March 2022 in Dubai, United Arab Emirates (UAE). The event will have 193 participating nations, with over 70% of its visitors expected from overseas. For stakeholder nations, this mega event facilitating global trade connections will focus on post Covid-19 economic and social recovery. The Australian Pavilion is one of the largest national pavilions at Expo 2020 Dubai. Located in the Mobility District, the 3,500 sqm Australian Pavilion will maximize commercial trade opportunities for Australia, showcase their cultural assets and innovations, and tell the Australian story.
---
The Pavilion's theme, Blue Sky Dreaming harnesses the Australian national spirit of optimism and original ideas. This theme celebrates Australia's embracing openness where diversity, harmony, and collaboration thrive, and envisions a worldview founded on 60,000 years of indigenous connection to land, sea, and sky. The Australian Pavilion journey will link visitors to the country and invite all to share in the Australian stories of change that are connecting and mobilizing communities across the globe.
Sustainability at the Australian Pavilion:
Sustainability features prominently in the Australian Pavilion: Australian-made composite laminated timber using a game-changing manufacturing technique creates a product with superior structural and thermal properties. The world-first technique is a creation of The Hermal Group, and is manufactured by CLTP Tasmania. Caroma Australia, whose products are installed in the pavilion toilets, will help monitor water use at the Australian Pavilion in real time. Green Eco Technologies will be recycling the Pavilion's kitchen & table waste on site using their innovative WasteMaster system. The WasteMaster converts organic waste into a reusable residue without using additives or water, reducing waste weight by up to 80% and preventing greenhouse gas emissions from disposal to landfill. Adhering to the main Expo site policies, the Pavilion will not be utilizing any disposable plastics for public use.
Interesting aspects of Australia's participation:
• The Pavilion will house Australian food and beverage outlets, a retail store, a VIP function room for hosting 150 guests, and an entertainment arena in the forecourt area.

• Some of the key programing themes are technology and innovation; diversity and inclusion; gender equality; and sustainable development goals.

• Australia is the co-lead on Education and the main lead on Sports themes at Expo 2020 Dubai.

• An Aussie Health & Fitness Sports Park will be located adjacent to the Pavilion where interactive and immersive programs will be available for all to enjoy.

The sporting activities will promote gender equality and social inclusion. Australia will play a coordinator role at the 5,400 sqm Sports Park and run an ongoing base program over the six-month duration of the Expo. The Sports Park will be accessible to all international participants to host sporting events and to use as part of their National Day celebrations.

• Australia will also be showcasing its cultural excellence through a program of activities that increases awareness of Australia's diverse creative arts sector, and celebrates the richness of its Indigenous arts and culture. Performances, workshops, film screenings, and presentations will take place at the Pavilion forecourt over the six-month period.

• An interactive visitor experience tunnel designed by Accolade Event Management in collaboration with Josh Muir, a proud Yorta Yorta/Gunditjmara Indigenous member and Victoria-based multi-media artist, will take visitors on a journey of Australia's history through contemporary storytelling visuals.

Over 120 events in 182 days:

The Australian Pavilion will have an extensive and diverse events program spread across six months of Expo 2020 Dubai. The formats will be Interactive panel discussions; Conferences & symposia; Investor briefings; Roundtables; Workshops; Public talks and presentations; Cultural Performances; National day celebrations, and various collaborative activities with other participating nations. The programs have been scheduled around the Expo Theme Weeks, major national events in the UAE region, and important celebrations in Australia, in coordination with key partners.

[perfectpullquote align="full" bordertop="false" cite="" link="" color="" class="" size=""]

«Australia will also be holding ongoing workshops with partner nations to

develop joint business programs during the Expo period.»
[/perfectpullquote]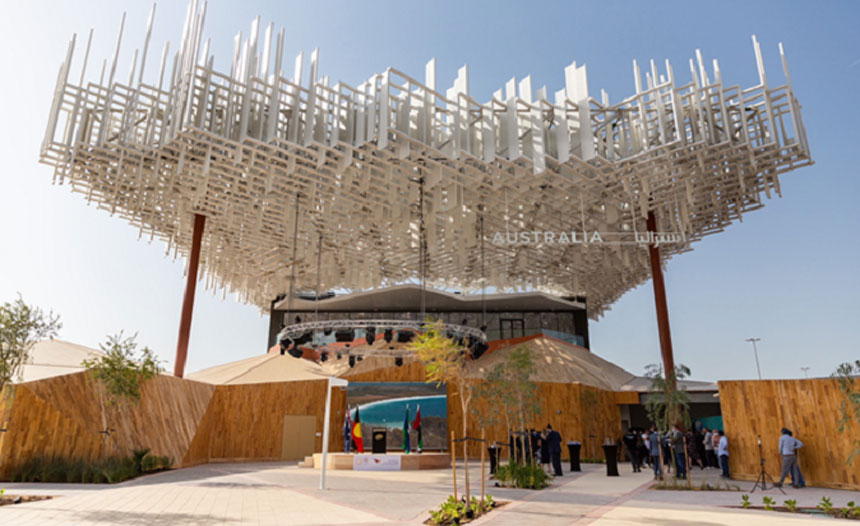 Australia's Business Program at the Expo 2020 Dubai:
Expo has been positioned as the 'Business Olympics' for post Covid-19 global economic recovery. Australia's business program provides two deliverables: support for Australia's market diversification by promoting international B2B and B2G opportunities; and appeal for productive Foreign Direct Investment. Austrade (The Australian Trade and Investment Commission) is leveraging industry partners and large international commercial exhibitions taking place at the Expo 2020 Dubai (such as Gulfood, Arab Health, MENA Mining Show, WETEX, Abu Dhabi International Petroleum Exhibition and Conference), in order to deliver hybrid (in-person and virtual) activities. Australia's business program has been developed in consultation with numerous national stakeholders and is consistent with the Expo themes.
The major exhibitions at the Australian Pavilion target key sectors such as Healthcare, Resources & Mining, Education, Energy, Advanced Manufacturing and Food & Agribusiness. The priority Expo theme weeks for Australia that fit with Austrade's sectors are Space (October 2021), Urban & Rural Development (November 2021), Knowledge & Learning (December 2021), Health & Wellness (February 2022), Food & Agriculture (February 2022), and Water & Infrastructure (March 2022).

Australia is also co-hosting a series of events and panel discussions with the Expo Organising Committee, the Women's Pavilion and other international partners, including events showcasing indigenous capabilities, mega science projects, future "AgTech" innovations, urban development as well as competence in sports and high-performance activities.

Australia will also be holding ongoing workshops with partner nations to develop joint business programs during the Expo period.
Discover Iran's  Pavilion at The Dubai Expo 2020