By: Rosa Safaeifar
---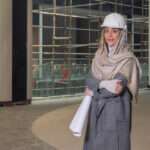 Thank you so much for giving Trends this exclusive interview despite your busy schedule, we are very grateful. What are the benefits of shopping malls?
In recent years, a great change has taken place in Iran's shopping centers. Stores, offices, service centers and small boutiques on the sides of streets are slowly being replaced with grand shopping centers.
We can currently claim that the growth of shopping malls has caused Iran to be able to compete with developed countries in this regard, whether we're considering the diversity of users, current technology, international standards or even unique architectural designs of shopping malls. Our belief is that in order to modify the structures of metropolises of the world and Iran, shopping malls need to expand which will help correct urban issues in the long run with the demise of boutiques, which lack parking and the necessary facilities needed by society. Easy parking, entrances and exits will save time, be more enjoyable and reduce social stress. Therefore, an increase in shopping malls will be of benefit to society and people.
What have been some of the more challenging parts of this project?
International and up-to-date concepts have been the most challenging part of building a shopping mall in Iran, but also:
* The fluctuation of the market, i.e. problems in procuring materials due to the existence of sanctions upon imports, especially in the limitation of a variety of imported brands and innovative imported materials.
* Keeping up with building codes and important regulations, which are constantly changing and evolving.
* Obtaining permits and licenses, including permits from the municipality, fire department, gas and other utility companies with daily positive changes have a negative impact on the planning and schedule of the project.
* Dealing with tardy subcontractors.
* Coordination of the different disciplines within the project (e.g. architectural, mechanical, electrical and executive).
The road to building Iran mall
Why did you decide to start this project?
Truth be told, the initial idea for this project formed in my father's head due to a conversation with someone that had traveled on the same flight from Tehran to Dubai as him. My father had asked whether he was traveling for business or pleasure and the response was that "due to not having a decent and complete shopping mall in our own country, my family and I always have to travel to Dubai or Turkey in order to shop." This one sentence is the reason we are currently of service to you with Rose Mall and my father's decision to construct a shopping mall in Tehran.
The main goal in Rose Mall is to fulfill 100% of a person's needs and the project is constructed with the goal of covering all of the daily needs of each member of a family, eliminating issues pertaining to traffic and pollution of metropolises, preventing of traffic caused by movement throughout the city and saving time and money.
What facilities does Rose Mall have?
The area of Rose Mall is estimated at greater than 200,000 square meters covering 25 floors; it is considered the second biggest shopping center in Tehran. It has 210 office units, approximately 400 commercial units belonging to different guilds, 7 theaters, a 1,500-person performance hall, a 7,000 square meter roof garden, a swimming pool and gym complex with several professional spas, a Hypermarket on the first floor and a 4,000 square meter indoor amusement park – which is among the 5 biggest amusement parks in Iran. Rose Mall currently has one of the biggest food courts with 16 restaurants and a sitting capacity of 2,600 people with a unique view of a lake, mountains and a waterfall. In addition, there are 7 international restaurants with one-of-a-kind views and the presence of world-renowned chefs. Many of the office units are also occupied by doctors. These different utilizations allow people to meet all of their needs under the roof of Rose Mall with the best facilities in an interesting environment.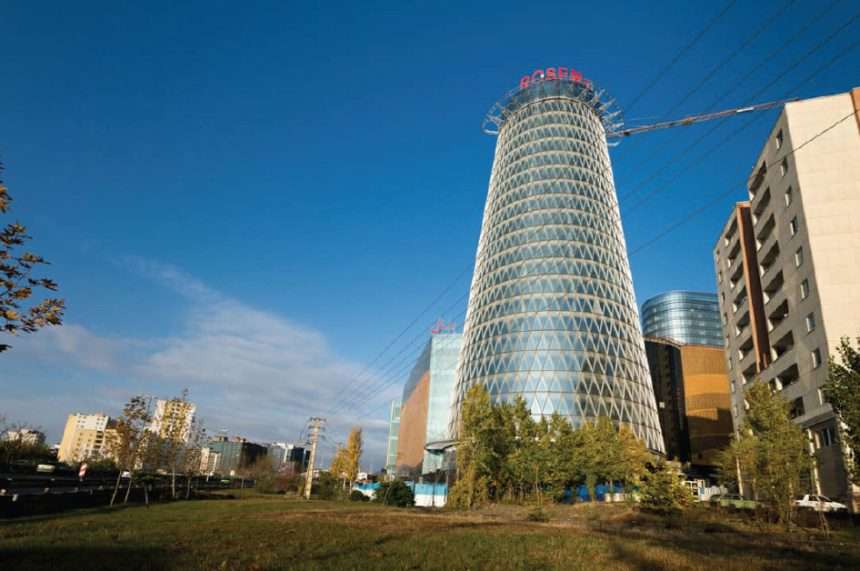 The night façade of Rose Mall is unique and one-of-a-kind in Iran, due to the lighting that with programming capabilities can show any movie clip or text on the entire surface of the façade. It is impossible for traffic to exist within Rose Mall due to the three ramps in an island formation on each side of the building while entering and exiting the complex and presence of numerous elevators and escalators inside the complex. The architectural design of the project, which I personally manage with diligence, is reaching its conclusion and often causes great astonishment among renowned constructors in Iran and abroad due to the project beautifully reaching its end despite the lack of experience with a project of this size, design and finishing, tardy contractors, sanctions, unique materials and costly nature of the project.
What made you choose the name Rose?
Rose Mall is named after me. My brother was able to register this name in Iran with great effort and perseverance due to both "Rose" and the word "mall" not being permitted in Iran. Since my master's degree is in architecture and interior design, I based the concept of the project on the rose flower and tried to utilize the same elegance, beauty, softness, peacefulness and boldness as the rose in the interior design of Rose Mall.
My bachelor's degree was in Industrial Engineering and System Analysis from Tehran Shomal University, which I graduated from in 2012. My master's degree is from University of British Columbia in Interior Design. Due to the attachment and affection that I feel towards my father, I decided to return from Canada and help him with this project, not knowing that this could be my greatest learning experience in life. My father and I had the responsibility of being the client, the project manager, executive managers, architects, HSE, mechanical and electrical managers from start to finish. Even though this was a challenging task and that was often overwhelming in that we need to spend 85% to 90% of our time each day on this project, it could at times also be pleasant. I must say, where there is a will, there is a way. I truly believe in this sentence and have learned from my father that if you want to be successful in life you must be honest with yourself and others, be fair, have the power to recognize things for what they are, have perseverance, and above all be present in the field so you can manage properly and grow.
What has helped you reach the end of this project?
My mother has supported us from the beginning, even though every once in a while, we do not see each other for days and even months at a time. My brother has helped and provided financial support and caused daily progress in Rose Mall. If it weren't for their support and my father's efforts, the conclusion of such a project would not have been possible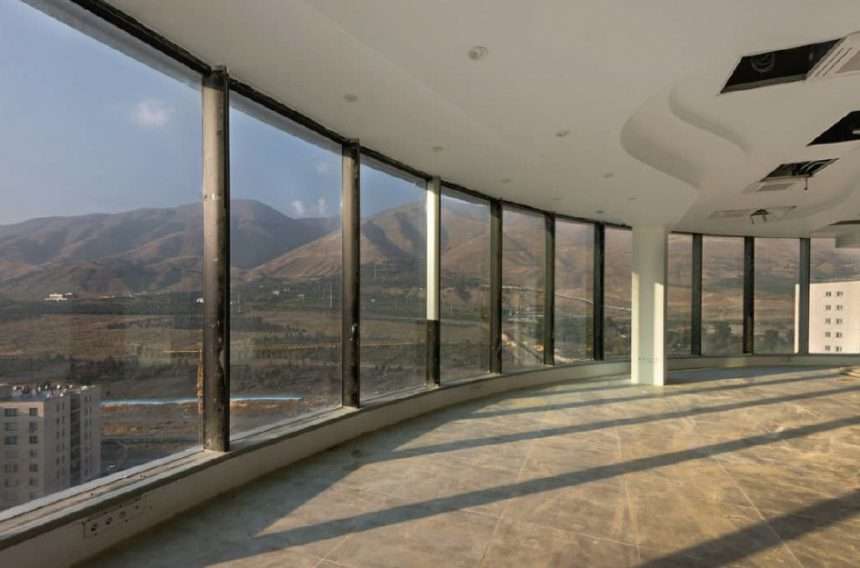 How will the sanctions and current economic climate affect the mall's performance?
It is true that the absence of foreign brand names will be felt in the project but this is one of the rules of society and no one is exempt from them; with tact and knowledge, we can find many replacements for them. Guilds such as apparel are also growing rapidly, and with the presence of creative designers and Iranian artists, I don't think the place of foreign goods will remain vacant, and as far as restaurants go, we all know that Iranian food is one of the tastiest in the world.
Why west of  Tehran?
Since my father has a good eye and is deeply perceptive in choosing a location, from day one, he strongly believed in this area and used to claim that the future of Tehran will be in this region and the growth of Tehran will be westward in the coming years, which has turned into reality. Rose Mall is exactly on the corner of Hemmat highway. The special access to this region, including many highways from Tehran to Karaj, 5 subway lines, different modes of transport such as buses and cabs and the unique and one of a kind view that Rose Mall possesses which includes the Chitgar Lake.
All kinds of hospitals, big construction projects and amusement parks, etc., have caused this region to have a bright future; also the odd lack of this type of shopping center in the past in this region is one of the reasons for creating Rose Mall in this area.
How did you manage a project of such scale? Was it difficult for you?
From the time that I realized who I was, my father only had one request for me: for me to know that I could move the world and move mountains if I willed it. My role model had always been my mother, who was truly a strong woman who had perseverance and managed with two children to become a pediatrician. You must be different. I always wanted to start this difference with a grand gesture. Luckily when I decided to move back from Canada to Iran to complete Rose Mall, I didn't know that I would be entering the greatest learning experience. At first it was very challenging, complicated and sometimes it seemed impossible.
Now, after three years, I can say that where there is a will, there is a way and with strong will, talent and perseverance, we can accomplish anything. Let's prove our strength; it doesn't matter whether our job is big or small, we must do it with power, be confident, risk a little and carry a positive mindset.