By: Maryam Rahmani
---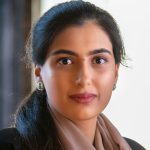 Amira Sajwani is the Managing Director at DAMAC Properties where she plays an instrumental role in developing and driving development and sales strategies and bringing new productsto the market. Amira oversees the 360-degree developmentof properties to ensure product values are maximized.
This involves various stages of the development process including design, construction, marketing and analytics.Additionally, she oversees the operations of DAMAC's network of direct and independent sales agents, both locally and internationally, as well as the development of agent programs and initiatives, which strengthens partnerships, and empowers agents with the tools they need to sell more effectively. Sitting on DAMAC's Board for Innovation, Amira is a graduate of University College London (UCL), where she majored in Project Management for Construction, and holds a Masters in Finance from the London School of Economics (LSE).

---
Thank you so much for giving Trends this exclusive interview.
We appreciate it.
Please tell us about yourself, your background and how you got into the real estate business?
Getting into real estate was a natural transition for me and I joined my family business. I majored in Project Management for Construction at the University College London (UCL), after which I completed my master's in Finance from the London School of Economics (LSE). While my education supported me in understanding the essence and framework of business, my entrepreneurship acumen is the outcome of growing up with and learning from my best teacher and inspiration, my father, DAMAC Founder and Chairman,Hussain Sajwani.
I recently launched Prypto, a prop-tech and property investment startup aimed at creating an ecosystem for buyers, investors, homeowners, and agents, while simplifying the property ownership journey by offering personalized advice from business development, sales, and mortgage executives. It is a fully digital portal for customers. We do all the heavy lifting, from getting our customers the best mortgage rates, pre-approvals within 48 hours, and ensuring they maximize returns on their investments.
If you were to summarize the state of UAE real estate market, how would you describe it? What has been the impact of Covid-19 on UAE real estate market?
Dubai's annual real estate transactions crossed a half a trillion dirhams in 2022, more than a 75% increase from the previous year. The UAE real estate market has been growing in strength over the years, and it is no secret. As a company and country, we have seen demand for home ownership surge.
During the Covid-19 pandemic, we witnessed an influx of investors, choosing the UAE as their home, preferring to live in a country where the safety of its people, great climate and a comfortable standard of living were all on offer. Soon after, with Expo 2020 Dubai and the recently concluded Qatar World Cup 2022, the region, and in particular the UAE has gained more traction from the global investor fraternity. From tenancy, home seekers are now converting to homeowners, which is widening a gap in the market. Real estate developers such as ourselves are working towards addressing this gap as well as the supply to cater such a strong demand.
DAMAC is a well-known regional and global brand now. Please tell us about the company, where it all started, and the direction it is taking today. What were some of the key milestones achieved and who/ what was responsible for the success?
DAMAC has completed 40 years since its inception. My father began the company in 1982 as a catering and logistics business, which has now grown exponentially, adding several more sectors to our enterprise. While we still have the core business as part of the group, we have since expanded into properties, hospitality, data centers, retail, fashion, capital markets and have also recently tapped into the future with the metaverse. Our key milestone will always remain our flagship DAMAC Properties. Another milestone in our journey has been the acquisition of global luxury brands such as Italian fashion house Cavalli and Swiss jeweler de GRISOGONO. The sky is no limit when we are chasing our ambitions, and blessed with a committed and dedicated team, we are able to continuously reach our goals.
What types of properties and neighborhoods do you specialize in? How many properties have you built/ are you managing? What other services does DAMAC Properties offer its clients, which distinguish DAMAC from other competitors?
We have in our portfolio three master communities, two of which are active and running while the third is taking shape as we speak. We have announced a list of ultraluxury branded residences such as Safa One and Safa Two de Grisogono, Cavalli Couture, Elegance Tower and Chic Tower. We handed over our debut project in London, the DAMAC Tower Nine Elms, which is a one-of-its-kind luxury project with global fashion brand Versace. We announced plans to build in Toronto and Miami, as well as our plans on a resort in Maldives in collaboration with renowned hospitality brand, Mandarin Oriental. Across our regional and global portfolio, we have delivered more than 42,000 homes, with close to 30,000 units currently under construction and/or development.
You can also read this article about  DAMAC Real Estate, by Maryam Rahmani
DAMAC is committed to working for and with our customers to ensure their satisfaction and happiness. We have a dedicated CRM team who are available round the clock to make sure that no concerns go amiss. We have also incorporated various technological features as part of our digital transition exercise to offer quick and convenient ways to support all client needs. Our strong values on customer satisfaction and unique product range distinguish us from our competitors. Our 20-year-old legacy in the real estate sector in this region is another reason our customers have placed their trust in us.
How many countries is DAMAC actively doing business in? What are some of the most successful projects DAMAC has achieved outside of UAE?
DAMAC is currently active in the UAE, the GCC, and London with projects coming up in Toronto, Miami and the Maldives. One of our most successful projects is DAMAC Tower Nine Elms (DTNE) in London, a 50-storey luxury twin tower project in the upscale Zone 1 district of London with interiors by global fashion house VERSACE.
You are inspiring many young women in business, especially in our region. How can women acquire power positions in male-dominated markets and sectors? What tips do you have for other women who would like to start their own businesses or lead large corporations?
The first step for a woman in business and, particularly, in the construction and real estate industry is to keep gender aside and approach the sector as you would any other sector.
In today's day and age, we as a race can achieve anything that we may put our hearts and minds into, using the many benefits of community and technology. My advice to young
girls is to keep their differences and insecurities away and focus solely on working towards their best capabilities and shooting for the stars. There is nothing that hard work, commitment and a mind and will to learn cannot achieve.
| | |
| --- | --- |
| | |
What do you enjoy most about the business world? What do you find the hardest about it? What are your values and ideals? What motivates you to keep going?
The business world is fast moving, formidable and extremely challenging, all of which gives me a strong push to indulge in. I enjoy both the challenge and the learning, and I believe it is essential to build an attitude to stay positive and strong in the face of successes and adversities both. What motivates me to keep moving ahead are my children, my two girls.
Last but not least, what do you want to achieve next? What would you like your legacy to be?
I would want to leave behind a legacy that identifies with my father's. If I have been able to encourage other young Emirati women to enter the real estate sector and showcase their skillset in what is referred to as a predominantly male dominated space, I will know that I have left behind a mark.