By: Ghazal Mostafa
---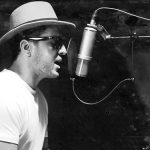 Fariman is an Iranian pop singer, songwriter, and performer. Born in 1985 in Tehran, Fariman started his career as a self-learner in early 2000s. He taught himself the piano, guitar and drums in his teens, and started performing as solo singer at the age of 20.
In 2010, he released his first single track "They won't understand" and its musical video featuring professional make-up artists and imported costumes. Since then, he has become increasingly known as the first artist based in Iran who can sing fluently in English and independently produce his own songs and musical videos. His most successful tracks are "Stay with me", "Toro ba hameye khoobiat" (You with all Your Goodness) and "Begoo ba man mimooni".
In 2020 Fariman started his own line of fashion by designing hoodies, t-shirts and hats for his fans with a "Smile" logo, as an encouragement for his fans to be happy and to never give up.
Fariman has so far released 27 tracks, reaching millions of fans on his social media platforms (Instagram, YouTube, Spotify, SoundCloud).
---
Thank you for giving Trends this exclusive interview. We are very grateful. Please introduce yourself and tell us a bit about your background.
Thank you for this opportunity to tell my story. I am an Iranian pop singer, songwriter and music producer based in Tehran. Since my childhood, I have had a special interest for Western pop, rock, R&B and hip-hop music. In early 2000s I started my career as a self-taught artist by rearranging the melodies of my favorite international pop singers, such as Michael Jackson, The Beatles, and Eric Clapton, whose extraordinary voices and delicate musical notes have been a primary source of my inspiration.
I learned acoustic guitar, piano, electric guitar and drums in my teens, and started songwriting and singing when I was 20. It took a lot of courage to embark on this journey, as from the very beginning I had to rely on my own intuition and creativity in order to become an artist, and a professional one at that, without any guidance or teacher.
You began playing music at a young age; what drew you to music? When and how did you begin your transition into a musician? What skills did you learn that helped you in your singing career? Who inspired you to make music?
Going back to my childhood, I can definitely say that my passion for music started from an early age, when I was a kid. Thanks to my father, who was a big fan of great international artists such as Bob Dylan, Bee Gees and Pink Floyd, music always filled our house. As soon as we could manage getting a new audiocassette or musical videotape, I would enthusiastically watch it ten or even hundred times, until I had a good grip on every bit of it, and then I would start recreating it from scratch, with little or no instrument available to me. Any source of music that came into my hands was a brand-new world, a discovery that I undertook on my own, on a daily basis and in complete seclusion.
That's why today you can feel many influences in my music, from a distinctive Western taste to the new age Iranian pop music. Since there were no master classes nor institutes where I could study music at that time, I had to rely on my own learning skills and take my clues from anything I could find around me. I used to find the chords and notes in my favorite songs only through listening with my own ears, without any written notes, and play them over and over hundreds of times until I would become perfect in them. That's why up until the present day I can emphatically claim that I have never had a music teacher in my life, and that I have learned all my current performance skills all on my own, including singing, songwriting, music production, as well as playing the piano, and the acoustic and electric guitars.
 

Fariman & Al Bano (Italian Musician) 
How did you learn to sing/write/play the instruments? What was the first instrument which you learned to play?
As I have mentioned, there were no sources from which to learn Western music in Iran 20 years ago. The first musical composition that I learned was a very simple song by John Lennon, made only by three or four chords, called "Working Class Hero". After listening to it a few times, I managed to find the chords by myself on a very obsolete guitar that we had in my house. It took me two years to learn guitar; as soon as I had mastered it, I went on to discover another amazing musical instrument, the piano. Just like the guitar, I learned to play the piano and later other instruments, such as electric guitar and the drums, by experimenting different musical instruments that were at my disposal, and by trying to find the melodies I was listening to just by playing them.
How would you describe the music that you typically create with respect to style, genre, etc.? What kind of a singer would you classify yourself as?
Generally speaking, I can consider myself first of all as a pop singer, but for me there has never been any borderline in terms of musical styles or genres, so that's why the listener can feel today so much variety in my music in a single track. I never let the style categories limit me, and I am always following what my feelings are telling me, so that the final result depends just on my mood when I'm creating that piece of music. But overall, I can describe myself as an Iranian pop singer.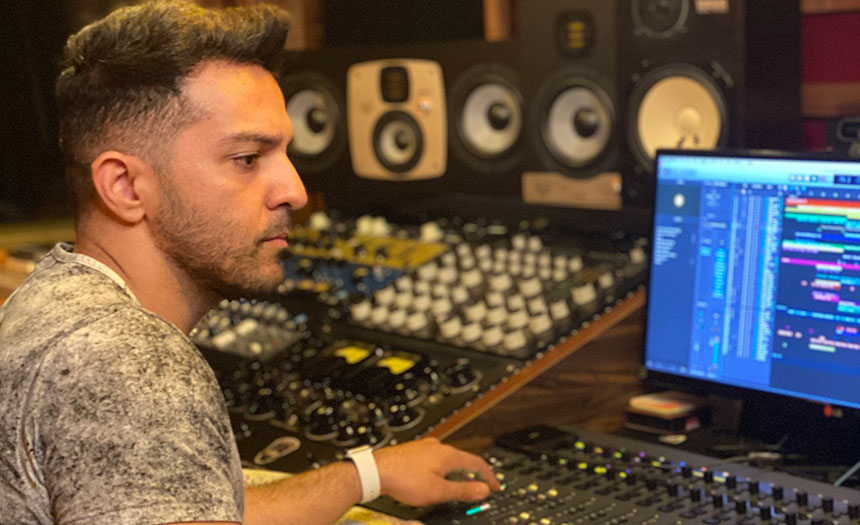 What are the essential qualities that make a good singer? Do you see yourself as having a mission as a music artist?
I think that an artist's principles, life perspectives and vision are the top three ingredients that make him or her an international legend, which is unfortunately very rare in the music industry in Iran. It is quite common that our musicians nowadays make songs without any specific vision, as they just try to make music for getting to the top of the charts and make a fleeting fame for themselves, and as a result after a very short time they fade away from the scene.
My mission as a music artist is to change the same old repeated style of music that has been going on for decades in Iran and to make the world know more about my country and its music. I am also striving to open the door for new generations of artists and show them that there are opportunities for Iranian artists to break into the international music industry and that they can make themselves heard in every corner of the world. But in order to do so, they have to believe in themselves and have a strong vision for their art.
As a producer, songwriter, multi-instrumentalist, and vocalist involved in all aspects of a project, can you tell us more about your songwriting process? Do you usually start with a melody and let the lyrics come to you? Or is it the other way around?
Each artist in the world has his or her own way of creating music, and there is no specific method that you should follow in order to make a song. It's completely up to your feelings and your mood of the moment. Sometimes I write the melody, no matter where I am, whether I'm sitting behind the piano, walking on the street or taking a shower. As the next step, I write the song over my melody and then start the arrangement. After the musical base is ready, I sing the vocals and send it over for mix and mastering to my friend Masroor Sheidaei. This process of course can sometimes be a very long and complicated one. But sometimes I improvise: I make a musical bit which is a demo, a sort of arrangement of the atmosphere at a specific moment I'm living through. Over that atmosphere of the bit I've made, I start to write the melody and the lyrics. And the song is magically created over a day or so.
What/who is your main inspiration?
My inspiration is good and pure music. No matter the style, by whom it is written, and what his or her background.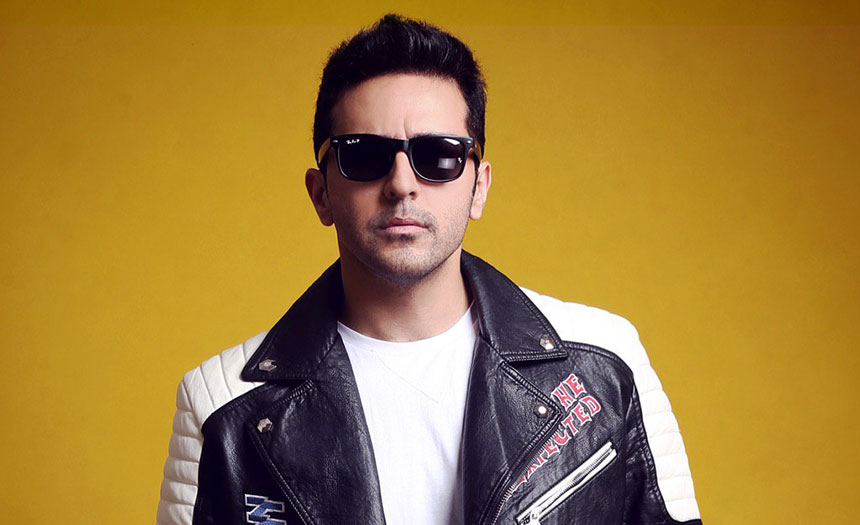 Retelling the Story of Persian Classical Music
 In terms of the overall composition of the music you've produced so far, what is your favorite song and why? What is your favorite song to perform?
So far, one of the greatest songs I've ever made, which had millions of listeners, is called "Toro ba hameye khoobiat". Besides the huge success of the song, I have a special feeling about this musical production because the story behind it is a true story. I took a lot of inspiration from my private life to write the melody and the lyrics, and the song – just like I was mentioning before – was magically written and fully composed just in one hour. To this day, I have not been able to make anything like this again. That's why it is so special to me, and I like to sing it as my first song whenever I am performing.
Tell us about your upcoming collaboration with the legendary Italian singer Al Bano. This will be the first and biggest collaboration between an Iranian independent pop singer and an Italian legendary pop singer. Please tell us more about the project.
 First of all, I am so honored and humbled to announce that this is the first time in history that a musical collaboration between an Iranian pop artist and one of the greatest singers from Italy takes place. The song is about life after Covid and how we will restart our lives anew and go back to normalcy with the help of each other, and regain our hopes and motivation for creating better days ahead – for us and for the next generations.
Besides the joy of singing with not only one of the greatest singers in the world, but also a great human being, whom I've always called Maestro, this incredible collaboration taught me a key lesson – the more you grow in the music industry or in this world, the bigger your heart shall become. So, working with Al Bano brought me this incredible message, that I will preserve forever in my memory and for the rest of my days.
I am also grateful to the Italian Embassy in Tehran and its cultural office for their moral support in this project.
Do you have any hobbies or interests outside of music? If so, what are they?
My hobby and interest besides music certainly lie in sports. I'm currently actively committed to many different sport activities such as ping pong, running and weights training, and I am almost every day in the gym. And of course, besides sports there is cooking, which is the other side of a healthy life for me. I never took drugs, drank alcohol, or smoked in my life, and these unhealthy habits are to this day far away from my nature. Practicing sports, cooking with healthy ingredients, and eating at home are for me like a meditation, they help empty my mind and spur creativity.
What is one message that you would like to give to your fans? What was the best piece of advice you ever got from another musician? What advice would you give for someone who is just starting their career?
I hope that my music and my vision, as well as my lifestyle, which I'm trying to maintain at a good level as much as possible, can have a positive impact on my fans' lives, and especially make them understand that you have to fight for your dreams and that you should never give up while facing difficulties, going against the current or encountering failures. Never think about what you don't have in life, focus on what God already gave you, on your ability, and try to develop it. Try to improve every day and work hard on yourself. Then I'm sure you're going to achieve everything you've dreamed about.
One piece of advice I've got from a professional in music is that if you want to be successful you have to buckle down, which means that there will be a lot of sacrifices, work and pain, if you want to become a successful musician.
Well, I can say I've lived with this advice my whole life and I'm still sticking to it.
What's your greatest wish? What are you trying to ultimately accomplish with your music?
I hope one day I will be granted the biggest honor and privilege for me to become the Ambassador of the Iranian music in the world, so I can make a bridge between Iran and the outside world, share Iranian values, its historical heritage, and its beautiful and profound culture across the borders. In this way, I would like to make the friendship deeper between Iran and the rest of the world. Because I do believe that music or art in general can be the greatest common language in the world and the biggest diplomacy tool available to us.