By:Behdad Najafi
---
Our next event is an exhibition The Ragadid Complex located in the Enghelab Sports Club in Tehran was inaugurated on Sunday, January 16, 2022, with an exhibition of works by the masters of Iranian visual arts, in order to introduce and put on display the services of this complex to the art community and to pay tribute to its pioneers, educators and contributors. "Mahan Gozin" exhibition, the first in a series of exhibitions to be held under this title in future, was held in Ragadid Complex, and was a joint collaboration of the Khanesh Institute and Faradid Honar Cultural Institute. Its curator was Behdad Najafi Asadollahi and Saeedeh Arian acted as the artistic director of the exhibition. The first Mahan Gozin exhibition exhibition showcased 47 paintings and 8 sculptures by 52 prominent masters and artists of Iran. According to Najafi Asadollahi, himself a painter and artist of new art media, Ragadid Complex will be where various exhibitions in fields of visual arts such as painting, photography, sculpture, illustration, miniature, calligraphy and such, along with related art events, will be held continuously and regularly, of which "Mahan Gozin" was the first of its kind.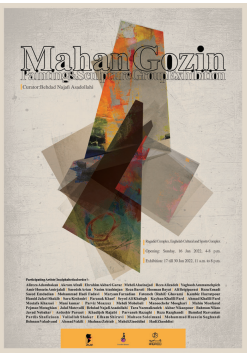 In addition, the Ragadid Complex has capacity for holding exhibitions of new art media, including installation, performance, video art and digital arts, based on which planning for future exhibitions are underway. Najafi goes on to add that the first phase of the Mahan Gozin art event was the result of 3 months of teamwork, including the development of a strategy and an artistic plan, invitation of artists and selection of their works, assortment, installation and graphic design services and photography of artworks on display.
As stated by Najafi, honoring and inviting all veteran artists is on the agenda of the Complex, but since the existing capacity and current facilities do not allow inviting all first-rate artists to the exhibition at once, in the following phases of the "Mahan Gozin" on going art event series, notable Iranian artists will gradually be invited in order to include all such masters over time. According to Najafi, the next exhibition in the Ragadid complex, called "Sheida Nabesht", which will be held while the next "Mahan Gozin" exhibit is being planned, will be featuring mainly the works of masters and artists in the field of calligraphic painting with an approach to the use of writing in contemporary Iranian visual culture. The display location of the works in "Mahan Gozin" exhibition in different halls of Ragadid Complex was based on the creation techniques of the artwork, the background of the artists and the dimensions of the presented works, and a specialized team at the exhibition had supervised all stages of the processes. The selection of each work had been the responsibility of the invited artists, and in some cases, with input from the curator and the artistic director, certain adjustments had been made in accordance with the exhibition space.
The statement of the "Mahan Gozin" exhibition stated: "We have lived in a time when it is a great act to breathe in the realm of art beyond why and how. Anyone who has not started to wane in the struggle against adversity and inaction, embraces and creates his individuality, and is the pride of our time." Behdad Najafi Asadollahi is a PhD Business Management graduate who is currently studying art. He is the son of Ms. Mansoureh Haji Baba Tabrizi, the founder and owner of the Tabriz Anthropology Museum. Najafi's father is a silk screen printer in the Iran Screen Production Unit, the first international producer of flags in Iran. As such, since his birth, Najafi has been nurtured in a cultural and artistic environment with color and painting, and his daily life has been intertwined with art, color and form. Saeedeh Arian, the artistic director of the exhibition, said: "The selection of works and the invitation of artists to the "Mahan Gozin" exhibition have been selective, and we have considered a wide range of criteria." According to Arian, artists' professional background, history of their exhibition activities, and their participation in national and international art communities have all been decisive in selecting artists for the exhibit. Regarding the exhibition, Saeedeh Arian added: ""Mahan Gozin" was held to support art and artists and holding other "Mahan Gozin" exhibitions on a seasonal basis is on the agenda of the Khanesh Art Institute, as we continue to host prominent Iranian painters and sculptors."