By: Rana Khadem
---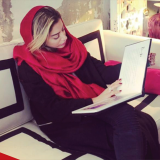 Rana Khadem is an Iranian designer and artist who is well-known for her expertise in designing home decor accessories, event decorations, and fashion items. Her works draw inspiration from Iranian symbols and poets, integrating traditional motifs with modern designs. We recently sat down with her to talk about how she entered the design industry, where her passion for design comes from, and what new products she is currently working on.
---
What made you start your own line of fashion, accessories and handicrafts?
I have been passionate about art and design from a young age – having started drawing Persian miniature paintings from the age of nine. I decided to further pursue my interests for the arts during my time in high school and university.
I formally started my career by holding small public exhibitions during my time at art school in Tehran. After finishing my Art degree in London, I decided to focus full-time on creating my own brand, Rana Khadem, which was initially showcased through private exhibitions. Since then, the Rana Khadem brand has expanded its product line into the design of home décor, fashion, furniture, and event displays.
Which one of the two are you more passionate about: fashion or handicrafts/decorative items?
While I enjoy the designing process for both, I am more passionate about handicrafts and decorative objects and prefer them to my other works. This is mostly due to the freedom I have during the creation process, which enables me to draw inspiration from a wide variety of experiences and themes.
We see a lot of old Persian/Iranian symbols in your work. Is that what inspires you the most, Iran's history?
I've always been very fond of Iranian symbols, but what influences me the most – despite my own intention – is people's increasing desire for Iranian symbols and poetry. I strongly believe that if you wish to stand out in a competitive market, you have to listen to your customer's needs. As a result, I focus on incorporating Iranian symbols within my works, combining traditional motifs with modern designs.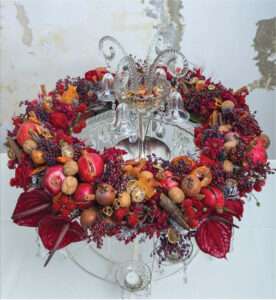 How do you produce your work? Do you do it all by yourself or have a team? Considering that hand-made work is time-consuming, how do you intend to mass produce if the demand for your work increases?
Initially I had a private studio in which I used to personally create my products. As the Rana Khadem brand gained more recognition and the demand for these products increased, I started to focus more on the design and material aspects, and outsourced the production of my designs to my trusted suppliers and workshops.
And you're right, as demand for my work increases, I have to focus more on mass production of my designs. For instance, the popularity of our China line has forced us to move away from hand-painted finishes and more towards prints for mass production.
Furthermore, in regards to our event decoration services such as wedding tables, or "Sofre Aghd," or holiday decorations, I personally create the layout and design, and then outsource its implementation to my team. I feel that's the only way we can meet all of our clients' needs effectively.
Have you sold your work outside of Iran? What is your ambition with regards to your label?
I work with a variety of boutique galleries in London and Paris, with a focus on home decor and fashion. My designer pillows have proven to be a popular product outside of Iran. I also have a line of Rana Khadem purses by the name of UFO that is currently available in London.
Furthermore, I recently exhibited a series of photographs called "Que le vent l'emporte" (let the wind prevail) in Gallery Linda Farrell in Paris. These photographs drew inspiration from traditional female clothing found in Iran's southern province of Hormozgan. I've incorporated the themes of this exhibition into a new series of designer pillows which will be released this winter.
My ambition for the Rana Khadem brand is to increase its presence internationally. Naturally, every business looks for ways in which to expand its products into new markets. And while my designs are heavily influenced by Persian designs and themes, I believe they have a universal appeal to foreign consumers – especially those in Western Europe.
Captivating Designs Make Elegant Brides
What are your upcoming projects?
I have numerous new projects that I am currently working on:
Fashion:
For years I had been designing clothes for myself and I've recently decided to share my designs through a new line of clothing. My new collection is currently available in concept stores in various locations in Tehran, London, and Paris.
My collection is also available on Instagram for those interested to see more: Rana_Kh_collection2.
Event Decorations:
I have been designing wedding tables or "Sofre Aghd" inside and outside of Iran for numerous years, and I am currently focused on increasing the size of this division. Furthermore, I am currently cooperating with commercial properties such as Palladium Mall with respect to holiday displays. We recently created displays for their Yalda and Christmas events in their main lobby.
Custom-Made Men's Luxury Clothing for the Refined Tastes
Décor Elements:
We are currently producing a new line of crystal elements intended to be used by designers and event planners as table décor for weddings and other events.
I design and produce these crystal elements in-house with the assistance of my team.
I believe this is a field that has great potential for the future, as there is currently an absence of high quality elements in the Iranian market.