BY: BitaNayeri
---
"Zeeen" is a collection whose name, identity and credibility are tied to the art of handicrafts, with the goal of creating a new design concept in the world of Iranian handicrafts.
[spacer height="20px"] The Zeeen brand was started in 2012 building on the invaluable artful expertise of the "Heidarian Carpet", which is an acclaimed enterprise with a 130-years history.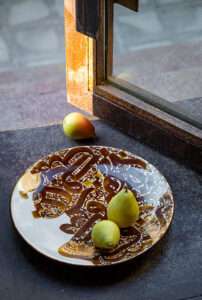 Our task is to identify artists and crafts all over Iran. From the onset, we searched province to province, city to city and village to village, and came across artists who still have the artistic and creative spirit, but who have turned to other professions out of necessity. We invited the best from among them to collaborate with us by rethinking their designs and handicrafts to make them more marketable. With their active participation we created products that have both elements of the original arts of the past and also reflect modern tastes of consumers today.
Part of what we do is to find a work of art or handicraft produced in a small village in Iran, in towns and places like Chaharmahal, Bakhtiari or Kurdistan, Sistan and Baluchestan or Khuzestan, or in a workshop in Isfahan, Shiraz or Yazd, and take these unique handicrafts to interested people anywhere in Iran or around the world, to a home in London, or Paris, New York, or Berlin, Toronto, etc. Our belief is that these artworks, in continuation of their destiny, will become ambassadors and narrator of Iranian culture, civilization and art wherever they go.
To achieve our goal of spreading the enjoyment of these handicrafts worldwide, it was important not only identify the best artist and their artwork, but also to present them to international audiences in the right framework and format. It has been over 8 years now that Zeeen has been professionally engaged in bringing these handicraft items into world markets from production process to export.
Our efforts in all these years have been centered on supporting the original form and quality of handicrafts of our country. Simultaneously, we have been purposeful in our endeavor to further develop and improve the livelihoods of the artists who make these works. As such, our goal and strategy has been to rethink and improve the quality and visual display of Iranian artworks and handicrafts with the aim of bringing them closer to the tastes of today's audiences and contemporary generation both in Iran and elsewhere.
At both Zeeen and Heidarian Carpet, we try to use every opportunity and space to introduce as many and as best artists as possible who have collaborated with us over the years. We believe that introducing these artists who produce magnificent and creative artworks through their art and creativity is a part of our social responsibility.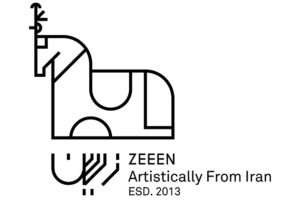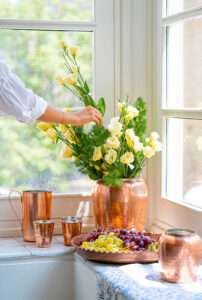 One of the main priorities for the production and distribution of products at Zeeen is the selection of works whose manufacture process is environmentally friendly from beginning to end. We also ensure that everything about our products is rooted in the Iranian territory, so that from copper containers to clay jars, from wicker baskets to silk shawls and cushions, from seven-color tiles to colorful needlework, all of their raw materials are from within Iran and all products are made by the creative artists of our homeland.
Since its launch over eight years ago, Zeeen has created employment for thousands of artists across the country from small villages to large cities, which has in turn resulted in strengthening of local communities. Many of these creative crafts men and women had had to abandon their artistic vocations and turn to other professions due to lack of customers and unprofitable businesses.
The increasing revival of Iranian handicrafts, for its part, prevents the emptying of villages and the involuntary migration of their inhabitants to larger cities where they are marginalized. As these artisans become aware of the growing number of distinctive buyers of their handicrafts both in Iran and around the world, they are more than ever focused on producing better and more high-quality products
Our goal at Zeeen is to further expand this culture of superior quality among our national crafts people, stabilize the idea of a lifestyle based on arts in Iran, and enhance the continued prosperity of Iranian handicrafts throughout our country and around the world.