By: Ghazal Mostafa

---
Our focus and expertise in "Zeeen" are centered on handicrafts. Clothing, as one can imagine, is one of the oldest handicrafts of mankind from the past to the present. As such, in fall of 2019, we decided to launch the clothing and apparel division of Zeeen in a serious and focused way by combining the art of various ancient Persian handicrafts together.
With this concept in mind, our vision and priorities include the following three main approaches:
– The art of handicrafts in the production process is our priority.
– Design and production techniques are inspired by original Iranian arts and crafts.
– Products are crafted taking into account ideals of sustainable fashion and environmental protection.
The first collection of Zeeen's apparel was unveiled and presented on the night of Yalda (winter solstice) in 2019. The main composition of this winter collection was a combination of black and white clothing with red lining, whose original designs used the art of calico (Ghalamkar) on linen fabric and were finished with cotton embroidery by the tasteful Isfahani artists . Our primary goal was to use an old art to create functional products that match today's tastes.
Our second collection of clothing was created within the world of Covid-19 and the quarantine, and like its name, "Ziva" (in ancient Persian) meant life and hope for the future. The Ziva collection was made using handcrafted textile techniques such as natural linen fabrics, hand-printed calico with old motifs and natural dyeing. In designing the clothes of this collection, whose predominant colors were mustard and light turquoise blue, we were inspired by modern styles. Our goal was to create a convenient and practical collection by combining traditional handicrafts techniques with avant-garde designs.
A Fashion Designer's Passion for Made-to-Measure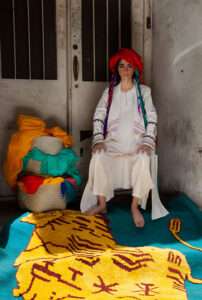 One of the features of Ziva's collection was the names chosen from ancient Pahlavi language for each design where old words conveyed the concept and meaning of life and hope: Booten, Bute, Zosh, Paristan, Basim, Buye, Zatan, Bozhak, Anoshk.
The third collection was presented exactly one year after our first event, at the same time as Yalda night, in 2020. This time, we used the calico technique on embroidered quilted cotton fabrics suitable for winter weather. The dominant color of this collection was black and white with dark navy color combination, and this time too for their names we chose ancient words of Pahlavi language rooted in the concept of good thinking, truthfulness, integrity and happiness: Bonshad, Hoomat, Rayka, Ashtad Parasht, Huram, Aros and…
The fourth Zeeen clothing collection was for spring 1400. This was a collection with deep connections to the mood of spring, both in material, design and color, and full of color diversity and vitality: coral, light smoky beige, cream, charcoal and turquoise colors made up the range of colors of this collection. The main technique used in this collection was hand needlecraft on cotton and natural fabrics which was done by Afghan women artists living in Iran. This approach had the added benefit of job creation and productive entrepreneurship for this group of artisans.
The old Persian names selected for the designs of this collection were naturally also rooted in spring with names of flowers and plants: Morva, Nyrman, Muge, Mira, Idis, Pamchal, Sonbol, Pichak and Cinere (Cineraria).
Zeeen's clothing collection for the summer of 1400 was inspired by the green northeastern region of the country, from ShahKuh area in Golestan province. The special and unique handicrafts of black embroidery on white fabric is famous and comes from this region of Iran, where the local women's clothes and decorative arts, both past and present, display its beauty.
This summer collection included ten designs, and each design had its own name inspired by elements of nature of that region.
Black embroidery and needlepoint of these clothes are all done by hand. The fabrics of this collection are also all natural and environmentally friendly. It is interesting to note that even today, the ancient motifs used in black embroidery like the designs of Kalleqandi, Bottejeqqe ,Khoroskhan, Shaaroose and Marpich, while preserving their originality, still adorn the clothing of the people in this region.
Revitalization of Materials-Sustainable Fashion Takes The Lead-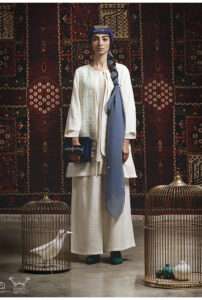 Zeeen's Principles and Priorities
The design and production of Zeeen's clothes are still at the start of their path, and we believe this is just the beginning of a greater purpose and ambition for us. However, from the very first days, our priority has been, and will continue to be, to observe and contend with a set of principles.
– Our main goal is to link Iran's original arts of the past with the needs and expectations of today's modern world. In this way, we try to bring the techniques and creative methods and ancient handicrafts closer to the interests and tastes of new generations by producing practical and attractive products.
– Our other basic and important priority is production in accordance with environmental principles and sustainable fashion. The truth is that today's fashion is one of nature's great destroyers. But we want to pursue a different way, and to do that, our products must have the least possible waste.
– Every design we produce is not just a simple dress to wear, but a creation that contains and narrates a story of handicrafts and its production path. This path goes from city to city and village to village in Iran to complete its tale.
– We believe that the manner of production and satisfaction of the artisan who is our colleague at each stage of this path is extremely important. Accordingly, providing a safe and healthy workplace for the artisans, as well as protecting the human and financial rights of all those who collaborate with us in the production chain of these apparels and accessories, is another of our priorities.