By: Noorarash Charlie
---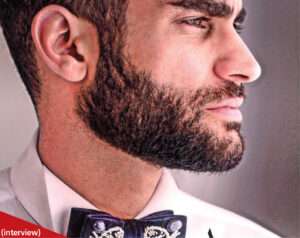 Tell us about your background. What did you study? How have your educational background and other experiences contributed to your evolution as an artist?
My name is Noorarash Charlie. I was born on the 6th of june  1986, in a multiracial family. I was raised in the States and then we moved to Shiraz where I got to learn Farsi at the age of 10.
I was always fascinated by the Persian art and culture and very interested in acting, but despite my interests I got my BA in Law at Shiraz Azad University and MA in International Law at the International branch of Tehran University, graduating in 2011. I started designing bow ties while I was living in Dubai. At that time, I was working in an art gallery and was doing modelling and TVC. After a while, I moved to Tehran and started my own fashion line with my friend and partner, Maso Kia, which I took over after she moved from Iran.
In 2017, I started taking some acting classes and graduated from IN/JA masterclass in 2018 and have been acting since. Crazy background, no?
What do you love most about being an artist? We see that besides designing clothes, clutch bags and bow ties you've started a new career in filming. Tell us more about it.
I love anything that triggers an emotion in you in some way and that's what art does to you. With art, you are telling a story and that's how I feel about my designs or my acting. What I love the most about being an artist is that you have the chance to always tell the story to your audiences.
How have you developed your career as an actor?
Well, my grandfather was a very famous comedian in India.
He was known as the comedy king or Charlie Chaplin of India, so I think it's kind of in my blood and I was impressed by him.
I remember that since I was a little kid I was always acting and entertaining my friends or any new group of people I use to meet. Not shy at all.
I knew desire and passion wouldn't be enough to become professional in this competitive market, so I immersed my self in the related educational field. I acted in a few theaters while I was in school and, as I mentioned earlier, I enrolled for IN/JA Academy which is where I learned a lot and started acting in short movies and theater and I hope there is much more to come.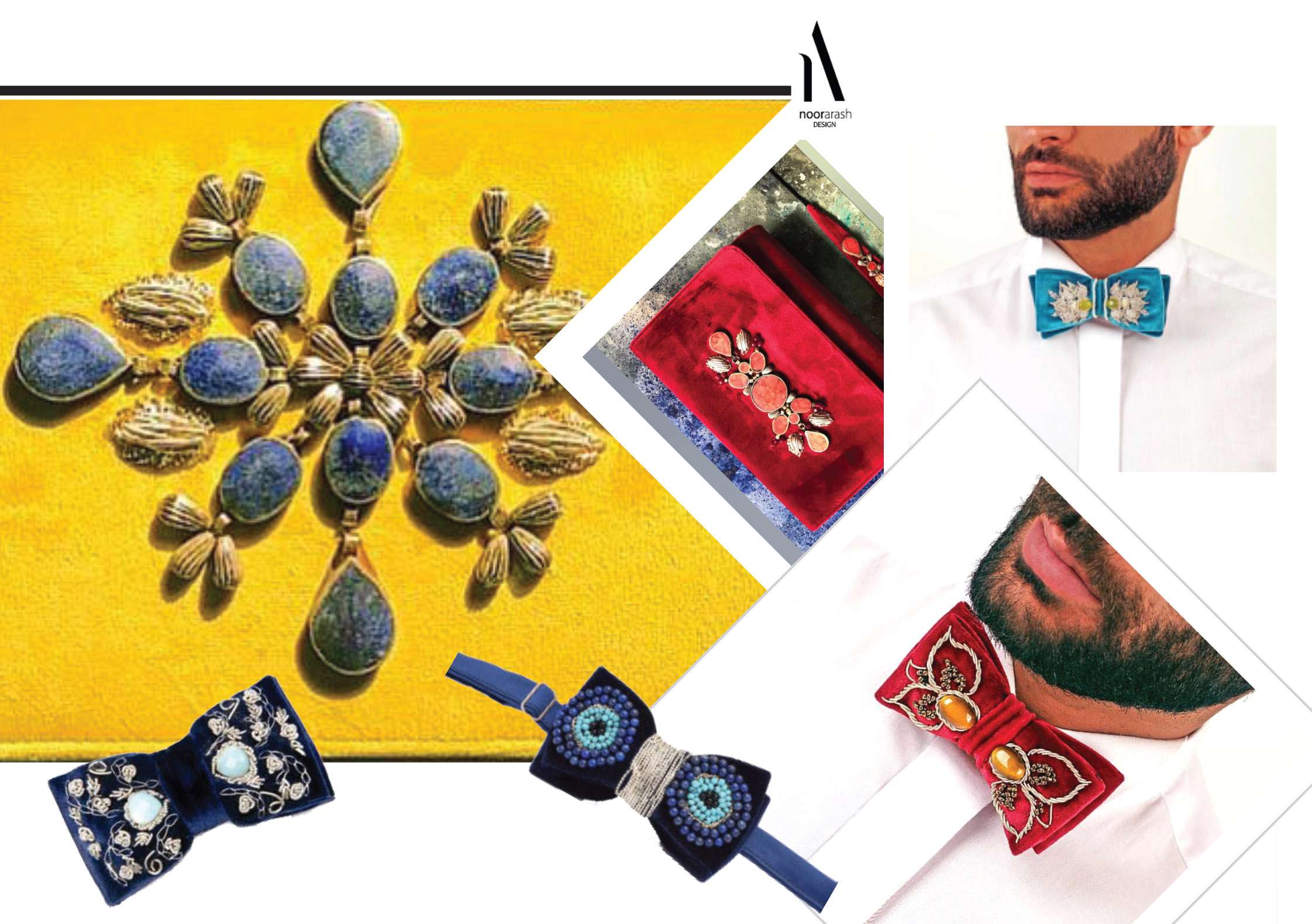 Where did you get your inspiration for Persian embroidery? Did cultural heritage influence your works?
Everything about Iran is beautiful; I always thought the Sermeh embroidery is the richest thing you can find on a piece of clothing; it gives it power and extreme beauty. That's what I thought when I use to see the old uniforms and couture from the Persian royal dynasty and that's mainly where I got my inspiration. While I was in Shiraz, I used to walk around Vakil Bazaar so I got to see the craft from up close. That's where I thought this should be used on modern accessories as well and aimed to combine this beautiful ancient handcraft with modern fashion. And, hello, I'm half Indian so of course I'm all about the bling bling.
THE GLORY OF TURKMEN ETHNIC CLOTHING-AFSANEH SHOJAIE-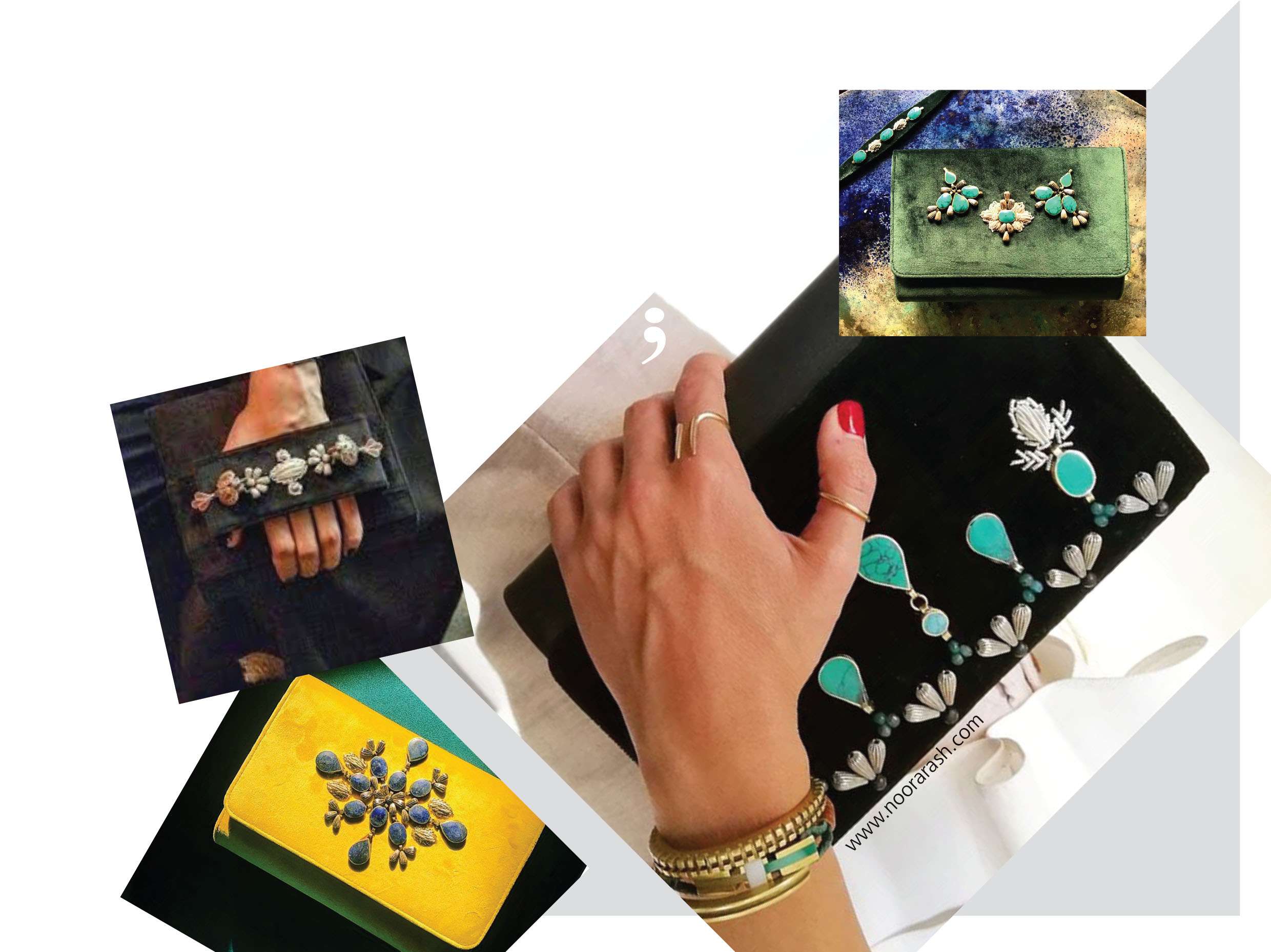 What does your art represent? How do you make your clutch bags and bow ties? What material do you use? What is the exact process? 
Like I said, each one tells you a story and the story can even be personal. Each season, I try to come up with new ideas but mainly I work with velvet and leather in my bow ties, clutches etc.
Sermeh embroidery is one of the handcrafts I try to use on any piece I think that's what make them so unique.
COVID-19 & The Fashion Industry's
Please explain what goes into a piece that can help buyers better grasp the significance of your work. 
When I design a piece I see it as artwork and anyone who purchases one of them thinks the same. I always hear this comment that I'm going to wear it once and frame it afterwards.
How do you usually promote your work? Do you have any exhibitions in the near future? 
I have my online website www.noorarash.com in which you can find all the works and stores you can find the pieces and I participate in group events.
Zeeen shop in Palladium and Aassttiinn online store is mainly where you can find my stuff.
Tell us one unique thing about you and your arts. 
Some thing unique about me which could relate to this subject is that I have deep appreciation for beauty and excellence and I try to bring it in my daily life.
Lastly, how do you identify yourself? 
I identify myself by the love I have for my friends and family, especially my sister who I feel is a blessing in my life and can't imagine it without her. My life events, the ups and downs that made me who I am today. I am a boy with a voice who leaves only good wishes behind. Well, at least I try.