By: The Italian Embassy
---
The Espinas Palace Hotel in Tehran hosted the kick-off event of the sixth edition of the Week of Italian Cuisine in the World, organized by the Italian Embassy in Tehran in collaboration with the Italian Trade Agency's (ITA) Office.The initiative, organized by the Italian Ministry of Foreign Affairs and International Cooperation with the support of Italian Embassies and Consulates around the world, aims at promoting the uniqueness of the Italian culinary tradition and the use of original Italian ingredients and products.
The event was attended by a selected public of entrepreneurs, artists, influencers, and celebrities to try the Italian cuisine's simple and, at the same time, sophisticated taste in a culinary experience with Roman chef Maurizio La Masa.
The show featured Italian made products still available on the Iranian market, and a seminar on the benefits of the Mediterranean diet and the importance of fresh produce coming from the territory.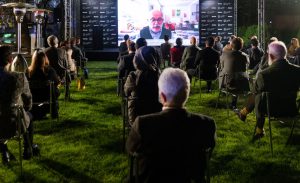 In his introductory speech, the Italian Ambassador in Tehran, Giuseppe Perrone, explained the special meaning of food in Italian culture as well as its being an integral part of the Italian identity and lifestyle.
He also underlined how the Mediterranean diet represents a typical feature of Italian cuisine, which makes it not only of a high quality in terms of taste but also extremely healthy, as proven by the figure reached by Italians in life expectancy, one of the highest in the world.
The event, held in full compliance with Covid-19 prevention protocols, has also brought to light the commonalities between the Italian and the Iranian culinary traditions, as part of their respective cultural backgrounds.
In addition to the event hosted at the Espinas Palace Hotel, the Italian School in Tehran "Pietro Della Valle" has also celebrated the Week of Italian Cuisine in Iran by organizing a cooking day with the school's students.