By: Claudia Frey
---
14 UNESCO World Heritage Sites

More than 2500 years of culture and civilization

3 weeks of brilliant sunshine and

hot-summer temperatures
---
Claudia Frey was born in Stuttgart, Germany in 1951. She graduated with a degree in microeconomics and later worked as a manager for market information at Frankfurt-based VDMA for 40 years. She loves traveling and Iran is the 54th country she's visited.
On the road to Kermanshah the steep 2600 meter high Bisotoun rocks surmount the high plateau. Reliefs and epitaphs carved into the rocks are another UNESCO world heritage. There are two reliefs from Parthian times during King Mithridates II rule around 100 BCE. The most famous relief, however, shows Darius I. For the very first time the Persian cuneiform writing – said to be invented by Darius – was used here.
Canada: A Mission to Search for Bears and Orcas
Next to our hotel in Kermanshah, in a wonderful serene setting made for a walk after breakfast, lies the Taq-e Bostan grottos. We are headed for Khoram Abad, the capital of the Lurestan province. One of the most striking castles of Iran, Qaleh Falak-ol- Aflak, towers the city, providing lookouts worth-seeing; it hosts an interesting museum with insights into life and traditions in this part of the country.
In Shushtar, the band-e kaisar, a long dam over the Karun, Iran's most affluent river, was the core structure of the famous hydraulic system, a large irrigation complex from which Shushtar derived its agricultural productivity. Whooshing waters are a welcome air cooling the  41-degrees outside temperature.

Chogha Zanbil, an Elamite town founded circa. 1250 BCE and surrounded by a 4 km long wall, is home to the best preserved and largest, 5-tier Zikkurat, built from millions of air dried bricks made of mud and clay.
From Ahwaz we are heading towards Shiraz, a 600 km all-day trip. The very hot Khuzestan is a province of contrasts: abundant sub-tropical agricultural products vs. today's wealth of the country derived from oil and gas.
Midway in Bishapur: palaces from Sassanide times as well as more rock reliefs wait to be visited.
Shiraz: City of poets, of roses, of orange and lemon trees and – until the Islamic Revolution – also city of wines. It is compulsory for each and every tourist to honour the mausoleums and gardens where famous Hafiz and Sa'adi rest forever. We listen to some of their well-known poems – in Farsi and in German. A long walk takes us to the fortress Arg-e Karim Khan and finally through the Vakil Complex with mosque, bazaar and hamam, but there is much more to be seen in this city.
Persepolis, or Takht-e Jamshid, the ceremonial capital of the Achaemenid Empire is an age-old testimony of Persian architecture – and for sure THE highlight of each trip to Iran. It was here where the late Shah pompously celebrated two and a half thousand years of Persian history.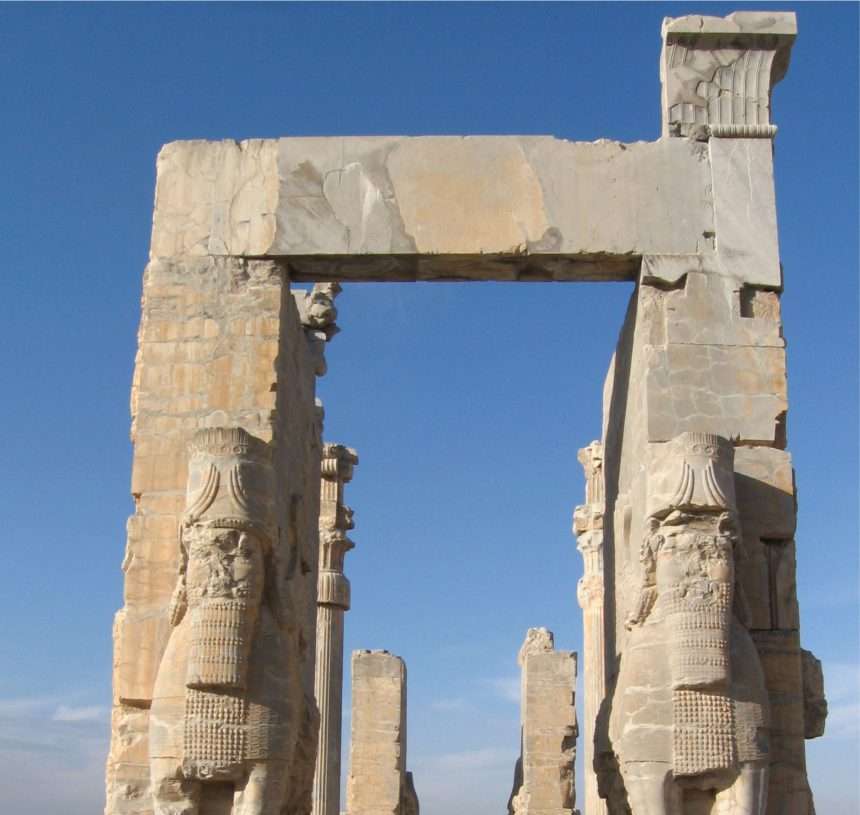 The nearby Achaemenide tombs at Naqsh-e Rostam are the last resting places for the kings Darius I and II, Xerxes and Artaxerxes. Only Cyrus the Great rests at another place, at Pasargardae. Despite it being sunset there is some time left for a short walk through the beautiful botanical Eram garden– and a trip back to downtown by modern Metro of Shiraz.
Along the Baghtegan salt lake our route takes us further East – almost 600 km to Kerman. Later we read in a local newspaper that the lake, too, will soon be dried out. In Sarvestan, another Sassanid palace waits to visited.
Half way from Kerman to Bam, a city which was destroyed by a horrible earthquake in 2003, lies Rayen. Its citadel which is as impressive as the one in Bam, was constructed around 300 AD at the foot of a 4500 m high mountain range. In Mahan we pay a visit to the mausoleum of mystic Nematollah Vali. A spring in the mountain's waters the enchanted, wonderful Shahzadeh garden, located outside Mahan.
Before we leave Kerman, we walk through the local bazaar and the Ganj Ali Khan Complex. The road, accompanied by pistachio trees, leads us along the Dasht-e Lut, heading for Yazd. At the outskirts of town, two Towers of Silence rise up to skies – places where the Zoroastrians exposed their dead to the birds thus avoiding contact with sacred earth and fire. At a rooftop terrace downtown, we enjoy a beautiful sunset with a panorama of the old town made from mud and clay, spellbound by its minarets, its mosques and the moon.
In Yazd's Water Museum, a guide explains the ancient but still used irrigation system of the Qaranates. In a Fire Temple we see the Eternal Flame and learn about the religion of Zartosh, which is still being practised today.
At Meydan-e Amir Chakhmaq, the mosque, wind towers and water reservoirs together form a superb ensemble. A must-go for every sweet tooth is the long established confectionary Shirini Haj Khalife.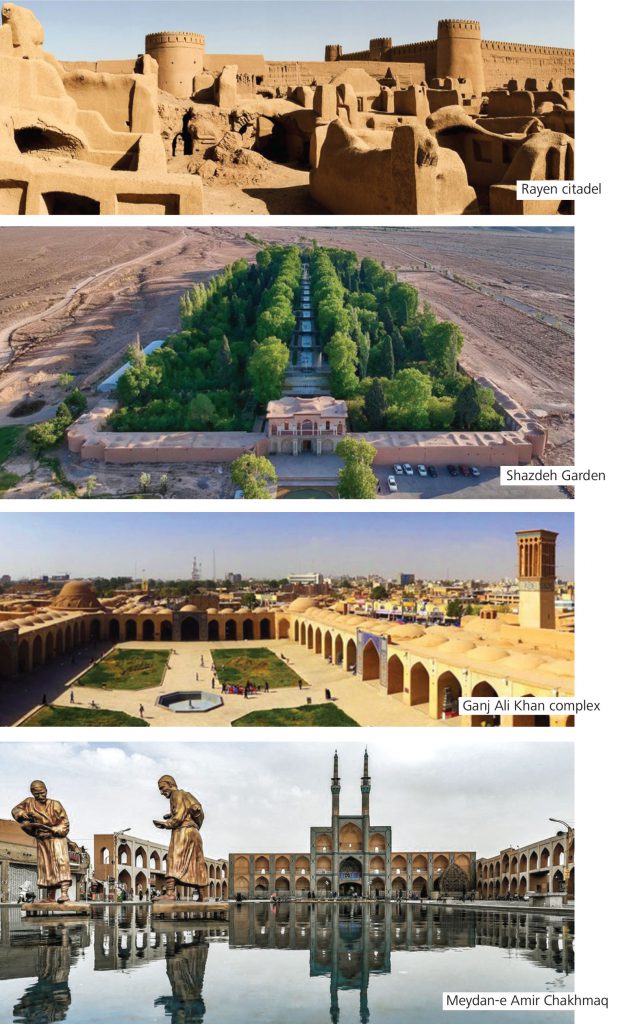 At a very special request by the author we were admitted to watch local men do their traditional workout at the Zurkhaneh (Power House); this very special exercise of body and mind dates back to pre-Islamic times.
Esfahan: Two palaces-Chehel Sotun and Ali Qapu – as well as three mosques: all visited in one day. But the highlight of course is overwhelming Meydan-e Imam, also known as Naqsh-e Jahan, or "the reflection of the world". The second largest square worldwide. Horse-drawn carriages reminds me of Vienna, small cafés in side alleys invite us to relax. Ateliers show us how cloths are printed by hand and artisan craftworks tempt us to shop. Along with the Christian monastery high up in the North, the Jewish synagoge in Hamedan, the Zoroastrian fire temple in Yazd and the Christian Armenian Vank cathedral in Esfahan bear witness to the religious variety in Shi'a Iran. After its visit another dream of mine comes true: In the basement of the privately-run music instrument museum traditional music is being played by Daf, Taar, Tombak and Kamancheh and songs are being sung.
Finally we visit the famous bridges of Esfahan: Si-o Se Pol as well as Khaju Pol – but where is the river Zayandeh? No water as far as the eye can see. Pedal boats on the dry shores reflect the owner's optimism.
Last stop is Kashan with a couple of mansions belonging to rich merchants' families.
Then we are back to Tehran, safe and sound after more than 6000 km on the road through most parts of the country.
"Iran is a great destination to travel with a terrific scenery, overwhelming history, culture and age-old civilization, with amiable, open-minded, helpful and curious people. A land to fall in love with"