By: Embassy of India
---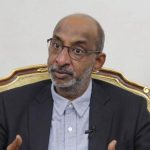 His Excellency Mr. Gaddam Dharmendra was born in 1964 and holds Master of Philosophy in Politics from Jawaharlal Nehru University, New Delhi.Mr. Gaddam Dharmendra joined the Indian Foreign Service in 1990.
---
His Excellency Gaddam's previous diplomatic assignments include High Commissioner to Zambia (October 2013 to July 2017); Consul General to Hong Kong and Macau SAR (September 2010 to October 2013); Counselor in India's High Commission in Dhaka, Bangladesh (August 2003 to June 2007); First Secretary in the Indian Embassy in Washington DC; Second Secretary in the Indian Embassy Dushanbe, Tajikistan (May 1994 to April 1997); and, Third Secretary/Second Secretary in Tehran, Iran (March 1992 to March 1994).
During his assignments in the Ministry of External Affairs in New Delhi, His Excellency Gaddam was Joint Secretary (Disarmament & International Security Affairs) and Additional Secretary (Policy Planning & Research).
Thank you so much for giving Trends this exclusive interview despite your busy schedule, we are very grateful… If you were to summarize the state of affairs between Iran and India, in terms of political relations as well as trade activities and cultural exchanges, how would you describe it?
I will describe the current state of India-Iran relations, as "multifaceted and robust". This is not only because of our shared two-millennia-old cultural and civilizational connection but also because of the multi-dimensional opportunities of the present. This is evident from the trend in our ongoing bilateral engagements. These include two back-to-back visits to Tehran by External Affairs Minister Dr. Subramanyam Jaishankar during which he called on President Ebrahim Raisi. There is a clear high-level commitment on both sides to deepen and expand regional cooperation, peace, prosperity and stability.
Iran and India share a long history of cultural exchanges as well as trade relations developed over centuries. Please tell us about the history of cultural and economic activities between the two countries.
It is well known that India and Iran share strong historical and civilizational connections. There is substantial evidence in our archaeology, arts and literature that testifies to these bonds. We also have a shared maritime and mercantile history. Unfortunately, this fact is not as well known. The excavation of seals at Kish, Susa and Ur in Iran give evidence to the existence of trade between the two regions dating back to the Indus Valley civilization. Moreover, ports along Iran's coast played prominent role in the trade between India's western coasts and the Persian Gulf territories. There are also inscriptions dating back to the 12th century found in Gujarat's Somnath that refer to the presence of Iranian traders in India while texts of the same period refer to Gujarati traders based in Iranian ports along the Hormuz Strait. These ties continued to expand during the Mughal Sultanates in India and the Safavid and Afsharid empires in Iran. Clearly, these bonds enrich people-to-people relations and our cultural connections also remain vibrant to this day through cinema, art and literature.
What is the trade volume between Iran and India today? What products and services are still being exchanged, if any? In the future, what sectors/fields could potentially be of interest to India and Indian companies (energy, petrochemicals, mining, transportation, automotive, ICT…)?
There has been a slowdown in bilateral trade due to various factors including the global COVID pandemic. India-Iran trade was traditionally driven by oil imports from Iran to meet our energy needs. We are now expanding into other sectors including light engineering and pharmaceuticals. In 2020-21, our bilateral trade was around US$ 2 billion. Both sides are, however, committed to restoring trade to the previous existing levels of over US$ 17 billion (2018-2019). We encourage chambers of commerce and business entities in both countries to continue to engage and explore mutual trade opportunities and take advantage of the mechanisms in place to facilitate bilateral trade.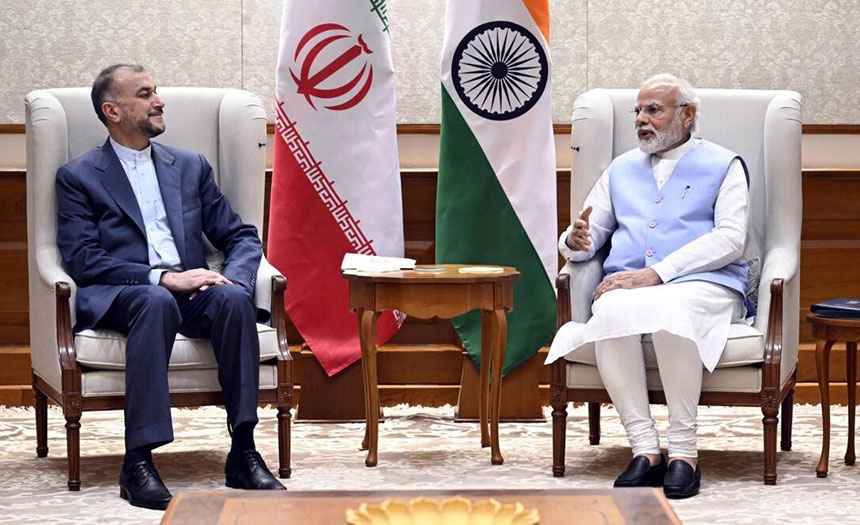 From my interactions across Iran, I can attest to the fact that businesses in India and Iran see each other as important partners. At present, India is one of the few countries to maintain banking relations with Iran. Despite the decrease in trade volumes from the previous levels we saw in 2018-19, mainly because of external factors, there has not been a significant drop in non-oil trade. However, I believe there is an opportunity to diversify the trade basket, beyond traditional items. Businesses in both countries are working towards this objective. Historically, both countries had enjoyed great trade links via land and sea routes. Now, India and Iran are committed to realizing Iran's potential as a connectivity and trade hub, linking East and West, and, North and South.
What do you see as the biggest hurdles on the way of doing business between the two countries (US sanctions, lack of information among investors and traders, Iran's business environment, commercial rules and regulations…)? What do you see as post-sanctions opportunities and challenges for the two countries in terms of industrial cooperation and trade?
There are, as always, challenges and opportunities in every scenario. And, as you put it, information is essential and plays a vital role. You will not be surprised to hear me say that businesses are usually ahead of us policy makers. I, therefore, find immense value in interacting with and learning from my counterparts in both countries and from businesspeople in sectors from industries and manufacturing, to agriculture, banking, and other business activities.
People engaged in the business world tend to see opportunities where we policymakers may see challenges. I consider our interactions as being of great value to me in my work of promoting India-Iran relations across as wide a spectrum of activities as possible. Moreover, given the high-level commitment on both sides, we are continuously engaged in finding ways to expand bilateral trade and our economic and commercial relations. These also require enabling mechanisms. We have carefully listened and heard from businesses on both sides and we, the officials in both countries, have worked closely together to put such mechanisms in place.
These include a Rupee payment system for trade in essential and humanitarian items such as medicines and pharmaceuticals, strengthening of B2B relations, and conducting virtual buyer-seller meets, etc. This is made possible because business entities in both countries have identified multiple opportunities. I share this optimism. As it is well known, India supports the integrity of global supply chains and in this paradigm, Iran occupies a strategic place offering numerous advantages – a growing market, a young, well educated, well informed and highly talented and conscious population, etc. The possibilities for forging closer business ties and deepening people-to-people contact are immense and exciting.
India is one of the world's top technology hubs. How do you assess India's global place in the ICT sector and to what do you contribute the vast pool of technology talent in India? What does the future hold for India's technology sector? Can you please give any examples of large-scale projects, plans or initiatives?
India's ICT sector has seen tremendous growth, especially in the last decade leveraging the growth of Digital India, to transform the nation into a digitally empowered and knowledge-based economy.  ICT in India is catalyzing innovations in the delivery of public services (Aadhar, Direct Benefit Transfer. Aadhar is a twelve-digit unique identification number issued to every resident in India), healthcare (telemedicine, Co-Win platform, and real time hospital supply chain management), financial sector (UPI), property rights (digital land rights management), energy sector and democratizing access to knowledge, innovation and entrepreneurship like never before. Both the government and the private sector have been joint stakeholders in the use of ICT as a means of improving quality of life for the Indian public in all areas of life.
India has succeeded in driving international engagement and investment in its startup sector today through its Invest India, Startup India and Innovate India programs. These schemes have incentivized and benefited both high tech startups and micro, small and medium scale industries. India has registered over 50 unicorn companies in 2021. Indian firms are striving to facilitate a sustainable and innovative ecosystem that can deliver public-oriented developments. The globalization of these innovations for the greater benefit of all is keeping with the principle of "Sewa Parmo Dharma" (Service is the highest virtue) invoked by the Honorable Prime Minister Modi at the UNGA (The United Nations General Assembly) this year.
India's investment in the key Iranian port of Chabahar in the Persian Gulf has seen its ups and downs. How is the project developing now? Given the events in Afghanistan, will India continue to invest in Iran's transit infrastructure?
As I said earlier, the India-Iran maritime connect is not very well known but it has existed throughout our shared history. We now recognize and view restoring maritime connectivity to play a significant role in our trade relations. This is not just for our bilateral trade but also as a logical step forward in the creation of regional corridors for trade and as driving force for economic relations and exchanges. There is clearly commitment at the highest levels in both countries to deepen and expand cooperation at Chabahar's Shahid Beheshti port. As regards Afghanistan, Chabahar has helped reach much needed supplies of grain, including 75,000 MT of humanitarian wheat supplies and other essential commodities to the people of Afghanistan during 2020. On these issues, India and Iran worked closely together to ensure speedy and timely delivery. We have a Trilateral framework in place for such supply facilitation and also its increase by enabling Afghan businesses to export their products to South and Southeast Asia.
India-Iran cooperation on Chabahar's Shahid Beheshti port remains robust. To date, India has successfully delivered six Mobile Harbor Cranes and other equipment to the Shahid Behesti port. Both sides remain committed to ensuring that the long-term development of the port continues unhindered and thus will contribute towards growing and thus enhanced regional trade relations. We both also see significant advantages for Central Asian countries by their use of Chabahar and the International North-South Transport Corridor as there will be substantial savings in time and cost.
The theme of this edition of Trends is the World Expo in Dubai. What kind of presence does India have at the event? Which sectors, companies and/or products will be showcased there? What about cultural events on the sideline of the Expo?
India has been a regular and long-standing partner in the World Expos in Dubai over the years and will continue its high-level engagement at Dubai Expo 2020. This year, our pavilion showcases India's civilizational heritage and its current technological and industrial capabilities. The Indian exhibit incorporates art, culture, literature, cuisine and cinema from across India's states and union territories. Over 150 cultural and business events will be hosted for the duration of Expo 2020. India's collaboration with the Dubai Expo not only showcases India's confluence of history and innovation but also the ongoing cooperation between India and UAE.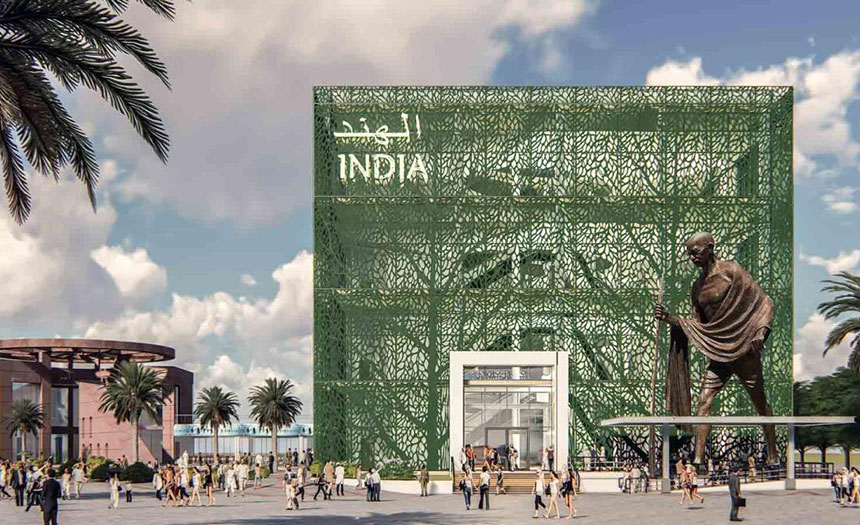 Are there any business delegations from India and Iran visiting either side any time soon (in person or virtual)? If so, in what sector(s) and when? Are there any major cultural/artistic or sports activities between the two countries planned for the rest of 2021 or in 2022?
Despite the fact that Covid-19 situation still persists in both countries, a delegation of Indian pharmaceutical companies participated in this year's Iran-Pharma in October. We continue to proactively organize webinars and virtual buyer-seller meets for businesses in both countries.
As India is celebrating 75 years of its independence, Government of India has started "Azadi Ka Amrit Mahotsav" initiative to commemorate the same. We are organizing several cultural activities in Iran, including in hybrid mode. As part of the initiative, we wish to call Indian cultural groups to Iran next year to showcase Indian culture and heritage. Also, we have planned a painting exhibition for 2022. Iranian participation in wrestling and weightlifting are closely followed by large numbers of people in India. The Iranian national football teams and its major clubs like Persepolis and Esteghlal are also well regarded in India. I have seen Iranians follow Indian sporting stars in Olympics and international championships with similar zeal as well. Iranian football clubs have regularly visited India for friendly games with Persepolis FC playing a highly watched match with FC Goa in the Asian Champions League in April this year.
India, like Iran and many other countries, also suffered greatly from the Covid-19 outbreak. What have been some of the lessons learnt in India from the pandemic? Is there currently any cooperation happening between the two countries on that front? How can we leverage each other's experiences to better face future pandemics?
India and Iran have endured tremendous pain and have shown strong resilience in the face of COVID-19 pandemic that affected everyone around the world. Some of the lessons the pandemic has taught us include the importance of health as a holistic social concern and not just a governmental or medical care challenge, need for 'Aatmanirbharta' or self-reliance in healthcare related industries, the need to have a resilient health care and pharmaceutical infrastructure that is not tied to single source supply chains, and the intervention of innovation and technical knowhow to tackle healthcare challenges and disruptions in a citizen-centric manner.
As the vaccination programs of both countries have reached a degree of self-sufficiency, both countries are considering ways to explore benefits of the potential of collaboration in healthcare including in pandemic preparedness and pharmaceuticals. The two countries will also cooperate through multilateral and international forums on building a more resilient post pandemic society.
How do you view the current situation between Iran and the US? Are you optimistic about the future of the JCPOA? Based on that, can we expect further improvement of relations between Iran and India in the foreseeable future, given the challenges including political climate in the US, sanctions etc.?
At the outset, I must say that India-Iran relations have proven to be robust and resilient despite various external factors. We are committed to the further expansion of our mutually beneficial ties in the future.  As you also know, India supports the full and effective implementation of UNSC Resolution 2231 and resolution of issues concerning JCPOA through dialogue and diplomacy. I'm cautiously hopeful of a mutually beneficial resolution with the ongoing talks.
To read more about Iran-India culture and history bonds, please check this link out.