By: Trends Editorial Team
---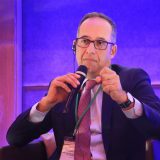 Having spent his formative years in Switzerland and Iran, Sharif Nezam Mafi received his MBA with a concentration in Strategic Planning from Suffolk University in Boston. Sharif also received his Bachelor of Science in Geology from Northeastern University in Boston. During his tenure at American Express in New York he also became a certified Six Sigma Black Belt. He has worked in various capacities in Turkey, Pakistan, Iran, Azerbaijan, and Armenia with top tier organizations such as American Express, SGS SA, and Buhler AG. As the Founder and Chairman of the Board of the most active international Chamber of Commerce in Iran (Iran-Switzerland Chamber), Sharif has also been serving as a Member of the Boards of  Trustees and Directors at Mahak Hospital Charity Organization.
---
Thank you so much for giving Trends this exclusive interview despite your busy schedule, we are very grateful. If you were to summarize the current state of business/trade between Iran and Switzerland, how would you describe it?
Thank you for having me today and congratulations on a great broad-based magazine. The current status of economic relationship between Iran and Switzerland is on life-support, meaning we are doing minimum basic transactions mostly in humanitarian fields and not where it should be as far as the potential it can have. Right now, mostly pharmaceuticals, soft commodities and some food companies are doing the bulk of the business transactions while other Swiss entities which have factories and infrastructure in Iran are mostly struggling due to the difficult sanction-related situation. Having said that, I think the potential trade and business opportunity between the two countries is enormous considering they are complimentary economies.
Please tell us about the history of economic activities between the two countries. What is the trade volume between Iran and Switzerland today? What products and services are still being exchanged, if any?
The history of trade between the two countries dates back to the times of the Silk Road. But in contemporary times as Switzerland became the destination for banking and high-end technology, Iranian businesses started to do serious work in the 60's and 70's with their Swiss counterparts in variety of fields.
These activities naturally all got impacted after 1979 revolution and again after the imposition of US sanctions. But Swiss companies always find Iran to be a great market for their products and services and affluent Iranians always found Switzerland to be a safe place for their banking needs, their children's education, and certainly for their holidays.
Let's keep in mind however that Switzerland has always maintained a larger neutral role in contemporary Iranian history going back to the 1905 Constitutional Revolution. Back then Iranian revolutionaries found a safe refuge in Yverdon-les-Bains where they published their revolutionary newspaper Sur-Esrafil.  Even today Switzerland plays an honest broker part between Iran and the West by having continuous government to government dialogue in a variety of areas. Switzerland also plays a far larger role on political scene in Iran by representing the interest of the United States since 1979.
What do you see as the biggest hurdles on the way of doing business between the two countries (US sanctions, lack of information among investors and traders, Iran's business environment, commercial rules and regulations…)?
The biggest hurdles obviously are the banking limitation and inability of Swiss companies to repatriate their profits. Iran's cumbersome and ever-shifting regulations in particular regarding the IP rights is a hurdle but the biggest impact as I mentioned is the fear the Swiss companies have of potential punitive financial damages the US government could impose on them.
Please tell us a bit about Iran-Switzerland Chamber of Commerce? When was it established? What is its mission and vision, and what are the main activities of the Chamber?
On 4th of February 2014 the Iran – Switzerland Chamber of Commerce (ISCC), a nonprofit organization was established by Swiss and Iranian companies in Tehran. ISCC is a government recognized NGO focused on expanding economic and business relations between Iran and Switzerland.
The main objectives of the ISCC are to:
a.  Facilitate new opportunities both in Iran and Switzerland's
b.  Provide guidance and assistance in recognizing and understanding cultural, social and governmental regulations in local markets.
c.  Promote industrial, technical and trade activities that will focus on expansion of trade, investments and technical collaborations.
d.  Provide a platform for:
i.  Networking with the most experienced and recognized business
leaders in the reciprocal local markets.
ii.  Accessing government offices and regulators.
iii.  Reporting and marketing through local media and the press
Calligraphy: The Written Visual Art
What have been some of the Chamber's recent activities and events during the Covid-19 pandemic?
Iran – Switzerland Chamber reacted rather quickly to the outbreak of the pandemic marshalling all its resources in a three-pronged fashion:
to help member companies stay afloat and keep their businesses healthy;
 to mobilize the business community to combat the pandemic;
to help prepare for a safe, successful, and sustainable reopening of the economy. ISCC remains committed to help our members endure the hardship caused by the pandemic and return to work in a safe and sustainable way. 
Please tell us about your membership program? Who can apply to become a member of the Iran-Switzerland Chamber of Commerce and what services and benefits do they receive?
The Iran – Switzerland Chamber of Commerce is Iran's most active business chamber representing companies of all sizes across every sector of the economy. Our members range from the small businesses to leading industry associations and large corporations. We are not a simple economic chamber but rather an inclusive club of companies and professionals with a common goal and dedication to grow our individual and collective interest in variety of sectors. 
Are you optimistic about the revival of the JCPOA? What would be some of the business opportunities between Iran and Switzerland if that becomes a reality? What would be some of the ongoing challenges if we go back to the original deal? Can you perceive any scenario when even the banking sanctions are terminated?
Yes, we are very optimistic about JCPOA Redux, knowing full well that this could improve the overall business climate. But we're also very aware that this could be a rather short-lived re-agreement if the Trump Republicans make a comeback in 2024. This leads into your next questions, for which I think success of the current negotiations will open the door for more trade. But it will not make tremendous improvement in the investment climate in Iran as international companies demand a more long-lasting agreement with safeguards that can protect their investments, and terms allowing them access to international commercial mechanisms. The current format of JCPOA is not a bullet proof mechanism against the political changes in the United State thus making international investment rather a risky business. 
UNICEF, Ministry Of Interior and Iran-Switzerland Chamber Of Commerce Campaign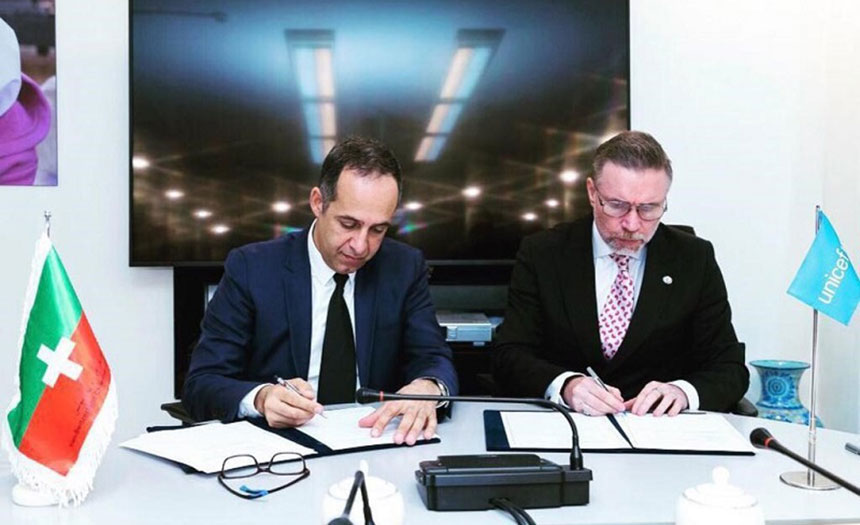 Behind The Scenes of the Most Active Chamber of Commerce in Iran
Improving the nutritional status of vulnerable young children significantly impacts their growth. The COVID-19 Pandemic has reduced access to and the affordability of healthy diets which translates into less diverse meals particularly among vulnerable young children. As a result, one of the main areas of intervention to reduce the secondary impact of COVID-19 is improving food security for these beneficiaries.
Ministry of Interior and UNICEF Iran in partnership with Iran-Switzerland Chamber of Commerce and its members are developing an effective intervention of Food Packages targeting under five children who are at risk of under nutrition in less-advantaged provinces.
Iran-Switzerland Chamber of Commerce would like to invite member companies to join the national Campaign of "Stand with Us" via financial contributions and contributions in kind to support healthy eating in priority provinces in Iran.
"iranGrain" is the largest gathering of global grain and oilseeds community that are working and are interested in the Iranian market. We have over 60 years of grain, oilseeds, and related industries experience within the organization with deep understanding of the market needs, governmental regulations and sanctions regulations. Our events and publications will fill the information void on the Iranian market and we hope our delegates will leave our events with more than they started with, whether that's a new contact, insight from one of our speakers, or the chance to share their ideas with fellow grain and oilseeds professionals. This conference is under the heading of "Iran – Switzerland
Chamber of Commerce
Export, Transit & Storage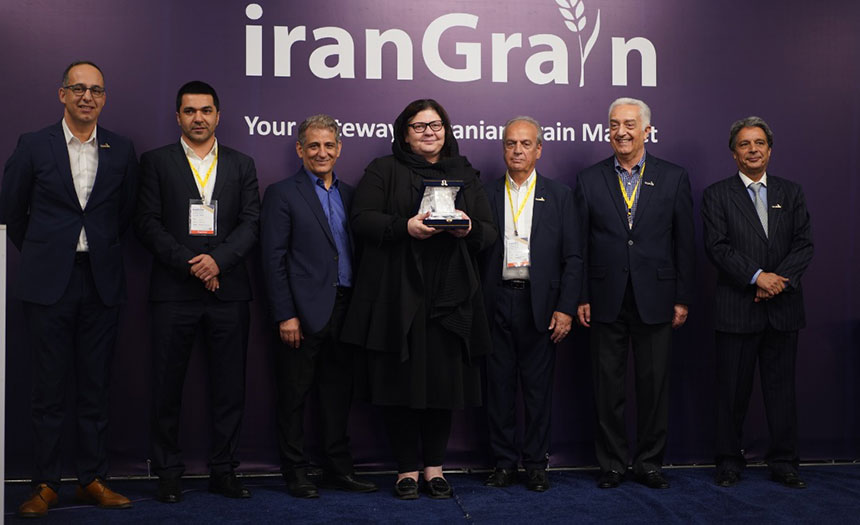 IranGrain 2022 Conference Hopes to Address Global Grain Supply Concerns
Our Iran Grain started its way from Tehran, Iran on December 2-3, 2019. Given our unprecedented response with over 600 attendees from different countries a forum based conference has been initiated which covers commercial and scientific activities through Iranian strategic cities and also around the world in near future.
We are pleased to announce our first regional forum in Ahvaz in 2020. Khuzestan grains and oil seeds conference will be held as a provincial conference (forum) under the supervision of Iran-Switzerland Chamber of Commerce, and following the example of Iran Grain to meet the needs of Khuzestan, as a strategic province in the field of grains and oil seeds. With the priorities of Khuzestan in mind, the main areas covered in the conference will be export, transit and storage of grains and oil seeds.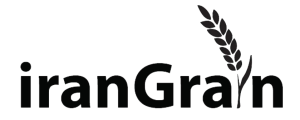 Target groups will be the following
• Grains and oilseeds
• Exporters of grain products, including flour, pasta, pastry and chocolate, oil and oil products
• Suppliers of material shipping and storage technology, silo manufacturers
• Shipping and logistics companies
• Port companies, grains and oil seeds operators
• Inspection and audition companies
• Millers and cattle feed manufacturers
• Oil extraction companies
• Seed suppliers
• Companies active in the field of grains and grain products in Iraq and countries in the Persian Gulf region.
Women Entrepreneurship Program (cof Commerce has 3 core values: Commitment, Knowledge and Collaboration.
Our Goal is enhancing knowledge and providing business opportunities for women to develop their entrepreneurial projects. We aim at inspiring, educating and nurturing businesswomen and women entrepreneurs in Iran to think globally and to act like world class business leaders.
Our Mission is supporting women in their career ambitions by providing real business know-how via access to self-made professional leaders, and by creating a unique network of women who are successful in their respective businesses in Iran.
4 main activity fields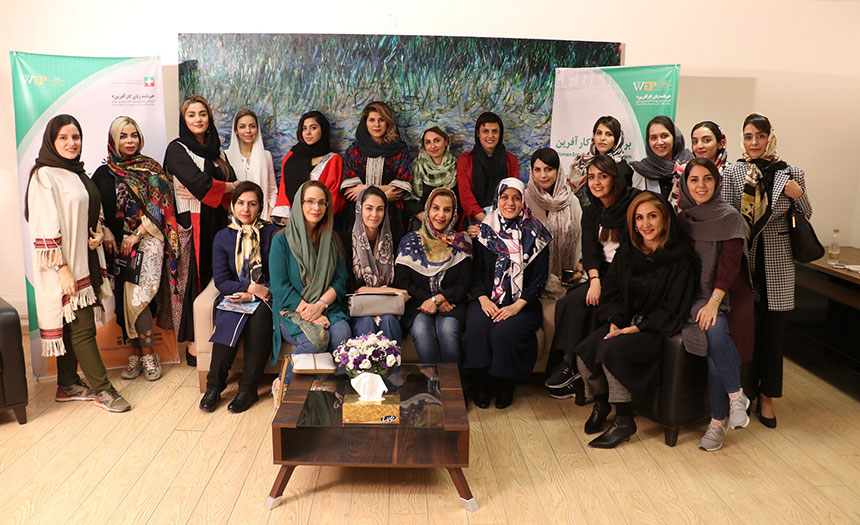 Women in Business (Educational classes, Q & A sessions, Webinars, and Networking Events)
Women in Art (Art Exhibition in Geneva, WEP Art space opened on May 18, 2020)
Women in Health (Workshops and Live streams for Health Awareness)
Lead with WEP (Vocational and Educational Training for Students)